The 3 Paris Maps & Guide Books We Like The Most
Ready to savor the city? Here we'll guide you to the best guides. Let's start with this advice — a Paris tourist map is the right choice when you just want to see the sights and enjoy your time in Paris, but don't need to drill down to specific street numbers. If that's you, read on to learn about our favorite pocket guide books and annotated Paris tourist maps. They'll make it easy for you to have a relaxing and memorable visit to the City of Lights.
All of the books include pretty good maps to guide you to the activities they suggest. Each guide presents its own unique itineraries, but they all concentrate on the most popular parts of Paris for visitors — basically north and south of the Seine from the Eiffel Tower in the west to the Marais in the east. (There is a lot to see and do in those areas!) In addition to things like quality of maps, layout, and advice, another consideration is the weight of a guidebook or tourist map. You don't want it too heavy if you'll be toting it around all day! We usually choose guides that weigh in under 10 ounces (300 grams), and we love those 6-ouncers (170 gms).

Frommer's Paris Day by Day
23 Smart Ways to See the City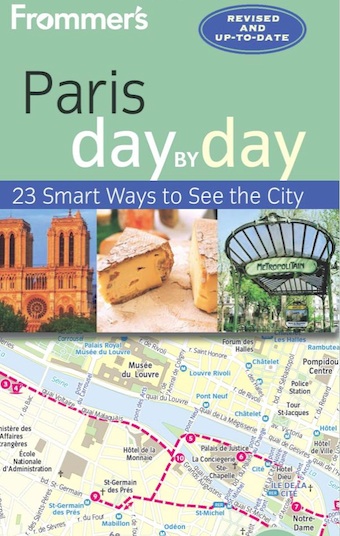 • Maps scale varies
• 184 pages
• Good Metro map
• Includes fold-out map
• 8.6 ounces
We're usually not big fans of mainstream guide books, but this pocket guide by Frommer impressed us. It has good sections with useful suggestions on walks, the Paris gardens, full day tour ideas, and so on. The Paris tourist maps that accompany each of the suggested itineraries are surprisingly good.
The front covers unfolds into a good Metro map, with a tourist map of Paris on the other side. The book also includes a small (that is, easy to handle) folded paper map as well. Updated regularly, so the information stays current.
Streewise Paris Map
Laminated City Center Map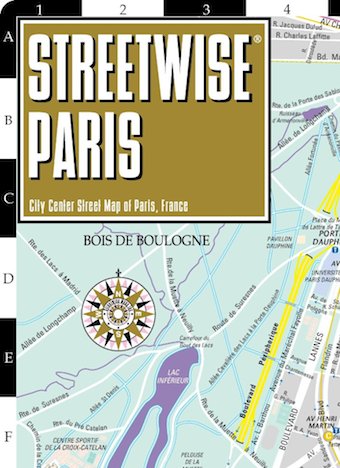 • 1/14,000
• 2-sided accordion fold
• Good Metro map
• Weighs nothing!
Streewise Paris is different from most folded maps. It has an accordion fold, making it easy to use on the street or Metro. It's laminated, a real benefit, making it waterproof and tear-proof. And, there's a very good Metro map in the classic style.
The Streetwise map covers the areas of Paris where most of the tourist action is, like most of these maps. Streetwise is highly recommended by travelers, who consider it the ultimate tourist map of Paris. While we like it, our eyes tell us that the scale is a bit small for easy reading.
Artwise Paris
Laminated Museum Map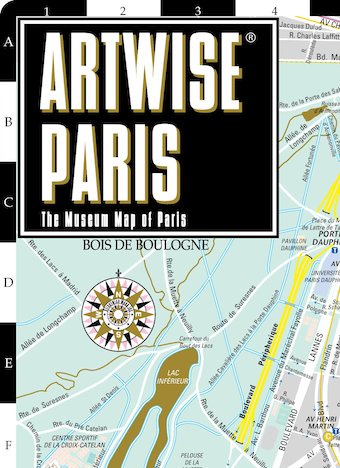 • 1/14,000
• 2-sided accordion fold
• Good Metro map
• Weighs nothing!
Based on the Streetwise Paris map, Artwise Paris concentrates on things cultural like museums and art galleries, covering the city from Boulevard de Port Royal in the south to Boulevard Haussmann in the north.
The map index provide details on hours of operation, admission costs, addresses and phone numbers.
We like that the Metro stops are clearly indicated, and it also has a nice, separate Metro map.