Left Bank Paris Hotels
From the Eiffel Tower to St. Germain,
Left Bank Paris hotels have a certain
je ne sais quoi
Since Hemingway and the Jazz Age, Left Bank Paris hotels have defined the essence of Paris.
<-- BEGIN Google Code --> <-- END Google Code -->
You'll find yourself wandering among trendy shops, famous cafés, the river Seine and the Eiffel Tower — all just minutes from Left Bank Paris hotels.
The term Left Bank includes everything on the south side of the Seine: St Germain des Près, the Eiffel Tower, the Latin Quarter and the 13th, 14th and 15th Arrondissements.
But our collection focuses on Left Bank Paris hotels in the 6th (St Germain des Près) and the 7th (Eiffel Tower). To check out hotels in the rest of the Left Bank you might also want to read our guide to Hotels in Paris – Latin Quarter »
Hotel Le Saint Gregoire
A Paris Insiders Guide favourite.
"A wonderful hotel in a wonderful city."





6th Arrondissement
Metro: Saint-Placide
Stay at Le Gregoire and have breakfast at café Le Nemrod a block away.
Or go in the other direction and you almost fall into the Metro just across the intersection. Stroll down Rue de Cherche-Midi for shops, restaurants and boulangeries. It's a wonderful neighborhood – non-touristy, full of services, and close to so many things.
But wait, there's more! Five minutes away from Le Gregoire is the most amazing gourmet food emporium in Paris, La Grande Epicerie de Paris. Attached to the fabulous Bon Marché department store, this food shop is not to be missed.
Like other Left Bank Paris hotels, Le Saint Gregoire defines charm, with wonderful old furniture and comfortable rooms, and the staff is superb. Tip: ask for room 36, which overlooks the rear courtyard. It's very quiet and peaceful.
Hotel Luxembourg Parc
"Perfection in Paris"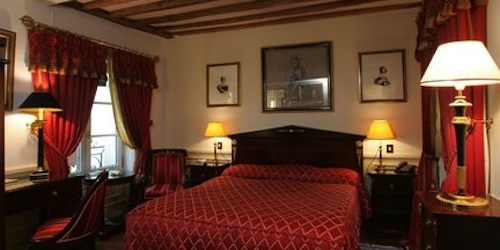 6th Arrondissement
Metro: Saint-Sulpice
This hotel is located on a cozy corner courtyard directly across the street from Musée du Luxembourg and the Luxembourg Gardens. The location is a winner among Left Bank Paris hotels with three Metro stations within an 8-minute walk. The Hôtel Luxembourg Parc is consistently ranked high by travelers.
The charming hotel really has a French feel. The rooms are decorated with fine fabrics and furniture in the Louis XV style. You can ask for a room overlooking the gardens or onto a quiet cobblestone street. Each floor is decorated in different colors, giving the hotel a boutique feel.
Hotel le Six
"Modern and friendly"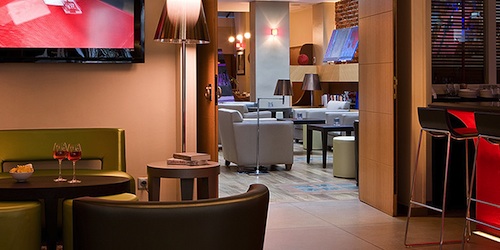 6th Arrondissement
Metro: Vavin
Travelers rave about this boutique hotel.
Close to the historical brasseries: Le Dome, La Coupole and La Closerie des Lilas. The hotel design is sleek and has a full service in-house spa.
Apostrophe Hotel
"Great stay, great location, friendly and helpful staff"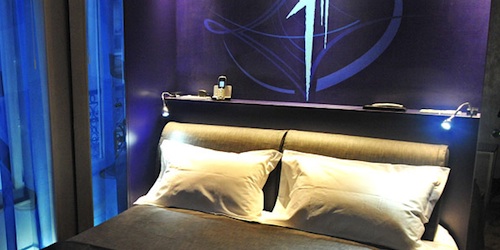 6th Arrondissement
Metro: Vavin
The stylish hotel is located in the Montparnasse area of the 6th Arrondissement, the haunt of the Lost Generation of writers, including Hemingway and Fitzgerald.
Each room is uniquely decorated in a different theme, in bold, pleasing colors, and includes a flat screen TV and and iPod docking station.
It's a 5-minute walk to Jardin du Luxembourg and you're very near to the preferred restaurants of the Lost Generation – Le Dome, La Rotonde, and Hemingway's favorite, La Closerie des Lilas.
Hotel de Varenne
"A Quiet, Comfortable Choice"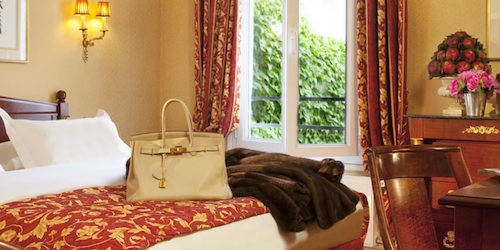 7th Arrondissement
Metro: Varenne
A well-liked Left Bank Paris hotel that's within four minutes of the Metro, Napoleon's Tomb and Musée Rodin and very near Rue Saint-Dominque.
It's in a great local neighborhood filled with bistros and boutiques as well as embassies and government offices. And of course, it's very close the Eiffel Tower and to the amazing food street, Rue Cler.
Hotel Varenne is set in a quiet courtyard to give you a relaxing, serene visit.

Hotel La Perle
"The paris hotel of our dreams"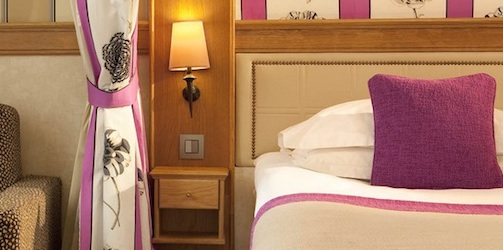 6th Arrondissement
Metro: Mabillon
On a quiet one-way street just steps away from Place Saint-Sulpice and its magnificent church and fountain, in the area between Boulevard Saint-Germain and Jardin du Luxembourg, sits this pretty little pearl.
Not only is the location great — in the heart of Saint-Germain-des-Prés and close to so many landmarks museums, shops and restaurants — but the hotel itself is highly rated for its rooms and helpful staff.
The rooms overlook the courtyard garden or the lovely Rue des Cannettes.
Hotel Relais Bosquet
"Our choice of this smaller hotel was brilliant"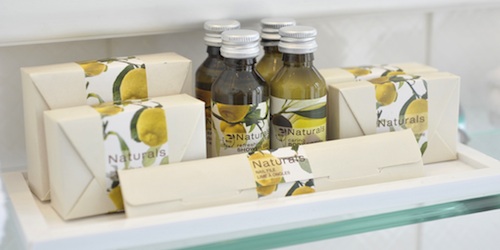 7th Arrondissement
Metro: Ecole Militaire
A Left Bank hotel located right on the Champs de Mars, the park at the foot of the Eiffel Tower!
The rooms are sunny and brightly decorated in warm tones.
It's the perfect location to stroll to the Rodin Museum, take a walk along Rue St-Dominique, check out the Quai Branly Museum, shop Rue Cler and, of course, to visit the Eiffel Tower.
Hotel Lenox Saint Germain
"We loved this gem of a hotel and we will be back!"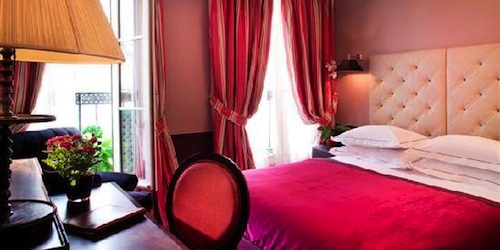 7th Arrondissement
Metro: Rue du Bac

Quaint, charming, and cozy is how travelers describe this St. Germain hotel.
Choose a room facing the street or the courtyard, with a balcony or a split-level space. You're in the heart of Paris, close to the Seine, the Louvre, the d'Orsay museum and the famous cafés and shops along Boulevard Saint Germain.
Le 7 Hotel Eiffel
"Adorable gem in a fabulous neighborhood!"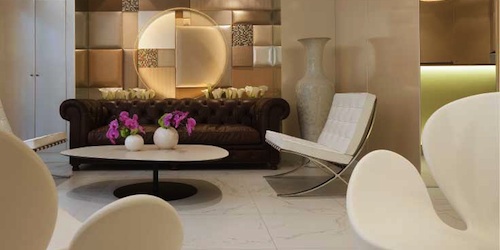 7th Arrondissement
Metro: La Tour-Maubourg

How about a rooftop patio to enjoy a glass of wine? Best of all, you are just minutes away from the Eiffel Tower. Book in advance and take advantage of the great savings.
What you'll find on the left bank
There is so much packed into this one corner of Paris. The Eiffel Tower and the Champs de Mars are at one end and, at the other, you will find Jardin du Luxembourg and the shops of Boulevard Saint Germain.
In between there's —
• Invalides
• Napoleon's Tomb
• Saint Sulpice
• St-Germain-des-Pres
• Musée d'Orsay
• The shops along Rue de Grenelle
• Musée de Cluny
All within easy reach of our recommended Left Bank Paris hotels.
More Hotels In Paris Planning Advice
Affordable Paris Hotels

Hotels In The
Latin Quarter
Luxury Hotels
In Paris

Paris Boutique Hotels
Want To Learn More?
Don't Miss a Single Paris Travel Tip.
Sign up for Le Petit Journal!
The Newsletter of Paris Insiders Guide
Don't Miss a Single Paris Travel Tip.
Sign up for Le Petit Journal!
The Newsletter Of Paris Insiders Guide