The 4 Best Ways to Visit the
Chateau de Versailles
The 4 Best Ways to Visit the Chateau de Versailles
Experience the Majesty of Louis XIV's France. Private Chateau de Versailles tours are the best way to experience the largest and most opulent palace ever built. Versailles is immensely popular and there are always long lines of people waiting to get in.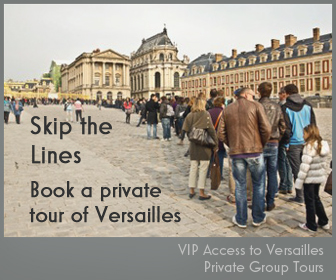 Signing up for a private tour solves the problem of being left out in the cold — you don't have to wait in line!
The other thing we like about private tours is that your transportation from Paris is taken care of. You are picked up at your hotel and whisked to this opulent royal estate. No Metros, no trains, no waiting in line. Perfect.
Versailles tours give you a chance to explore France's royal history — the decadent Grand Apartments, the dazzling Hall of Mirrors, the opulent Royal Quarters and the formal French gardens.
There are a number of tours, but here are our favorites —

V.I.P. Palace of Versailles Guided Visit – NEW!
With Priority Accese & Private Viewings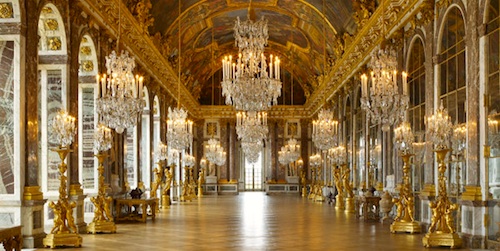 We love feeling like royalty ourselves, and this is one of our very favorite ways to see Versailles.
You get to see the Palace of Versailles on an exclusive private tour and you visit the restricted living areas of the French kings and queens, which are revealed for the first time on this VIP tour.
It starts with a priority entrance to the Palace of Versailles before the crowds arrive. You glide past the velvet ropes to areas previously seen only by dignitaries. Enter through a reserved door for a private viewing of Louis XVI's apartments including his personal library, his favorite dining room, the clock room and the corner room with his famous cylinder desk.
See the Royal Opera House and Royal Chapel built for the wedding of Louis XVI and Marie Antoinette. You will see a side of this World Heritage Site that most will only ever dream of!
There are a very limited number of spaces on the VIP tours, and they sell out quickly. So be sure to book early.
Best of Versailles Day Trip from Paris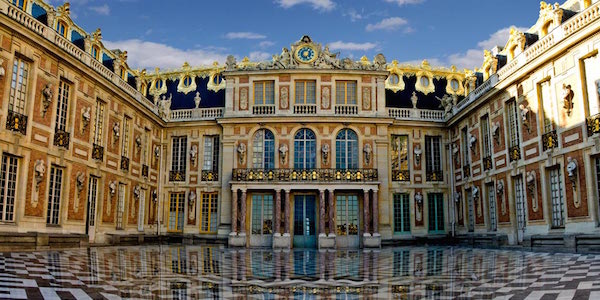 As we say, instead of worrying about trains, brochures and guide books, we prefer to go the "royal route".
That's what we like about this tour, with a private luxury van and a guide to add illuminating details and make the past come alive with stories of palace life.
Like us, you'll love being picked up at your Paris hotel or apartment by a private van and being driven directly to the palace, arriving refreshed and ready to explore. Here's what this Versailles tour includes:
Transportation to and from Versailles with hotel pickup
Skip-the-line ticket to the Chateau de Versailles
A tour of the magnificent gardens
Lunch near the Grand Canal
After lunch your guide leads you to the magnificent gardens and the Queen's Hamlet, Marie Antoinette's private rustic farm. You also visit the Petit Trianon, the mini-palace where Louis XV and Louis XVI liked to relax and escape hectic court life.
There's free time on the Chateau de Versailles tour to wander through the French gardens surrounded by statues, fountains and marble vases made by teams of artists supervised by the King's favorite painter, Charles Le Brun.
Walking Tour with Fountain Show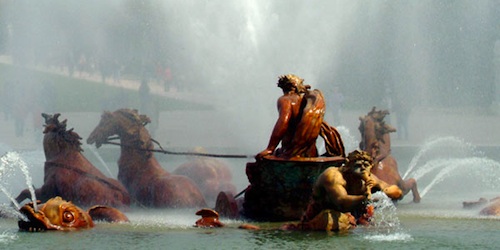 From spring until autumn you have the opportunity to see the stunning fountain displays at Versailles, which demonstrate the artistry and skill of three hundred years of French garden design.
You catch the tour bus in central to Versailles where you enjoy a guided visit of the royal apartments and a stroll through the Palace Park.
In the summer, from April to October, you have a chance to see the magnificent fountain show — Saturdays & Sundays, from April 3rd to October 31st, plus on Tuesdays from May 18th to June 29th.
In the winter there's a horse-drawn carriage ride! Lunch is at La Petite Venise, after which the tour continues.
Private Tours of Versailles
A Paris Insiders Guide Favourite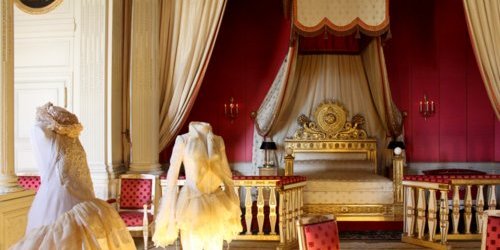 Courtesy of our Paris Concierge are these private tours, created to fill our need for the "royal treatment".
You're picked up by a private driver at your Paris address and whisked off to Versailles for a guided visit with a licensed guide.
You enter with reserved tickets and move right to the fast-line entry to the Chateau.
The tour is extensive — you view the Royal Apartments, the Chapel, the Hall of Mirrors, the Queen's Apartments, the Hall of the Battles and, for a final touch, a private walking tour through the magnificent gardens.
On Saturdays and Sundays you might choose to see the famed fountain show in the garden.
There are variations on the private tours to suit your fancy —
• Full-day tour, with lunch
• Half-day tour
• Half-day tour of Versailles with an afternoon panoramic tour of Paris
• Spend the morning at Versailles and the afternoon at the beautiful Monet Garens in Giverny
Chateau de Versailles Tour Options
Paris Planning Guides
Don't Miss a Single Paris Travel Tip.
Sign up for Le Petit Journal!
The Newsletter of Paris Insiders Guide
Don't Miss a Single Paris Travel Tip.
Sign up for Le Petit Journal!
The Newsletter Of Paris Insiders Guide