Five Restaurants Of Versailles – The Good, The Bland & The Best
A visit to the chateau and gardens of Versailles will be a day-long adventure and you're going to need to be fed, rested, and watered. Given that Versailles is one of the biggest tourist attractions in France you may expect encounter overpriced, bland food not worthy of your royal palate.
The good news is, on a recent trip to Versailles we had the chance to review the options, and now share our recommendations on the good, the bad, and the best. Let's take a look at the restaurants, tea salons, cafeteria, and brasserie options at Versailles.
Angelina Restaurant & Tea Room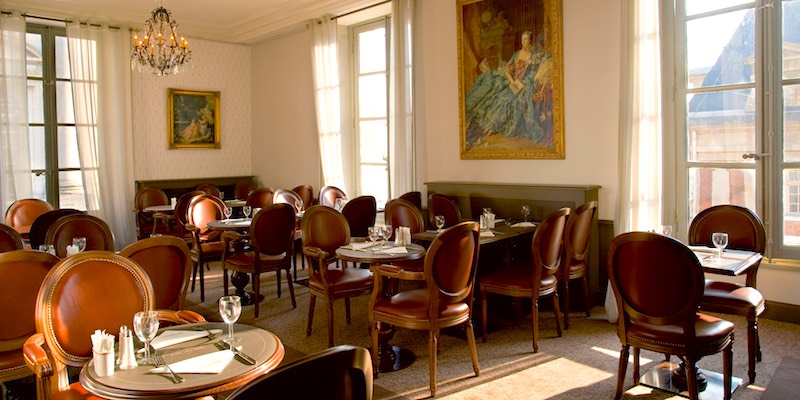 At Angelina you will find the same amazing hot chocolate that attracts the crowds to their Paris location. Since 1903 Angelina has been baking classic French pastries with a twist. Angelina's signature pastries include Mont Blanc, a concoction of meringue and whipped cream with a delicate chestnut cream spun to look resemble vermicelli noodles. The Paris/New York pastry is a clever reinterpretation of Paris Brest with choux, pecan cream and crunchy pecan praline, instead of traditional hazelnuts.
We're partial to the millefeuille a la vanille Bourbon with layers of crunchy, caramelized pastry with vanilla infused whipped cream. But it's not all about cake - you can also get savory light meals in the elegant restaurant. Expect the lines to be long but it will be worth it with for the sit down service... and the hot chocolate!
Tip — there are two lines, the right line takes you to the quick snack and standing-only area. The line on the left is for seated meals. In addition, there is usually an outdoor Angelina pastry boutique with seating near the Petit Trianon. In fact, last time we were in the gardens there was an Angelina booth up near the chateau selling some pastries and drinks to go.
Main location — Pavillon d'Orléans
10:00 to 5.00
La Petite Venise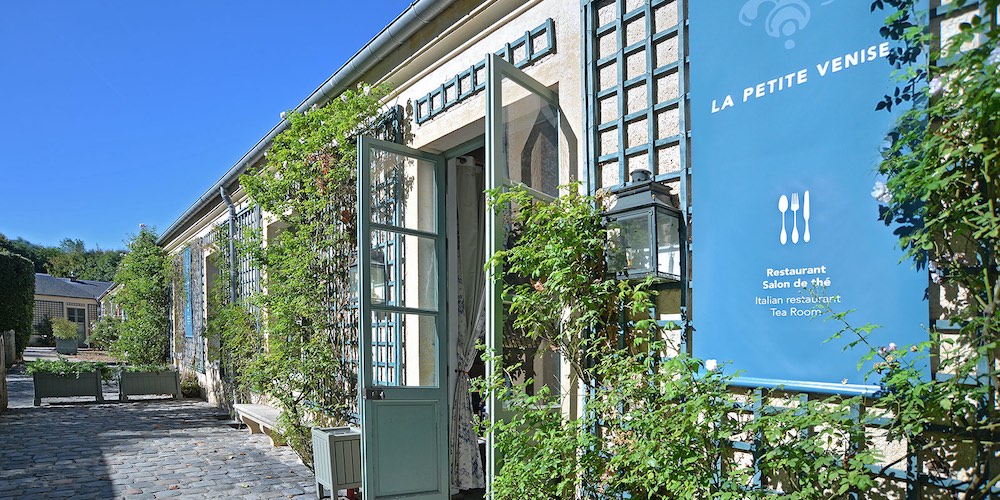 It's wonderful to imagine gondolas gliding along the Grand Canal during Louis XIV's reign. And, in fact, the Sun King had a workshop with Venetian artisans who kept the gondolas in tip-top shape. Sadly, the Venetian boats are gone (probably burnt during the Revolution), but the building that housed the gondola workshop remains and is now La Petite Venise restaurant. It's no wonder it's listed as a historic monument.
This brief history lesson explains the name and also the reason for the restaurant's Italian flair. On the menu is Antipasti Grande Venise, large enough for two to four people with burrata, grilled vegetables and charcuterie. We also like the grilled octopus (poulpe grillé) with riso rossi, a flavorful Italian red rice. Diners rave about the simple pleasures as well, like pizza and the croque monsieur sandwich. Service can be inconsistent, especially in the busy season. In the summer months head to the courtyard's rose garden for a shady retreat.
If you'd rather grab a bite and wander, head to the Gourmandises de la Petite Venise next door where you can get freshly-made ice creams, cakes, waffles, and other portable snacks. It's open longer hours than the restaurant — from 8 to 8. La Petite Venise is located in the heart of the park between the Grand Canal and Apollo's fountain.
11:45 to 6:00, April to October
11:45 to 5:30, November to March

Ore, by Alain Ducasse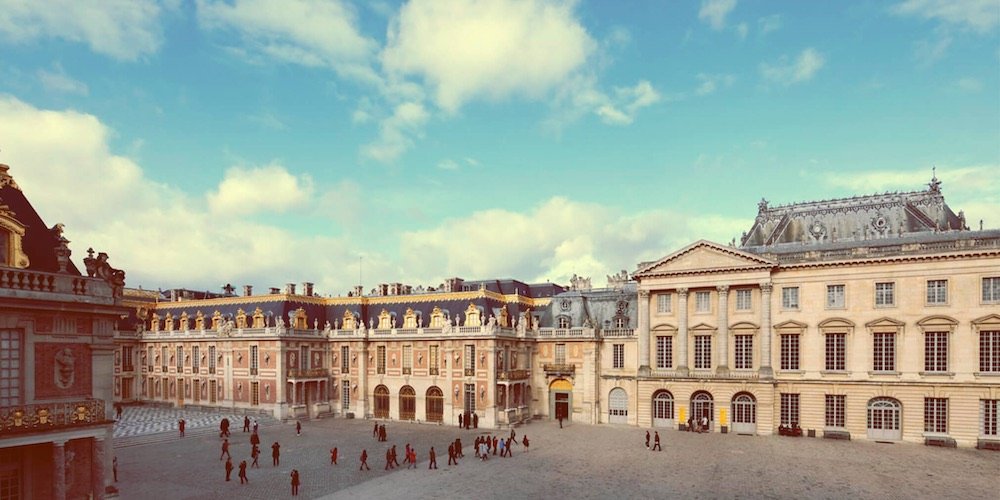 Latin for "pleasures of the mouth" and French for "gold", Ore is the sumptuous setting of superstar chef Alain Ducasse's latest restaurant. In case you're counting, this is #23 in Ducasse's portfolio and the first full-service restaurant within the gates of Versailles. Ore is open for breakfast, lunch and tea service. Light meals are available from 11 to 3 with French culinary delights like guinea fowl, confit de canard, Charolais beef tartar, and a special Prince & Princess menu for guests under ten years old. Of course, there are quick snacks like croque monsieur sandwiches made with aged Comte cheese.
On the dessert menu are Marie Antoinette's favorites — ice cream, souffles, peach melba, pavlova, and a selection of pastries like rum savarin, millefeuille and eclairs. Don't miss the signature dessert, Le Louis XIV, layers of dark chocolate mousse, chocolate cake and a praline base enrobed in chocolate and lacquered with gold.
Let's also talk about the royal design,with breathtaking floor-to-ceiling windows allowing natural light to spill into the room, and giving views onto the Cour d'Honneur and the Cour Royale. Naturally, gold is used in the chandeliers and other accents to resemble Louis' golden suns. After museum hours, Ore is used for lavish special event dinners. (To which we haven't been invited !)
Located in Pavillon Dufour
9:00 to 5:30

Brasserie de la Girandole
An oasis of calm, this outdoor brasserie is a surprisingly good dining option, set in the shady groves of Versailles' park. There are two sections — a grab-and-go area where you can get a hot dog and a cool beer, or a sit-down patio where there are menus, servers, and quiet places to eat. Service is fast & efficient, more surprising considering you are in a major tourist destination.
On the menu are omelettes, salads, burgers, steaks and a heady list of ice cream concoctions and desserts. Or course it's a tad pricier than the middle of Paris but not by much. On our recent trip to Versailles, we had a delightful light lunch at the brasserie in the shade of the Girandole grove. The rose wine was chilled, les frites were crispy and flavorful, and the omelette was light and slightly runny as only the French can do.

Grand Café d'Orléans
Although there is "grand" in the name,there's nothing much grand about this institutional cafeteria. Expect bland prepackaged sandwiches, plastic cutlery, and bad coffee. We don't recommend stopping here. Why not pay a little extra and go to Ore or Angelina or go a little further afield to Brasserie de Girandole?
Picnic at Versailles?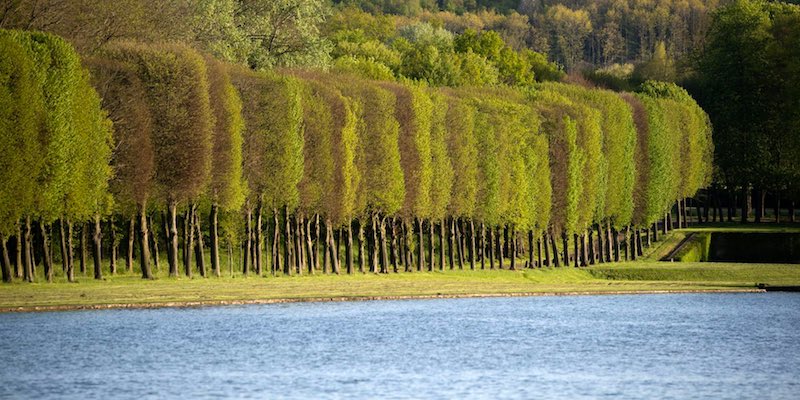 Picnics are not allowed in the gardens (either at the chateau or at the Trianon), however they are allowed in the park. There is one garden area exception — you can picnic in the covered area near the Triumphal Arch Grove found near the Neptune Fountain #29 on the linked map). The grove was built to celebrate the Sun King's military victories. To understand the difference between Versailles' "gardens" and "park", take a look a the large map of the estate.