Centre Pompidou 2016 – France's Museum of Modern Art
It's Europe's largest museum of modern art. In 1977 Centre Pompidou Paris opened its doors. Since then it has become one of the top attractions in Paris, with more than seven million visitors a year, about as many as the Eiffel Tower! It's one of the busiest museums in Europe.
Centre Pompidou is the place to see the works of David Hockney, Picasso, Klee, Philippe Starck, Andy Warhol and other great modern artists and designers. You'll also see hundreds of intriguing works by artists you've probably never even heard of. In busy Place Georges Pompidou just outside the museum you'll find street artists, mimes, jugglers, budding artists and musicians. Don't miss the famous Stravinsky Fountain, a whimsical water-spraying sculpture inspired by the musical works of Igor Stravinksy, next to all the outdoor cafés.
Exhibits at the Centre Pompidou in 2016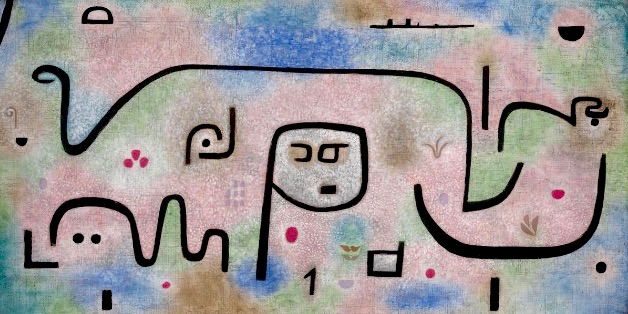 The museum is noted for leading-edge exhibits featuring some of the masters of modern art and for its presentation of the works of lesser-known artists of the 20th and 21st centuries.
2016 is no exception with exhibits of the work of notables like Paul Klee and René Magritte mixed in with other shows featuring the Beat Generation and the furniture designs of Pierre Paulin.

Centre Pompidou Featured Exhibits in 2016
ANSELM KIEFER (1945 – )
German painter and sculptor Kiefer's artistic career started in the late 1960's. This retrospective, the first in France for thirty years, showcases 150 of his best works. Forum 1, Galerie 1. Ends April 18, 2016.
→ Information…
GÉRARD FROMANGER (1939 – )
French artist Fromanger has used collage, sculpture, photography & cinema throughout his 50+ year career. This exhibition showcases 50 of his works, some rarely seen. Level 4 – Galerie d'Art Graphique. Ends May 16, 2016.
→ Information…
LES ANNÉES 1980, L'INSOUTENABLE LÉGÈRETÉ
The Unbearable Lightness of the 1980s. This photography exhibit showcases 60 works by 20 artists that explore the 1980s. Includes artists: Karen Knorr, Jean-Paul Goud, Pierre et Gilles, Martin Parr. Photography Gallery. Ends May 23, 2016
→ Information…
HORS PISTES L'ART DE LA RÉVOLTE
The 11th Annual Festival's theme is The Art of Rebellion. There will be expositions, films, performances and readings from artists. Video – Galerie 4. April 22 to May 8, 2016.
→ Information…
PAUL KLEE (1879 – 1940)
This retrospective features 250 works from the world's best Klee international collections. Galerie 2. April 6 to August 1, 2016.
→ Information…
PIERRE PAULIN (1927 – 2009)
Prolific French furniture designer and interior designer, he's most famous for his mushroom chair, ribbon chair & tongue chair. See highlights from his design work. Galerie 3. May 11 to August 22, 2016.
MELIK OHANIAN (1969 – )
French artist Ohanian was the winner of the Marcel Duchamp Prize (2015) and is known for his installation art, film & photography. June 1 to August 29, 2016.
LOUIS STETTNER (1922 – )
Stettner's photography is famous for his honest portrayals of streetscapes and portraits. His professional photography career began capturing life after World War II. June 15 to September 12, 2016.
BEAT GENERATION
A retrospective dedicated to the literary and artistic movement born in the late 1940s. The program will feature readings, concerts, discussions & film screenings. Galerie 1, Level 6. June 22 to October 3, 2016.
RENÉ MAGRITTE (1898 – 1967)
Belgian surrealist artist, Magritte was famous for his thought-provoking images. September 21, 2016 to January 23, 2017.
George Pompidou & His Centre
The Pompidou Center was the brainchild of French President George Pompidou who envisioned a modern arts and cultural museum in the heart of Paris.
Its unusual design with the radical "plumbing on the outside" was controversial when it first opened in 1977. Also controversial was the decision to raze blocks of buildings in the historic heart of the Marais to make room for the museum.
Once opened, though, most of the modern art treasures of France were moved to the museum. Today Centre Pompidou holds over 60,000 works by surrealists, cubists, pop artists and other artists of the 20th and 21st centuries.
The museum's construction and design controversies didn't end with its opening. After only thirty years the building was suffering from mechanical and design flaws and, in the late 1990s it was closed for major renovation work that cost at least as much as the original construction. Don't worry, it's now healthy and open!
Centre Pompidou Fun Facts
Over 1,100,000 square feet in size
Cost almost one billion French francs to build
Open from 11 am to 9 pm
Late Night: Thursday until 9:45 pm
Closed Tuesdays, December 25, January 1 and May 1
Metro: Les Halles, Rambuteau, Hôtel de Ville
Free admission to the Centre Pompidou Paris is included with the Paris Museum Pass…