centre Pompidou Paris – Pompidou center
Europe's Largest Museum of Modern Art
In 1977 Centre Pompidou Paris — the Pompidou Center — opened its doors. Since then it has become one of the top attractions in Paris, with over six million visitors a year, about as many as the Eiffel Tower!
With that many visitors, you know it's one of the busiest museums in Europe. And that means lineups! As we other museums in Paris, we like to book guided tours that take us right past the ticket queues.
However you get in, he Pompidou Center is the place to see the works of David Hockney, Picasso, Klee, Philippe Starck, Andy Warhol and other great modern artists and designers.
It's best to plan a full afternoon, leaving time to linger in the busy Place Georges Pompidou just outside the museum.
In the place you find street artists, mimes, jugglers, budding artists and musicians. And don't miss the famous Stravinsky Fountain, a whimsical water-spraying sculpture inspired by the musical works of Igor Stravinksy, next to all the outdoor cafés.
Have lunch at restaurant George on the 6th level of Centre Pompidou. Its modern décor and spectacular panoramic view of Paris make it a must-see!
Paris Insiders Tip
As one of the busiest museums, line-ups at the Pompidou Center can be long, so it's best to have your Paris Museum Pass with you to bypass the ticket lines.
George Pompidou & His Centre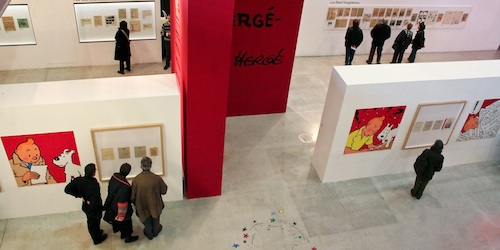 The Pompidou Center was the brainchild of French President George Pompidou who envisioned a modern arts and cultural museum in the center of Paris.
Its unusual design with the radical "plumbing on the outside" was controversial when it first opened in 1977. Also controversial was the decision to raze blocks of buildings in the heart of the Marais to make room for the museum.
Once opened, thought, most of the modern art treasures of France were moved to the museum. Today Centre Pompidou holds over 60,000 works by surrealists, cubists, pop artists and other artists of the 20th and 21st Centuries.
The museum's construction and design controversies didn't end with its opening. After only thirty years the building was suffering from mechanical and design flaws and, in the late 1990s it was closed for major renovation work.
Guided Tours of the Pompidou Center
Six million people a year is a big crowd!
Since we like to avoid crowds we recommend a private, skip-the-line viewing and walking tour of the Pompidou Center.
This two-hour tour begins in the morning, before the museum officially opens, so it's like being in your own private museum!
Centre Pompidou Paris Fun Facts
Over 1,100,000 square feet in size
Cost almost one billion French francs to build
Open from 11 am to 9 pm
Late Night: Thursday until 9:45 pm
Closed Tuesdays, December 25, January 1 and May 1
Metro: Les Halles, Rambuteau, Hôtel de Ville
Free admission to the Centre Pompidou Paris is included with the Paris Museum Pass
Paris Planning Quick Links
Paris Museum
& Metro Pass

Paris Five Star Hotels

Romantic Seine River Cruises

Food & Wine
Activities
Want To Learn More?
Don't Miss a Single Paris Travel Tip –
Sign up for Le Petit Journal !
the newsletter of Paris Insiders Guide