Paris Open-Top Bus Tours – Hop On & See The Sights Of The City
Open-Top Bus Tours – See The Sights Of Paris
Sometimes it feels right to do in Paris that may seem a bit… touristy. If it's your first time to Paris… heck, even if it's your 10th time to Paris, an open-air bus tour provides a sense of discovery, of freedom, and even of exhilaration. Under the open skies, with the breeze in your hair, you take in the monuments, landmarks, and streetscapes of the city. A hop-on bus tour is one of the best ways to get a quick overview of Paris.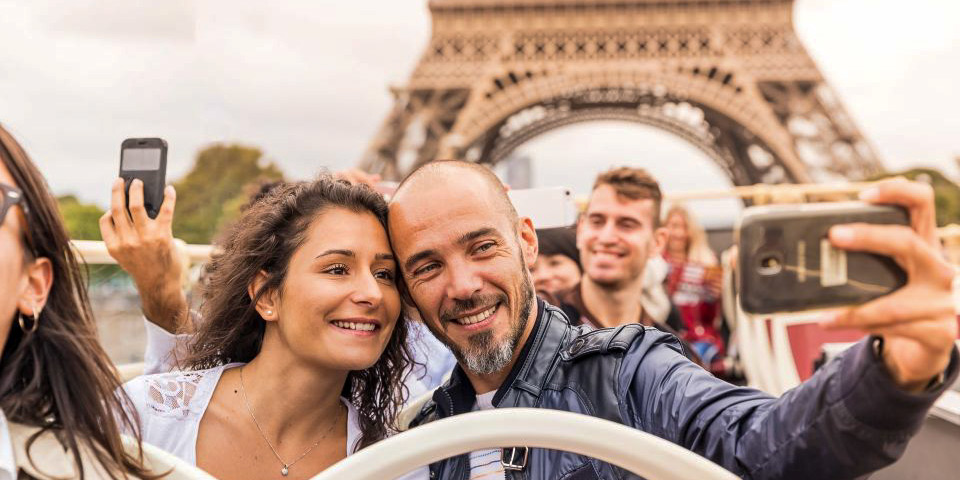 The open air buses travel in a loop to take in all the iconic sights of Paris. As the name implies, you can hop off at any of the stops, then explore the area before hopping back on again. No questions asked, no transfers needed.
The way we like to use the bus pass is to hop off at each of the stops spend some time walking around and digging deeper in the quartier before making our way back to the bus stop and hopping back on. The next bus rolls around often, so there's not much waiting.
What you'll learn is that Paris is a compact city. An open-air bus tour gives you practically an aerial view and you can see how the city is connected by their river, the museums, and the landmarks.
To see the city from the second story, get a two-day pass for Tootbus (listen, we don't name these things). A three-day pass is available, but we think two days is a good length of time. You can hop on and off the bus as many times as you like. "Go at your own pace" is the theme of Tootbus and that's really what these open-topped buses are all about.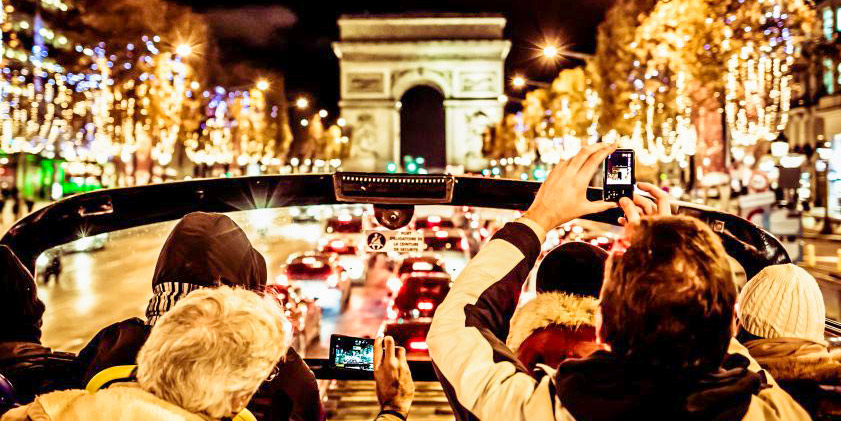 Travel through the heart of Paris after dark in what amounts to a a front-row seat. Marvel at the iconic monuments lit up for your viewing pleasure. It all starts on the Champs-Elysées and takes you past legendary landmarks such as the Eiffel Tower, Notre-Dame, the Arc de Triomphe and more. What's even better about this is that you travel with a live, English-speaking tour guide.

A Selection Of Open-Air Bus Stops
A Selection Of Open-Air Bus Stops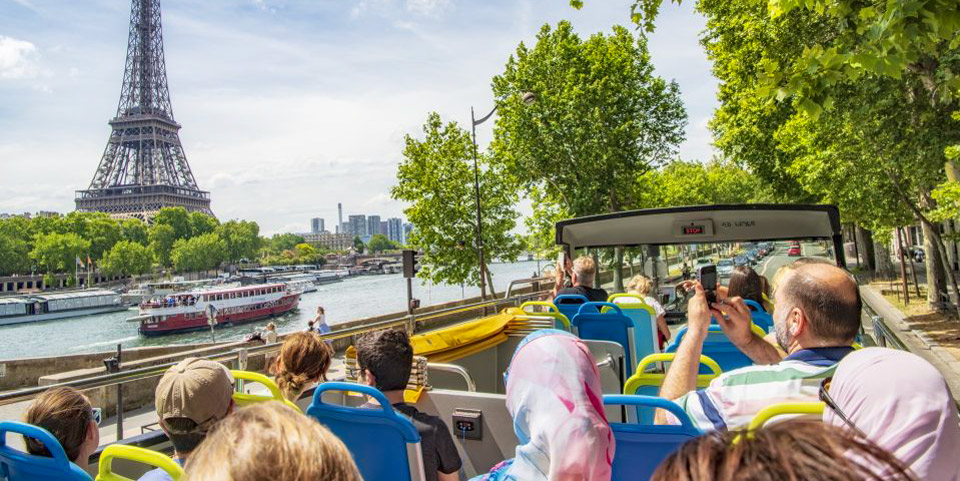 1. THE EIFFEL TOWER
Known as the Iron Lady, La Dame de Fer, the Eiffel Tower is the enduring symbol of Paris and one of the most popular destinations. Hop off and explore the area. Wander along the Seine river, grab a crepe at one of the outdoor stands or an ice cream before continuing on your bus journey.
7th Arrondissement
2. CHAMP DE MARS
It's hard to believe that the magnificent sixty acres of green space that surround the Eiffel Tower was once a vast garden during the 17th century. Today, it's a perfect place to watch sun worshipers, soccer players and locals soak up the sun and enjoy the park. Looming larger than life over the park is the Eiffel Tower.
7th Arrondissement
3. LOUVRE MUSEUM
It's the biggest & busiest museum in the world. The good news is that with your Paris Insiders Pass, you have fast-track entrance. And if you're not in the mood for the museum, you can wander through the courtyards of the Louvre and the Jardin des Tuileries.
1st Arrondissement
4. ÎLE DE LA CITÉ
Hop back on and ride to Île de la Cité, one of two islands of Paris.
4th Arrondissement
5. MUSÉE D'ORSAY
Your next stop is the fabulous museum that is home to the Impressionist painters and other artworks created between 1848 to 1915. Formerly a train station, it was transformed into a modern museum in 1986. From the clock tower patio on the 5th floor you can almost touch the Louvre Museum across the river.
7th Arrondissement


6. PALAIS GARNIER OPERA HOUSE
You now move from the Impressionist art museum to the glittering opera house. You'll be amazed at the perfection of the 19th-century Palais Garnier. The building stands proudly, taking its prominent place in the Opera district. Go inside to marvel at the glorious chandeliers, mirrors, and sweeping staircases
9th Arrondissement
7. CHAMPS ELYSÉES – ÉTOILE – ARC DE TRIOMPHE
Less than two miles long, the Champs-Elysées is still a significant stretch of land. After all, this is where Charles de Gaulle marched after the liberation of Paris. Today it's a famous shopping street and home to the top international and French brands like Louis Vuitton.
8th Arrondissement
8. GRAND PALAIS
The stunning Beaux Arts building links the Right Bank to the Left Bank at the Pont Alexandre III, the most ornate bridge in Paris. Across the street from the Grand Palais is its little sister, the Petit Palais.
8th Arrondissement
9. TROCADÉRO
First-time visitors to Paris might not realize that this is the best place to view the Eiffel Tower. From across the river you have a clear view of the Tower and the Champs de Mars. It's an easy walk to cross over and go directly under its magnificence.
16th Arrondissement