Private Paris Tours In Retro Luxury From Another Era
Have you ever wanted to feel like you're starring in your own movie, set in Paris?You know — with the wind in your hair and heads turning to stare at you as you go past. We had that experience recently when we signed up for a tour with Paris City Wheels. We were feeling like we'd stepped into a 1940s film in the streets of Paris.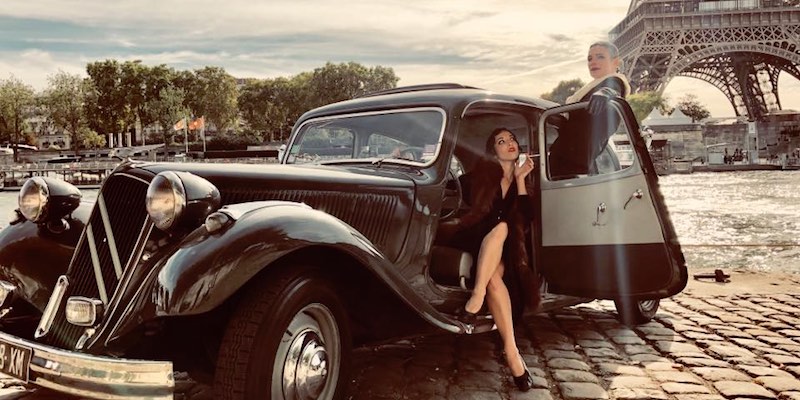 When our driver Laurent arrived in his sleek, black Citroën Traction Avant in front of our apartment on Boulevard Saint-Germain, he jumped out to greet us dressed in a tweed cap (worn at a jaunty angle), suspenders, and polished leather shoes. His overall appearance was of a young, playful Jean-Paul Belmondo (think, Breathless… without the cigarettes).

Vintage Rambling in Paris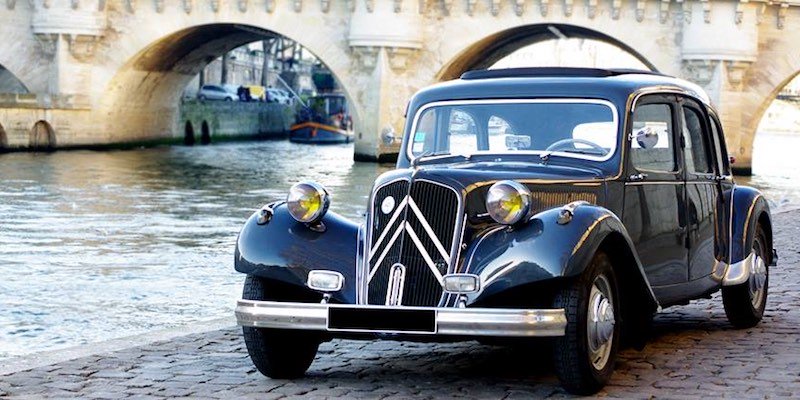 Once we settled into the rear seat of the beautifully-restored vintage Avant Traction, Laurent produced a vintage map of Paris and showed us the route he was going to take us on. As we pulled into traffic, with Edith Piaf music playing and the sky above us (thanks to the panoramic sun roof installed on the cars), we immediately realized that this car gets a lot of attention. Its long, gorgeous line made us the star of every rue we drove along. Heads turned, people smiled, greetings were shouted out. We loved that we could hear the gears shifting and see the simple knobs that control the classic French car.
We rambled along a route that started along Rue Royale, drove past Notre Dame de Lorette, wound up to Rue Lepic in Montmartre, and finally, after climbing even higher, to Sacre Coeur. But, instead of heading to the congested area in front of the church, Laurent pulled the car behind the cathedral, where there were very few people. He stopped to allow us to stand up in the sun roof to view the marvelous white cathedral as if we were alone in Paris.
Our jaunt took us further into ,Montmartre where we stopped to see the actual outdoor food market that appeared in the film Amelie, the last surviving vineyard in Paris, as well as Moulin Rouge and the house where Vincent Van Gogh lived and worked.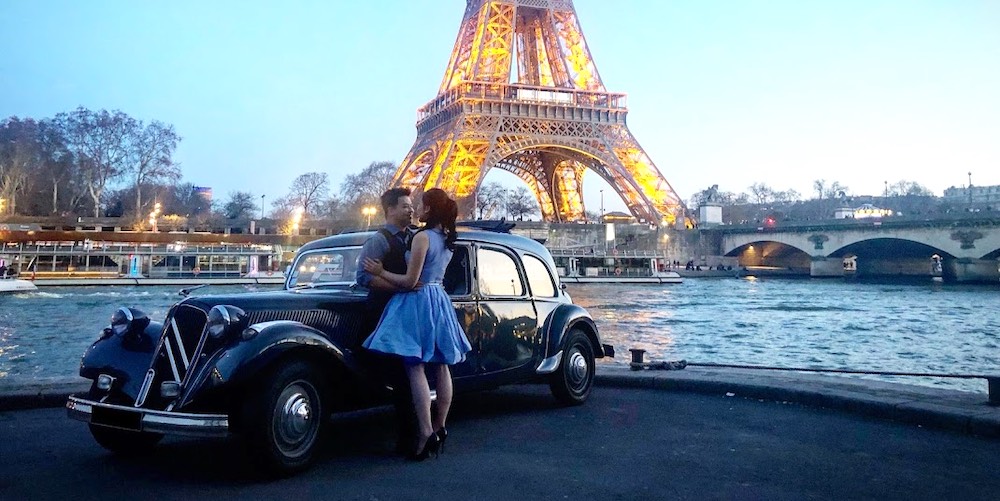 Laurent and his team of gentlemen drivers offer plenty of tours — the most popular is a two-hour adventure that gives you an overview of the city. Tours are available day and night and the vintage cars are popular for weddings and other special events. We highly recommend the two-hour tour.
The routes are geared to see the highlights like Notre Dame, Place de la Concorde, Boulevard Saint Germain, the Eiffel Tower, but also to discover some secret gems — Basilique Saint Clothilde, Arènes de Lutèce, Tour St-Jacques, Institut de France to name a few.
How City Wheels Was Born
Before Laurent founded the City Wheels vintage tour company he spent six years in London working in the finance industry. But he felt hemmed in by the constraints of an office job. While he was happy to be honing his English language skills, he felt something was missing. The straw that broke the camel's back was the fact that his British boss could never get his name straight, calling him Laurie or Laurence but never his French name, Laurent, where the "t" is silent and the "en" is nasalized.
Meanwhile, in Paris, his father fell ill. Laurent returned home where his father told him, "I can't afford to leave you with an apartment, but I do have a 1949 Citroën Traction for you."
Laurent decided to combine his love for old Citroëns and for the city he was born in by creating a tour company to showcase his talents. He added two more Citroën Tractions to his fleet (he named them Colette and Yvonne), hired gentlemen drivers, and set upon creating routes to highlight the best of the city; routes that would appeal to both new and seasoned visitors to Paris.

Queen of the Road – La Reine de la Route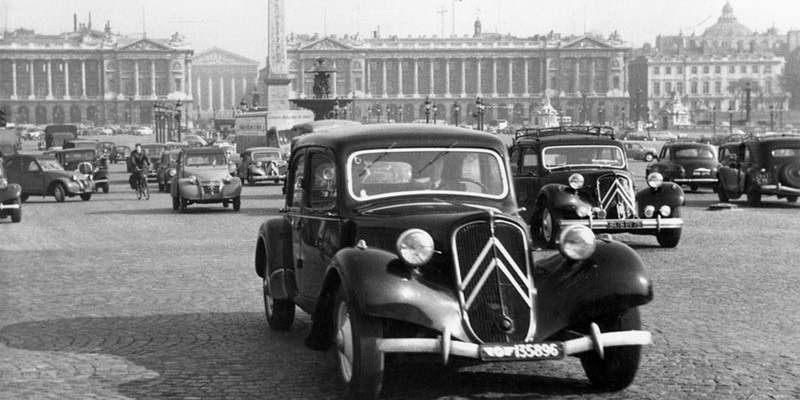 Not a Roger Miller song, this is the title given to to the agile, low-slung, and spacious Citroën Traction Avant that was built for during three decades (1934 to 1957). Its history is linked to the Nazi occupation of France, the French Resistance, and the rebuilding of France after World War II.
They call it the car that changed a nation. More than 760,000 cars were produced and used by the French army and French resistance fighters and thousands of French drivers. Its exceptional road handling and unrivaled beauty also made it popular with Hitler's Gestapo and the French Mafia.
We're not car experts, but we hear that the Citroën Traction Avant pioneered revolutionary features still used in automobiles today — a welded mass-produced unibody, a four-wheel suspension, front-wheel drive, and hydraulic brakes. For film buffs (more our style), the car has appeared in 1,300 movies and television shows. You might remember it as the getaway car in The Sound of Music and in James Bond's From Russia with Love in 1963.