Guide to
Romantic Paris Hotels
You'll be thrilled with what
the city of love has for you
Romantic Paris Hotels. "Paris" – the name alone makes you think of romance. And doesn't dreaming about spending time in one of the romantic Paris hotels put you in a good mood?
Imagine breakfasting on your own private terrasse, or having Champagne stocked in your minbar, or a romantic walk in the fabulous Jardin des Tuileries at dusk.
There's a wonderful feeling of romance when you're in Paris.
If that appeals to you, many of these romantic hotels can all deliver these special touches — and much more.
In this selection of reveiws of the best of Paris Romantic Hotels you'll find cozy rooms filled with a mix of antique and modern décor, comfy duvets, and best of all — serenity!
So, allons-y, let's go on a virtual journey to find the perfect romantic Paris hotel for you and that special someone.
Relais Christine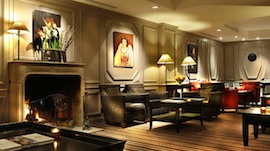 6th Arrondissement, Latin Quarter
Metro: Odéon, Saint Germain
This romantic hotel is tucked away on a quiet courtyard on a narrow, tiny street just steps away from the buzz of cafés, restaurants and shops of Saint Germain. Relais Christine is like a country mansion surrounded by the best of Paris. All the rooms are tasteful, tranquil and comfortable.
And for romance? In the evening, you and your sweetie can cozy up by the fireplace in the lounge or relax in the spa. The jacuzzi is decorated with mosaic tiles and there's a classic Finnish sauna as well.
Victoria Palace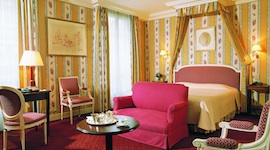 6th Arrondissement, Montparnasse
Metro: Saint Placide
Romantic Paris Hotels. Sometimes you get more than you pay for! Traveler reviews call this romantic hotel "a hidden gem" and rave about the "wonderful service". Victoria Palace has all the romantic touches: plush bathrobes and slippers, fresh toiletries twice a day, a turn-down service and plenty of thick towels.
Situated between Montparnasse and Luxembourg in a classic neighborhood, this Paris hotel is on a quiet, narrow street running between Rue de Vaugirard and Rue de Rennes.
Hotel Meurice Paris
A Paris Insiders Guide favourite.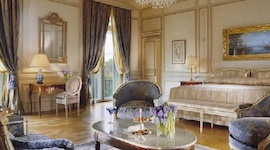 1st Arrondissement, Louvre
Metro: Tuileries
Romantic Paris hotels don't get better than this.
Hotel Meurice Paris has designed a perfect La Vie en Rose romance package with plenty of pleasant surprises along the way. Start with a bottle of rosé Champagne, a bouquet of roses and a plate of rose-colored patisseries that welcome you in your very luxurious room.
A starry nighttime stroll through the Tuileries, holding hands, will set the mood for a fantastic gourmet meal prepared by Yannick Alleno in the hotel's Michelin 3-star restaurant.

Hotel le Marquis Eiffel
"Good hotel in an inviting neighbourhood in Paris"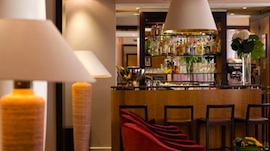 15 Rue Dupleix, 75015
Romantic Paris Hotels. You'll love your stay in this cozy in this classic boutique hotel. Have a quiet drink in the library next to the fireplace or in the private terrace.
It's close to the Eiffel Tower (3-minute walk to Champs de Mars), LeaMotte-Picquet—Grenelle Metro station, and the twice weekly Grenelle outdoor market. And it has a solid 4-star rating from travelers!
Hotel de la Tulipe
A Paris Insiders Guide favourite.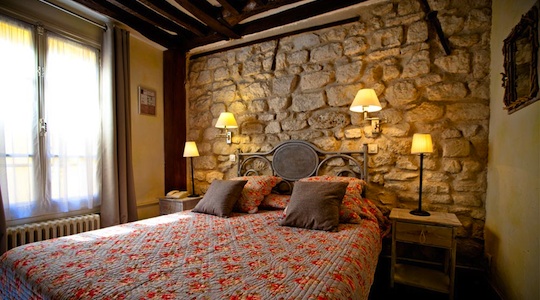 7th Arrondissement, Eiffel Tower
Metro: La Tour Maubourg, Alma-Marceau
Romance isn't found only in 5-star Paris hotels. This is a gem among romantic Paris hotels, set in the neighborhood at the foot of the Eiffel Tower. The owner, a friendly former actor, tends to all the details of this shabby-chic classic. Yes, the rooms are small, but do you really need a lot of space for your romantic getaway?
Your room might overlook a quintessential French courtyard filled with plants, flowers and a few bistro tables to sit and enjoy a glass of Champagne. The neighborhood cannot be beat for romance. Take a stroll to the Eiffel Tower or along vibrant Rue Saint Dominique for a meal at La Fontaine de Mars, (a bistro dating back to 1908) where on a recent visit, President Obama stole Michelle away for a romantic meal.
You're also very near Musée du Quai Branly and the Seine. Metro stations are about ten minutes away.
Paris Planning Quick Links
Romantic Seine River Cruises

Guide To Paris Airport Transfers

D-Day Tours
From Paris
Skip-the-line
Eiffel Tower Tours
Want To Learn More?
Don't Miss a Single Paris Travel Tip –
Sign up for Le Petit Journal !
the newsletter of Paris Insiders Guide