Guide to
Paris Budget Hotels
Yes, you can find quality budget hotels.
Paris has plenty of them!
Finding Paris budget hotels that are pleasing and won't break the bank requires a bit of searching. But here we've done the work for you!
These Paris budget hotels offer clean, comfortable accommodation at reasonable prices.
They are in great neighbourhoods like the Marais, the 15th Arrondissement and the Latin Quarter.
Catching the Metro at the nearby stations, or jumping on a bus, easily gets you to Paris landmarks and museums. If you have a Paris Visite Metro Pass getting to anywhere in Paris from your hotel is a breeze.
So, read the reviews and find the hotel that meets your needs. Ready to save some serious Euros?
Hotel Convention Montparnasse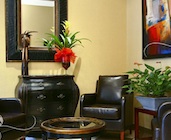 15th Arrondissement, Porte de Versaille
Metro: Convention
As you might expect, some Paris budget hotels are better than others. This small, charming hotel between the Porte de Versailles Exhibition Centre and Montparnasse has recently been renovated and has many bonuses, including free high-speed Internet.
If you want to save a few more Euros, skip the hotel breakfast as the 15th Arrondissement is a great neighborhood with boulangeries, cafés and shops within walking distance of the hotel. Convention Montparnasse is located on a tiny one-way street, with the Metro station very close for easy access to the rest of Paris.
Le Relais du Marais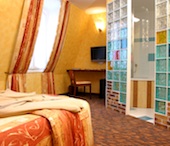 3rd Arrondissement, République
Metro: Temple, Arts et Métiers
This charming Paris budget hotel is located at the edge of the trendy Marais neighborhood. There are added perks like free high-speed Internet and an English-speaking front desk staff. The colorful rooms are bright and clean.
The Marais itself is filled with boutiques, wine bars, restaurants and many museums including the Picasso Museum and Musée Carnavalet (the Museum of the History of Paris).
The Pompidou Center (Museum of Modern Art) and Place des Vosges are about an 18-minute walk away and the Hôtel de Ville (Paris City Hall) and the river Seine are only a few minutes farther. (Or hop on the Metro at Arts et Métiers and you're there in minutes!)
Hotel Europe Saint Severin



5th Arrondissement, Latin Quarter
Metro: Saint-Michel
Paris traveler reviews rate this 2-star hotel as a "gem" among Paris budget hotels. This amazing hotel is in the heart of the Latin Quarter with access to just about everything. The Metro is nearby but there's plenty to see in the historic streets of the 5th Arrondissement.
The reception staff are friendly and will give you a map to the nearby grocery stores. There's even a Paris cat that lounges on the sofa in the lobby. There are large rooms perfect for a family with lots of luggage!
We can't say enough about this location. Although it's in the hottest, busiest part of Paris, it's on a quiet, short street with the Paris bicycles (Velibs) right in front. Hop on one and peddle down to the Seine at Saint-Michel, only a block away.

Hotel Gare du Nord
"Excellent value for money and location"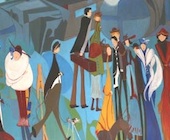 33 Rue de Saint-Quentin, 75010
This friendly hotel is located near the Beaux-Arts train station, Gare du Nord. Travelers rave about the good value for money, clean rooms and proximity to major attractions.
Bastille de Launay Hotel
"Lovely decor, lovely staff, good location"



42 Rue Amelot, 75011
This affordable boutique hotel has been recently renovated and the rooms have been given a modern touch with vibrant colors and state-of-the-art amenities.
Eiffel Seine Hotel Paris
"Excellent stay in Paris"




3 Boulevard de Grenelle, 75015
Affordale rates are to be found at his Art Nouveau style hotel, which is located near to the Seine and the Eiffel Tower. Close to Metro station, with easy access to all of Paris. Travelers rave about the great service!
Paris Planning Advice Quick Links
Want To Learn More?
Don't Miss a Single Paris Travel Tip.
Sign up for Le Petit Journal!
The Newsletter of Paris Insiders Guide
Don't Miss a Single Paris Travel Tip.
Sign up for Le Petit Journal!
The Newsletter Of Paris Insiders Guide