The Best Budget Hotels in Paris – You Don't Need To Break The Bank
Perhaps surprisingly, you can find quality budget hotels in Paris. But finding hotels that are pleasing and won't break the bank requires a bit of searching. Not to worry, we've done the work for you and found a half-dozen budget hotels that offer clean, comfortable accommodation at reasonable prices.
Many are also in great neighborhoods like the Marais, the 15th Arrondissement and the Latin Quarter. Catching the Metro at the nearby stations, or jumping on a bus, easily gets you to Paris landmarks and top museums. If you have a Paris Insiders Pass getting to anywhere in Paris from your hotel is a breeze. Ready to save some serious Euros?

Au Manoir Saint Germain de Prés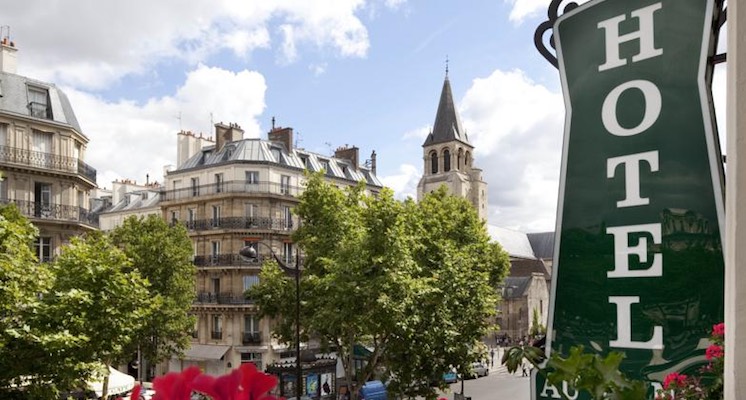 Right in the heart of Saint Germain, this well-reviewed hotel overlooks the Place de Saint Germain and Café Deux Magots. You're near the Seine, the Louvre, d'Orsay, and all the great neighborhood shopping.
The rooms are a larger than many Paris hotels and are wonderfully decorated, and the bathrooms are also very nice. It's a fine hotel, but it's really the location that will blow you away.
How Our Ratings Work
Superb Plus = 93%+ Travelers Rating
Superb = 88%+ Travelers Rating
Highly Rated Plus = 85%+ Travelers Rating
Highly Rated = 80%+ Travelers Rating

Our Rating — Highly-Rated-Plus
• 153 Boulevard Saint Germain
• 6th Arrondissement
Hotel Regent's Garden
This one ranks above many of the hotels we include on our budget list and we rate it Superb. The Regent's Garden is set in a historic mansion and stylishly decorated with an artful fusion of old and new. As you enter you are greeted by antique columns and look out onto a large, manicured garden.
The Regent's Garden was the first hotel in Paris to receive the environmental award — the European Ecolabel certification. The hotel works hard at being green by implementing energy and water-saving techniques, using non-toxic detergents, recycling, and using Fair Trade coffee, tea, sugar, chocolate, juice and textiles. This hotel is in our old neighborhood, halfway between lovely Boulevard Pereire and the magnificent market street, Rue Poncelet.
Our Rating — Superb
• 6 Rue Pierre Demours
• 17th Arrondissement
PLEY Saint Honoré
This modern, sleek hotel is located on famous Rue du Faubourg St Honoré, near Champs Elysées, l'Arc de Triomphe and the beautiful and upscale Parc Monceau. The rooms here are spotless; those on the street side have gloriously huge windows. It's also a great choice for families since you can request adjoining rooms.
Have a drink and a snack on the rooftop terrace, offering a breathtaking view over the rooftops of Paris and the Eiffel Tower. The PLEY has been renovated to modern standards of comfort, convenience, and style.
Our Rating — Superb
• 214 Rue du Faubourg Saint Honoré
• 8th Arrondissement
Hotel Europe Saint Severin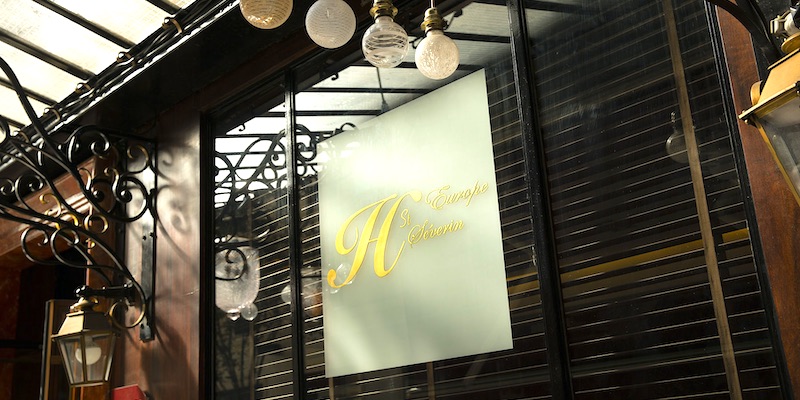 Paris travelers call this 3-star budget hotel a "gem". Although rooms cost more than the other hotels on this list, Europe Saint Severin is still a decent value for being in the heart of the Latin Quarter with access to just about everything. The Metro is nearby, but there's also plenty to see in the historic streets of the 5th Arrondissement. The reception staff are friendly and will give you a map to the nearby grocery stores. There's even a Paris cat that lounges on the sofa in the lobby. There are large rooms perfect for a family with lots of luggage!
We can't say enough about this location. Although it's in the hottest, busiest part of Paris, it's on a quiet, short street with the Paris bicycles (Velibs) right in front. Hop on one and peddle down to the Seine at Saint-Michel, only a block away.
Our Rating — Highly-Rated-Plus
• 38 Rue Saint Severin
• 5th Arrondissement, Latin Quarter
Hotel Bastille de Launay
You might think of the Bastille de Launay as an affordable boutique hotel. It's been renovated fairly recently and the rooms have been given a modern touch with vibrant colors and state-of-the-art amenities. The rooms are basic, but fine, and travelers love it here. It's on a great little one-way street just outside the Marais and nicely close to Place des Vosges and the rest of the Marais.
Our Rating — Superb
• 42 Rue Amelot
• 11th Arrondissement
Hotel Eiffel Seine
On the opposite side of Paris, in the 15th, near the Eiffel Tower, is this other well-liked budget hotel. While a bit farther out than we like to be, we do love the 15th and rooms are certainly affordable. It's close to Metro station Bir-Hakeim and the RER at Champs de Mars-Tour Eiffel, giving you easy access to all of Paris. This Art Nouveau style hotel is raved about by travelers. You're practically right on the Seine and just a few minutes away from the Tower.
Our Rating — Highly Rated
• 3 Boulevard de Grenelle
• 15th Arrondissement