Guide to Paris Airport
Transfers by Taxi
Get From the Airport to Central Paris
With Minimum Hassle
For most travelers, Paris airport transfers are done by taxi. It's probably the easiest way to get from the airport – Charles de Gaulle AKA CDG – to central Paris and requires no advanced booking.
After you land (most likely at Terminal 2A of Charles de Gaulle Airport), you go through customs & immigration, then follow the signs to baggage claim, where you can grab a luggage cart.
After that, follow our handy advice below to find the taxi queue nearest to your exit gate.
Paris taxis are regulated and are generally clean and convenient.
The downside is that the wait for a taxi is sometimes long – either the lines are long or taxis are slow in arriving. When you're coming off 8 or 12 or 20 hours of travel, this can be trying. That's one reason we always use a private car service for our trips into Paris from the airport. It makes our arrival in Paris so much the better.
Where to Find the Taxi Queues at CDG
To catch a taxi, get into the taxi line-up at your terminal, there's only one line-up at each terminal and you simply follow the signs to get there.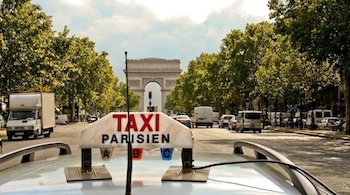 These days, most of the taxi line-ups have attendants helping to move the line along. It can be a bit hectic, but also kind of fun!
Although, as we said, be prepared to wait a while, especially if a number of flights have just landed.
Here are where you find the taxi lines at the terminals of CDG – they are all relatively close to the baggage areas —
We know we're repeating ourselves, but for a comfortable and restful ride, we heartily recommend a private-car service, especially our Paris pal Manu's »
1: exit 24 on the arrivals level
2A: exit 6
2B: exit 7
2C: exit 6
2D: exit 7
2E: gate 12 on the arrivals level
2F: gate 11 on the arrivals level
2G: blue gate
Paris Airport Transfers Tip
If you have a small child (in a stroller works best) or are disabled, you don't need to wait in the taxi line-up (or, for that matter, almost any line-up in France). Make yourself known to the queue attendant and he will whisk you into the next available cab. One tip is to have your infant in the stroller so you are easily noticed.
Parlez-vous "Taxi" ?
Many, if not most, Paris taxi drivers do not speak English, but be certain to greet yours with "Bonjour, Monsieur".
Even if you don't think your pronunciation is very good, it will get you off on the right foot.
If you don't speak French, we recommend that you hand the driver a piece of paper with the name of your hotel and the address. (Prepare this before you leave home).
Paying your Driver
Taxi fares are posted on the passenger window and are easy to interpret. Depending on traffic (slow traffic means the trip takes longer, while the meter is running), taxi fare to anyplace in central Paris should be around 70€. (But just remember, it could well be more.)
Most Paris taxis still don't accept credit cards, so be sure to have about 100€ cash with you. (Get it before you leave home.)
Paris Insiders Tip
It is not necessary to tip your taxi driver. He will charge you 1€ per extra piece of luggage (the first two pieces are free) on top of the fare on the meter. If he tries to charge you more, complain. Just saying "No" and pointing to the fare sign posted on the cab window usually works.
There's a way to pay with credit cards, but...
If you want to pay for Paris airport transfers by taxi with a credit card, or if you want to special-order a larger taxi, you can pre-book a taxi through the CDG Airport website and indicate that you want to pay with a "carte".
It costs 5€ to make a private taxi reservation, and you pay that amount when you make the reservation online. You pay your driver directly for the fare, as normal.
However, the information on the web page is only in French. (You knew there'd be a catch, didn't you?) The information tells you that:
The service is available 24/24,
You can book from one hour in advance up to fifteen days in advance,
You can order an SUV (Monospace) for 4 or 5 people, or
A "Break" (another type of car) for 3 or 4 people with lots of luggage, and
The taxi can accept all credit cards.
Click here to reach the page, then click on the blue button in the center of the page that reads "Réservez votre taxi", which takes you to the reservation form. Good luck! Bonne chance !
Paris Airport Transfers Advice
Only get into taxis that are in the line-ups at the exit doors we listed. Available taxis can be identified by the light on the roof of the vehicle — if the light is on, it's available.
Paris Insiders Tip
If you are approached by anyone posing as taxi driver when leaving the baggage claim area, just ignore him and walk to the taxi line-up. These are scam artists who will charge you many times the usual fare.
Paris Travel Planning Quick Links
Want To Learn More?
Don't Miss a Single Paris Travel Tip –
Sign up for Le Petit Journal !
the newsletter of Paris Insiders Guide