You Asked – How Can I Book Restaurant Les Ombres for New Years Eve?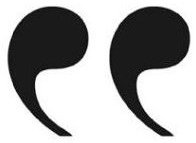 Dear Paris Insiders Guide: As I don't speak French, what is the best way to contact restaurant Les Ombres to find out information regarding their New Years Eve celebrations this year?
"Thanks,"
Sid, UK
We Answer – Wow, That Was Hard Work!
Dear Sid,
We had to dig deep to find a direct email address for Les Ombres. Their online reservation calendar doesn't go very far in advance and there is no direct email anywhere on the website. After much investigative reporting we found the secret email….
Don't worry about writing in French, there'll be someone who speaks English.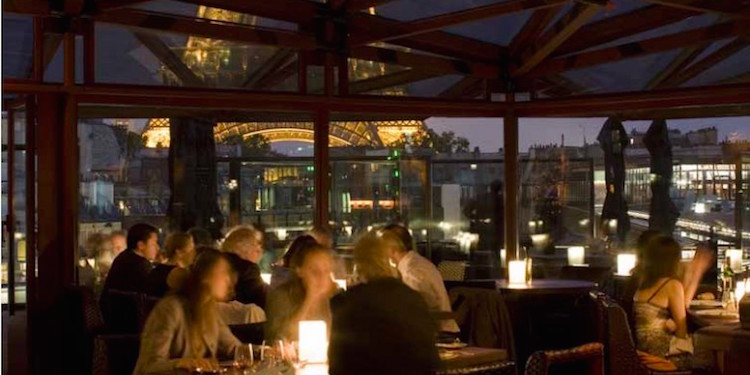 You've selected a great restaurant for a New Year's Eve celebration in Paris. We've dined there several times. The food is good, though not the spectacular dining you'd experience at Le Meurice or other high-end restaurants, but it's good enough to attract a loyal following.
What makes it special is the neighboring Eiffel Tower's spectacular light show. Les Ombres (shadows in English), sits proudly on the top of Musêe Quai Branly. Its glass roof design (by famous architect Jean Nouvel) takes perfect advantage of the hourly light show that emanates from its towering neighbor.
Another advantage of dining here versus at restaurant Jules Verne on the Eiffel Tower is that there are absolutely no bad seats in the house. Each of the tables in the glass atrium dining room gives you dazzling 360° views of the The Iron Lady. Les Ombres is a great choice for New Year's Eve (or any other evening, for that matter), when you really want to feel like you're in the middle of the action.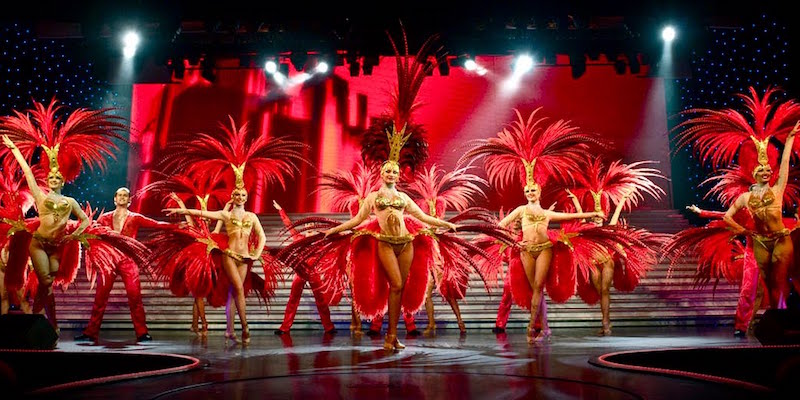 New Years Eve is a big night in Paris, so it's important to plan far in advance. We can help you plan — read our guide to 22 Stellar Things To Do On New Year's Eve In Paris 2018.
Example Menu from Les Ombres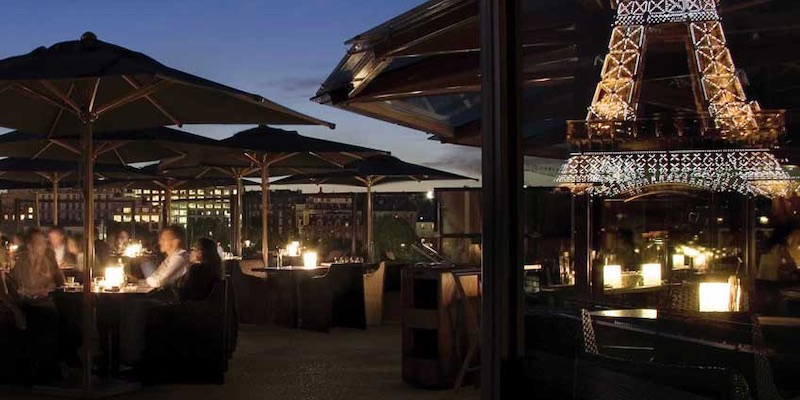 Here's a sample menu of what to expect at Les Ombres restaurant in Paris — three-course menu served at lunch and dinner. The New Years Eve menu will be more extensive and more spectacular!
Entrée
Oeuf parfait, girolle et pousse de soja, espuma de champignon. An egg slow-cooked at 64° C, chanterelle mushrooms and soy sprouts, sautéed mushrooms in a reduced cream sauce
Riso de pâte, couteau et poulpe, écume coquillage. Pasta risotto style, razor clam and octopus, shellfish foam.
Plat
Magret de canard, mousseline de céleri, carotte à l'orange, condiment noisette et cebette. Roasted duck breast, celery mousseline, orange-infused carrots, hazelnut & green-onion garnish
Gambas au satay, courgette grillée, mini fenouil, tuile à l'encre de seiche, pistou de coriandre. Satay prawns, grilled zucchini, baby fennel on a squid ink cookie with cilantro pesto
Dessert
Meringue combawa, framboise fraiche, chantilly mascarpone, sorbet framboise. Lime kaffir meringue, fresh raspberries, whipped mascarpone, raspberry sorbet
Tout vanille: sablé breton, crème brulée., chantilly, creme glacée. Everything vanilla: Breton shortbread, crème brulée.
For a few extra euros get the upgraded menu that includes a glass of champagne, mineral water, and coffee. If the offerings on the set menu don't appeal to you, order a la carte.
Sid, UK Replied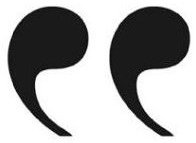 Just wanted to say a huge thank you for that. I really appreciate the effort you went through. I got in contact with the restaurant and they advised me the best time to contact them regards New Year's Eve. Thanks again!"
– Sid, UK
Les Ombres Resources
27 Quai Branly
7th Arrondissement (next door to the Eiffel Tower)
Metro – Alma/Marceau
Open 7 days a week