More Reviews of
Paris Luxury Hotels
You know that dream when you're
staying in a luxury hotel in paris?…
Staying at one of the Paris luxury hotels has to be on the bucket list of every Francophile and everyone who dreams of their next trip to the City of Luxury.
Spending a few nights at one of the famous luxury hotels will be something you remember for the rest of your life.
It's the perfect thing to do for a an anniversary, a honeymoon, a special birthday, or just to celebrate being in Paris!
And it is possible to be able to afford to have those dreams come true on your special trip to Paris. If you plan ahead, you can often find special Paris luxury deals. For example, in addition to their frequent special offers, the InterContinental Hotels in Paris are among the most affordable of the Paris luxury hotels.
A Paris Insiders Guide favourite.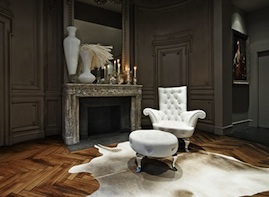 Suite La Fayette at Hotel Banke Paris





9th Arrondissement
Metro: Chaussée-d'Antin
This stunning hotel is hip, cutting-edge-designed and ultra-lux!
If you want to make the most of your stay in Paris, consider the Suite La Fayette at the Banke.
Its interior decoration combines glamour, sophistication, comfort and luxury: custom furniture with Swarovski crystal accents, large Japanese-style wardrobes and Philippe Starck oversize vases. Or choose from the other 93 equally unique rooms and suites.
Hotel Banke is set in a hundred-year-old former bank building at the corner of Rue La Fayette and Rue Pillet Will in the heart of the 9th Arrondissement, not far from the Grand Magasins and Opera Garnier. It's only a 3-minute walk to the nearest Metro station.
Hotel Pont Royal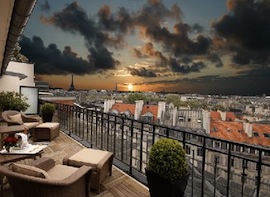 The View from Hotel Pont Royal





7th Arrondissement
Metro: Rue du Bac
Walk to the museums, take the Metro at the nearby station Rue du Bac, eat at the best restaurants in St. Germain. The hotel concierge at this Paris hotel can arrange everything for you.
If you're in the mood for something special, be sure to dine at the nearbu restaurant, l'Atelier de Joel Rubichon, with menus by France's most famous chef.
The Pont Royal has been recently renovated with mahogany, silk and stone as the theme. There's a reading lounge, fitness area and a bar for a cozy nightcap.
Le Royal Monceau Paris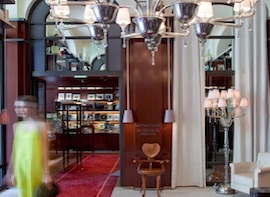 8th Arrondissement
Metro: Charles de Gaulle-Étoile
This is the place if you're looking for a modern Paris luxury hotel — the Le Royal Monceau-Raffles Paris (to give it its full name).
Created by one of our favorite designers, Philippe Starck, this hip luxury hotel is a breath of fresh air compared to the Louis XVI feel of many Paris luxury hotels. The rooms are spacious & airy and include both a bath and a shower (rare for Paris).
Of course the service is what you'd expect — the concierge, waiters, cleaners and valet go the extra kilometer to make your stay an unforgettable one.
Oh, and if you happen to need some extra leisure activities, the hotel has a recording studio if you want to cut an album while in Paris. Ahh, those luxury hotels in Paris!
Park Hyatt Vendome
"Contemporary luxury in the heart of Paris"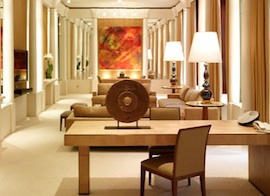 5 Rue de la Pais
2nd Arrondissement
The Park Hyatt name almost guarantees an affordable luxury experience.
The hotel is decorated in soothing neutral tones and a modern use of mahogany and limestone to create a stunning setting.
The location is just as stunning — only steps from Place Vendome, home of the Ritz.

Paris Luxury Hotel Quick Links

| | | |
| --- | --- | --- |
| | | |
Le Pavillon de la Reine
"Everything about this hotel is extraordinary"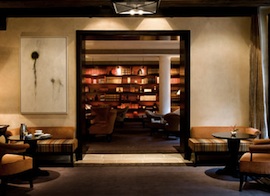 28 Place des Vosges
3rd Arrondissement
Located on the historic and charming Place des Vosges, you enter the hotel through a tranquil courtyard just off the place. It's an oasis of calm right in the middle of bustling Marais.
Being in the heart of the Marais, La Pavillon is close to museums and shopping. It's just two very short blocks away from one of our favorite oyster places, Le Bar à Huitres.
Hotel Fouquet's Barrière
"Why you go to Paris"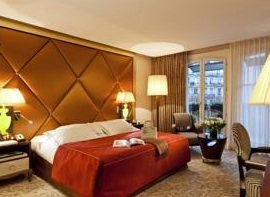 46 Avenue George V
8th Arrondissement
Expensive? Yes. Worth it? Definitely.
Discreet, formal yet friendly service. Conveniently located at the corner of Champs Elysée and George V in the middle of the luxurious 8th Arrondissement.
Close to the best restaurants and boutiques. Louis Vuitton's flagship store, anyone?
Hotel Lancaster
"The perfect small, intimate boutqiue hotel"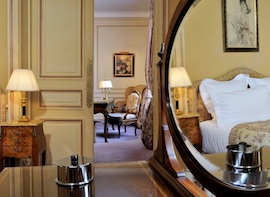 7 Rue de Berri
8th Arrondissement
Occupying a 19th-century hôtel, the Lancaster has the feel of an elegant private mansion.
Also located near the crossing of Champs-Elysées and Avenue George V in the center of Paris luxe.
Travelers rave about this 5-star hotel. Experience the art of living à la Française.
Luxury Choices in Paris Quick Links
Want To Learn More?
Don't Miss a Single Paris Travel Tip.
Sign up for Le Petit Journal!
The Newsletter of Paris Insiders Guide
Don't Miss a Single Paris Travel Tip.
Sign up for Le Petit Journal!
The Newsletter Of Paris Insiders Guide