Palais-Royal – History in the Center of Paris
It's odd that the Palais-Royal, while situated right in the center of historic Paris, is so often missed by visitors. One reason for that, perhaps, is that Palais Royal is not easy to spot, surrounded as it is by other famous buildings and the fact it's now used by the French government. Or maybe it's because it's right across from the Louvre and visitors are distracted by the fame and beauty of that famous museum.
But hidden from the passer-by are the wonderful gardens. Spend some time strolling through the galleries that border the garden, walking the flowery paths, and sitting by the one of the most pleasant fountains in Paris.
History of the Palais-Royal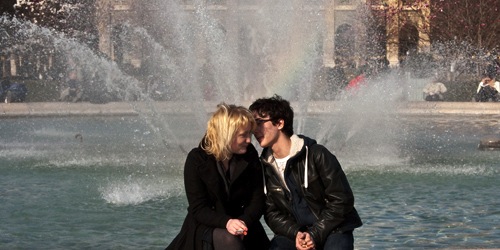 Palais Royal was originally built as the home of the famous Cardinal Richelieu, Louis XIII's Chief Minister, in the 1630s and was initially named after him, Palais-Cardinal, but he was only able to enjoy it for three years before he died in 1642
Over the centuries the Palais has housed many notable royals, including the wife and daughter of Charles I of England after that king was deposed and executed in 1649. Henrietta Anne, his daughter, married Louis XIV's brother and it was she who created the famed gardens of the Palais Royal. During her lifetime the Palace was famous throughout France for its grand parties and royal affairs.
Theaters & Revolution.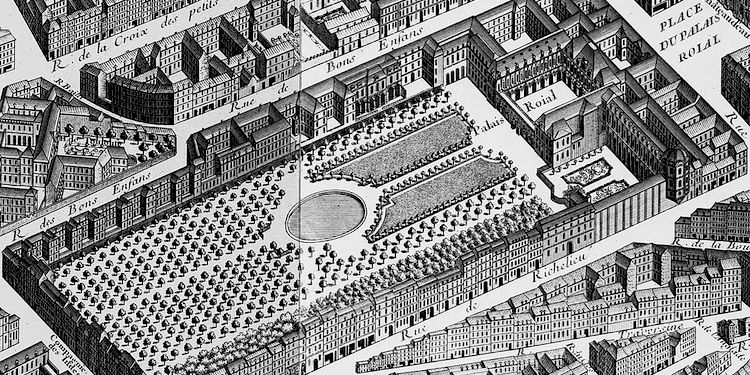 The Palais was once again remodeled, expanded and resigned in the 18 century by Louis Philippe II — shops were added and the gardens were open to the public.
His first round of work included a new Paris Opera to replace the previous theatre that had been destroyed by fire. After that opera, too, was razed by fire, it was replaced by what became the two most important French theatres — Théâtre du Palais-Royal and Comédie Francais, which is still there today.
During the French Revolution Palais Royal was temporarily renamed Palais de l'Égalité, Palace of Equality. After the Revolution the palace regained its place in the centre of Paris social life and the most popular cafés were to be found around it.
Today it's the home of France's Constitutional Council and of the Ministry of Culture. The gardens remain open to the public and are a great place to spend a perfect spring day. It's located across from the northwest wing of the Louvre, on Rue Saint-Honoré.