Insiders Guide to
Disneyland Paris Hotels
It's The Happiest Place
Sur La Terre
Just outside of Paris is a place that's a center of family fun. You know what we're talking about! Disneyland Paris is close enough that you can visit on a day trip, but we recommend you make it easier and more relaxing by staying a couple of nights at a nearby hotel.
Arrive in later afternoon the day before you start your Disneyland adventure, then stay one more night on the day your visit ends.
We like hotels that offer things like free shuttles, swimming pools, and upgrades to suites with VIP Fast Passes to get you to the front of the line.
The Disneyland Paris hotels we recommend are located either at the park itself, or in nearby Marne-la-Vallée, a suburb of of Paris. You can use the Paris urban-area train system, RER Line A to get you directly to Marne-la-Vallée and your Disneyland hotel. Paris Metro lines make it easy to connect with RER Line A.
There are seven Disneyland Paris hotels in the park itelf, and six hotels nearby. Here we review our faves, with prices ranging from about 150€ for hotels off-site up to a hefty 550€ for the most lavish hotel.
But, if you'd rather go through the complete list of all 89 hotels in or near Disneyland, here's where you find them »
Paris Insiders Tip
If you're coming from London you can book a special Eurostar Disneyland train directly to Marne-la-Vallée.
Disneyland Hotel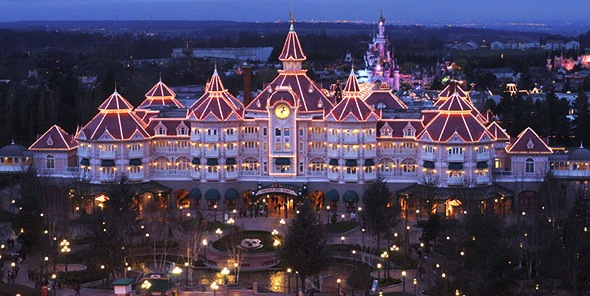 Get your Disneyland tickets when you check in at this number-one rated Disneyland hotel!
This lavish Victorian-style mansion hotel is located right at the entrance of Paris Disneyland Park.Your children will be welcomed by their favorite Disney Characters and will have fun in the kid's playroom.
The rooms are decorated in relaxing pastel tones and include bathrobes and toiletries. There's also a free buffet breakfast each morning.
This hotel has an indoor swimming pool, jetted tub, sauna, steam bath, and fitness room. The rooms are air-conditioned and have cable TV – with the Disney channel, of course.
Radisson Blu Hotel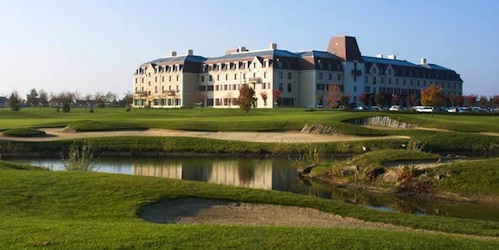 This hotel runs a free shuttle service to take you directly to the Disneyland park.
Unique among hotels near Paris Disneyland, the Radisson Blu is set on the park golf course. The rooms are modern with lovely views and all have flat-screen TVs and free high-speed Internet. This Disneyland Paris hotel isn't just for kids, either — there's a health club and spa with full massage and beauty services.
There are several dining options: the breakfast buffet at Restaurant Birdie, the Pamplemousse for fine French cuisine, and the Chardon Bar for light snacks.
Dream Castle Hotel at Disneyland Paris




Surrounded by a lake and gardens, the Dream Castle hotel is in the heart of Disneyland Paris.
Decorated in the style of a Musketeer Castle, the guest rooms and suites are equipped with the usual: cable TV, Internet access and a mini-refrigerator.
The hotel's restaurant, Sans Souci serves a full American buffet breakfast and the Musketeer restaurant is open every evening for classic French food.
After a busy day at Disneyland, you can relax in the Dream Castle Spa, which has a heated indoor swimming pool, sauna, jacuzzi, fitness room, and beauty treatments. There are free 10-minute shuttle rides to the park and to the Marne-la-Vallée TGV train station, which has direct connections to Paris and Charles de Gaulle Airport.
Disney's Hotel New York




In the Disney universe, a hotel called "New York" is actually in Marne-la-Vallée, France! This Manhattan-in-the-1930s themed hotel echoes New York style with an Empire State floor and so on.
Upgrade to a suite and you get VIP Fast Passes to the park, which will take you to the front of all the lines (that is, the lines that have Fast Pass service), saving you plenty of waiting time!
Breakfast is included, and free drinks and snacks are available during the day. There's an indoor pool, an outdoor pool, a health club and free on-site parking. This Disney Land Paris hotel offers free shuttle rides to the park.
Travel Planning Guides
Want To Learn More?
Don't Miss a Single Paris Travel Tip.
Sign up for Le Petit Journal!
The Newsletter of Paris Insiders Guide
Don't Miss a Single Paris Travel Tip.
Sign up for Le Petit Journal!
The Newsletter Of Paris Insiders Guide