Guide to D-Day Tours
From Paris
Beaches & Pastoral Countryside
With a Powerful Memory
D-Day tours can be emotional experiences. As you look across the sandy beaches of Normandy, you envision the 24,000 Allied soldiers who invaded France on June 6, 1944 and started the beginning of the end of World War II.
It's amazing how close the battlefields of Normandy and the D-Day beaches are to the city of Paris, yet it took the Allied troops another two months, two weeks, and five days to liberate Paris.
On these tours you visit the Normandy beaches and battlefields, including Omaha, Juno and Gold. Of course, you're picked up and returned to your Paris hotel.
Here we review two D-Day tours that begin in Paris. You'll spend either one day or two days exploring the most important battlefields of World War II.
Normandy Battlefields & Beaches
D-Day Tours – One Day Trip from Paris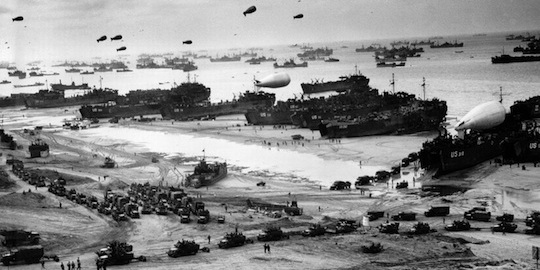 This D-Day tour picks you up in Paris and gets you back the same day.
You walk the Normandy battlefields and landing beaches of World War II. Visit famous wartime sites and the American and Canadian cemeteries. Hear the poignant stories of the Allied soldiers and the eventual liberation of France.
A drive through the rolling Normandy countryside brings you to the Caen Memorial. You visit Pointe du Hoc, an important German defense position taken by US soldiers.
There is free time to walk along Omaha Beach and reflect on the site's history. Afterwards you stop at the Omaha Beach Visitor Center, and before returning to Paris, you visit the Canadian Memorial at Juno beach.
Normandy, Saint Malo & Mont Saint-Michel
D-Day Tours – Two Day Trip from Paris
This 2-day tour takes you to the beaches of Normandy as well as into the heart of Brittany.
On the coast of of Normandy you will visit the landing beach of Omaha and visit the American Cemetery of Saint-Laurent and Arromanches.
You then make your way to Saint Malo, the heart of Brittany, where you explore the town before continuing onto Mont Saint-Michel for a guided visit of this famous and fabulous abbey.
Highlights of the Normandy 2-day trip:
Visit the D-Day landing beaches of Omaha.
Visit the American Cemetery of Saint-Laurent and Arromanches.
Guided tour of St Malo.
Guided tour of Mont St Michel.
Free time at Mont Saint-Michel.
Transportation, accommodation and meals are included.
Other D-Day & Normandy Tour Options
More Paris Planning Information
Want To Learn More?
Don't Miss a Single Paris Travel Tip –
Sign up for Le Petit Journal !
the newsletter of Paris Insiders Guide