You Asked – Ideas To Celebrate A Special Birthday In Paris?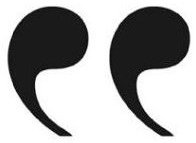 It will be my girlfriend's 30th birthday in July and we are celebrating in Paris. We will be staying in the Bastille area and I was wondering if you could recommend a restaurant for her birthday that's not too far away and that is not too expensive, but still fairly high-class?
"Many thanks,"
– Dan, England
We Answer – Here Are Our 4 Top Suggestions
Bonjour Dan,
You know, you only turn 30 once — it's a true milestone. So, we've put together a few ideas to make this a night to remember. First tip: although there are Paris restaurants that offer cuisine from around the globe, we recommend restaurants that feature classic French cuisine, both traditional and modern. After all, you are in France! Let's take a look at some special dinners you might consider.
1. A Dinner Cruise on the Seine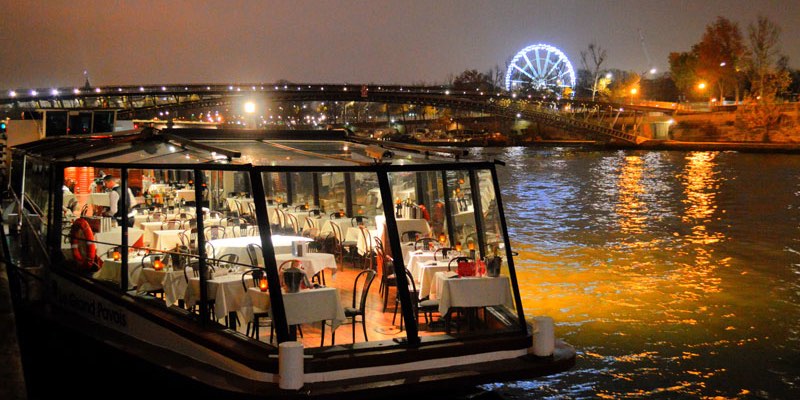 Although at first glance this might seem a bit touristy, but it's one of our readers' favorite things to do in Paris, and this one is nicely affordable. Your girlfriend will think you're a superstar when you arrive at the banks of the Seine to board your dinner bateaux, La Marina de Paris. The 3-course menu unfolds as you drift past all the monuments of Paris, lit up for nighttime viewing. Of course, you'll want to start the celebration with a glass of bubbly!
The boat dock is just across from the Tuileries garden, so it's easy to hop on Metro Line 1 at Bastille and zip across town to Concorde (only a 9-minute trip) and then stroll across the bridge.
2. Restaurants Near Bastille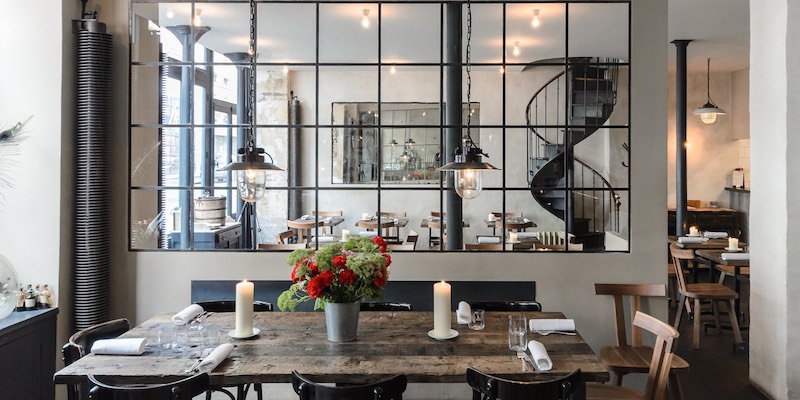 Although they don't have the wow factor of a dinner cruise, there are some really good restaurant choices around Bastille. Go for the top and try to get reservations reservations at Septime — if you can! It's one of the hottest restaurants in the Bastille area. Reviewers and diners can't say enough good things about the cutting-edge tasting menus. Its a 12-minute walk from Place de la Bastille.
Another choice, in the classic bistro category, is Bistrot Paul Bert, serving up steak frites, old-school soufflés and tarte Tatin.
3. Restaurants in the Marais
Since you're staying in the Bastille area, you're close to all the wonderful things in the Marais, including restaurants. One of our favorite restaurants here is Au Bourguignon du Marais, serving up authentic Burgundy classics. In the summer months, the restaurant spills onto the sidewalk. The food is very good as is the service, and it won't break the bank.


Before or after dinner, have a glass of celebratory champagne at the iconic La Belle Hortense, a bar/bookstore. Au Bourguignon du Marais is only a 13-minute walk from Bastille. The Hortense is only four minutes from there.
4. Dinner at Les Ombres + River Cruise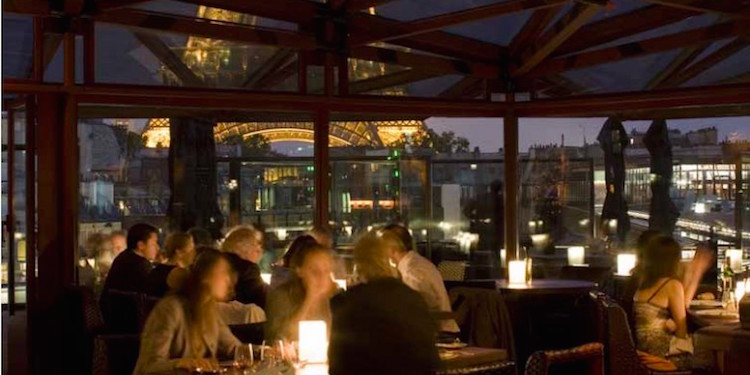 If you really want to make your girlfriend feel like she's the center of the universe, you could celebrate in style at Les Ombres. This restaurant is situated on rooftop of the Quai Branly museum and has stellar views of the river Seine and the Eiffel Tower, which looms majestically through the glass walls and ceiling.
Les Ombres is a bit of a higher-end restaurant, but surprisingly it won't break the bank. Currently, the 71€ dinner menu includes 3-courses and serves up French classic dishes. For a few more euros a glass of champagne is included as well as a wine pairing. The food is very good, but the view is absolutely dazzling. Every hour on the hour, the Eiffel Tower light show sparkles in all ots glory.
The best evening in Paris that includes dinner at Les Ombres is this activity that combines dinner with a nighttime Seine River cruise. Even better for you, the package includes hotel pickup and drop-off. This will be an evening you won't soon forget.