But being popular has it price. In this case, it's long lines and long waiting times.
Any museum in likely to have long line-us, but you can be certain that it applies particularly to the über-popular museums like the Louvre, d'Orsay, Pompidou. The ones you really want to see!
There are a couple of ways to get a Paris Museum Pass. We recommend you buy a combination Paris city pass that includes the museum pass as well as a Metro Pass for unlimited rides on the Metro and buses.
There are two Paris city passes that include everything. There's The Paris Pass and then there's the Paris Combo Pass Premium. We review them in these articles —
The Paris Museum Pass
Free entrance to 60 museums…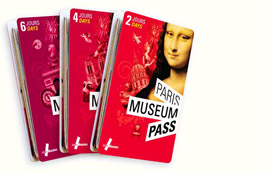 As we mentioned, with this pass you get free admission to 60 museums and monuments. More importantly, to us at least, is that there is no waiting in the ticket line. You can visit any museum – or all museums – as many times as you like.
The museums covered by the Pass include the biggies — The Louvre, La Conciergerie, d'Orsay, etc — as well as the fascinating but lesser-known museums — Museum of Air and Space, Paris Fashion Museum. More than 60 in total.
For fun, here's a list of most of the museums and monuments covered by the museum pass —
Abbaye Royale de Chaalis
Archaeological Crypt of Notre Dame
Basilica Cathedral of Saint-Denis
Bateaux Parisiens River Cruise
Chapelle Expiatoire (1815)
Château Fontainebleau
Château de Maisons-Laffitte
Château de Malmaison
Château de Pierrefonds
Château de Vincennes
Château de Rambouillet
Compiegne Château
Conde Museum at Château de Chantilly
Gustave Moreau Museum
House of Auguste Rodin at Meudon
Maurice Denis Museum
Musée de l'Institut du Monde Arab
Musée Guimet – Museum of the Asian Arts

Museum of 3D Relief Maps
Museum of Advertising and Publicity
Museum of Air and Space
Museum of the Army
Museum of the Cinema
Museum of Public Health in Paris
Museum of the Sewers of Paris
National Archaeology Museum
National Museum of Port-Royal des Champs
National Museum of the Renaissance in Ecouen
Paris Fashion Museum
Paris Tropical Aquarium
Sevres Ceramics Museum
Villa Savoye
Best Way To Get A Paris Museum Pass?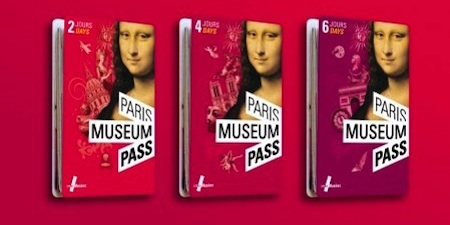 Our advice is to buy a a Paris Pass — every Paris Pass includes the Museum Pass. Overall, this gives you better much value since you also get to ride free on the Metro & buses, as well as many other perks. (Free Seine river cruise, anyone?)
We also strongly recommend that you order your Paris Pass online and have it in your hands before you leave home. That way you land in Paris ready to go!
Here are the links you need to get started —
Buy A Paris Pass
And save 10% with this code, exclusive to you, our readers: INSIDERGUIDE.
OR, Buy It As Part Of The Paris Combo Pass
OR, Buy It On Its Own
If for some reason you don't think you'll be riding the Metro (although we can't imagine why you wouldn't), and aren't interested in the Palais Garnier Opera House, a free wine tasting, or a Seine river cruise, then buy just the Museum Pass.
Paris Planning Guides