French Oysters –
Kings of the Sea
The French eat more than 130,000 metric tonnes of them each year. France produces over 150,000 metric tonnes of oysters each year. And les français eat about 90% of the production of the total production.
That's probably not counting us, though — we're sure we account for at least a tonne or two.
By the way, 150,000 metric tonnes is 287 million pounds, in case you're counting.
Along with foie gras and caviar, oysters define luxury French food. During the Christmas holidays, you can expect to find this holy trinity of French luxury foods on many menus. Along with champagne, of course.
On our very first Christmas in France we learned to love platters of fresh oysters, cracked open and served on a bed of ice with seaweed garnish, slurped down with a crisp Sancerre. French oysters simply taste better.
The First Noël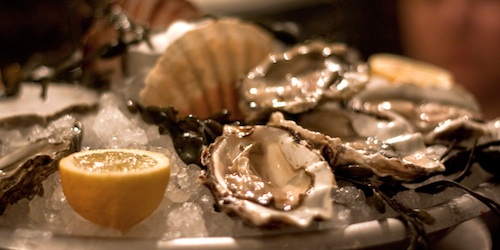 Oysters are as traditional to the French at Noël as turkey is to us.
At the wine cooperative at Beaumes-de-Venise we read a poster with a picture of oysters piled up to look like a Christmas tree, and the slogan, "Noël sans Huîtres? Pourquoi pas sans arbre, pendant que vous y êtes!"
It took us days and a serendipitous phrase in a dictionary to translate it as: "Christmas without Oysters? Why not without a tree, while you're at it?"
No country in the world offers a more varied oyster experience than France. France was the first country in all of Europe to start cultivating oysters on a large scale and they take it very seriously.
More than 2000 miles of French coastline, and about 3,400 French oyster growers translate into an estimated 520 million Euros in sales each year!
Not only do the French produce the majority of the oysters in Europe, they are also consume most of their harvest.
More than 90% of the oysters produced in France are consumed by the French, and about 50% of the annual oyster production is consumed between Christmas and New Year's Day…
Paris Planning Guides