Caviar – The Queen Of French Specialty Foods
We thought we knew caviar. Boy were we wrong!. Smokey, silky and delicious, caviar just might be the most famous luxury food specialty in France. How many times have you heard someone say "champagne and caviar" when speaking about luxury French foods? It seems both magical and amazing that such a delicate, yet firm taste comes from fish eggs.
But because of the dwindling sturgeon stock, caviar is no longer allowed to be imported into France from Russia. So, France must supply herself — good news for the French sturgeon farmers, who now produce the country's stock of caviar. We learned this, and much more, in the high-tech caviar tasting room of Café Prunier, one of the best caviar stops in Paris. Here's what we learned about this famous food specialty —

Tasting Caviar at Prunier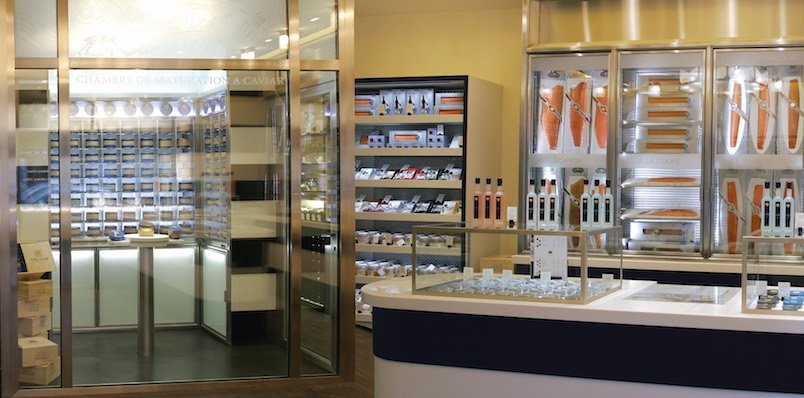 Everything we thought we knew about caviar was wrong. It took a visit to the elegant dining room of Prunier on Place de la Madeleiene, to set us straight.
Our first surprise was to learn that it is now illegal to import caviar into France; the diminishing numbers of wild sturgeon need to be protected. Goodbye Russian caviar. But that's not really bad news for the House of Prunier who were the first French producers of farmed sturgeon and the caviar they produce. They've been doing it for almost a century.
Maison Prunier became the first restaurant in the world to serve caviar caught twenty-four hours earlier and the first in France to produce its own caviar. Today, Prunier continues to farm sturgeon in giant tanks in the Dordogne. It takes two years of feeding and caring for the 200,000 sturgeon before it can be determined which fish are female. Then the female sturgeon are groomed for another six years before they begin to produce eggs. A fish obstetrician is on hand (we're not making this up) to carefully monitor their growth before the eggs are harvested. It's no wonder caviar fetches such a rare price.



History lesson now over, we were led into the James-Bond-style caviar tasting room. Smoky glass walls (probably bullet-proof) surround the central tasting island. Our caviar hostess brought out a small tin and told us to hold a hand in a fist, like I'm playing One Potato, Two Potato. With a silver spoon, she placed an almond-sized dollop of caviar on the fleshy part of my fist. This, she explained, is the best way to taste caviar – without interference from other flavours.
The taste is surprising — it's not salty like we were expecting. It's smoky, subtle and silky. We want more. In fact, we want a lot more…