Steak Au Poivre –
Easy French Recipes
This famous French pepper steak will wow
your guests. And it's so easy!
Parisians love steak au poivre. A peppery crust in a creamy sauce with a hint of brandy elevates steak from meat-and-potatoes to something so sublime it will make you swoon.
It's hard to believe that this spectacular French dish can be made in less than 30 minutes!
When it's done right, steak au poivre should melt in your mouth. I've added fleur de sel to the peppercorns to mellow the peppery flavors. If you don't have fleur de sel, not to worry, even a few grinds of freshly ground sea salt will do the trick.
What's essential in this dish is quality filet mignon or tenderloin, and whole grain peppercorns. You can grind the peppercorns with the side of knife (be careful!) or better yet, smash with a mortar and pestle. Don't crush the peppercorns too fine, they should retain a chunky texture.
Don't be alarmed by the amount of butter and cream! You'll discover that a small portion will satisfy, even a 3-ounce serving is plenty. Steak au poivre is a easy French recipe that can be quickly be made. It will be a showstopper at your next dinner party or special meal at home.
Paris Insiders Steak au Poivre Tip
This dish really shines when the steaks are cooked rare. It's important not to overcook the meat, cooking time will vary depending on the thickness of the steaks and even the skillet you use.
This recipe comes from our award-winning book – How to Cook Bouillabaisse in 37 Easy Steps: Culinary Adventures in Paris and Provence. To get all 49 recipes, plus read the tales of our culinary adventures in France, simply order the 300-page book. It's only $19.95 and shipping is free (US, CA, GB, FR, DE).
Steak Au Poivre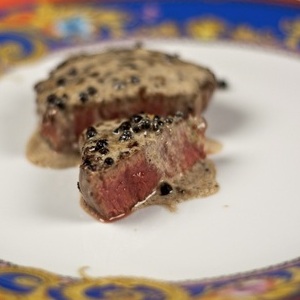 1 T whole black peppercorns, coarsely crushed
1 T Fleur de Sel
2, 6 to 8 oz steaks, filet mignon (tenderloin)
1 T butter
1 T olive oil
¼ cup Cognac or brandy
½ cup heavy cream

Serves 2 to 4
Remove the steaks from the fridge and bring to room temperature about an hour before serving.
With a mortar and pestle, or broad side of a knife, coarsely crush the peppercorns, then add the Fleur de Sel, and give a few more turns with the pestle. Spread out the mixture on a large plate. Press steaks directly onto the salt and pepper mixture on both sides.
In a heavy skillet heat the butter and olive oil until sizzling hot. At a near high heat, cook the steaks on each size for 2 to 3 minutes depending on the thickness. Remove the steaks with a pair of tongs, as forks will puncture the meat.

Remove the pan from the heat and wait for about a minute to let it cool slightly. Add the Cognac and stand back! The Cognac will practically ignite and then quickly boil down. With the heat still off, add the cream and then bring back to a low heat until it boils and thickens, about 2 to 3 minutes.
Return the steaks to the skillet, completely coat with the mixture and serve immediately.
Essential Cooking Equipment: you will need a large skillet, a sharp knife with a broad base or a mortar and pestle to crush the whole black peppercorns.
Cooking Time: 10 to 15 minutes prep time and 15 minutes active cooking.
Paris Planning Quick Links
Want To Learn More?
Don't Miss a Single Paris Travel Tip.
Sign up for Le Petit Journal!
The Newsletter of Paris Insiders Guide
Don't Miss a Single Paris Travel Tip.
Sign up for Le Petit Journal!
The Newsletter Of Paris Insiders Guide