Quiche Recipes, Pastry Dough –
Easy French Recipes
This Easy-To-Make Pastry
will make you look like Super Chef
In France, this pastry dough for quiche recipes is called pâte brisée ("pat breezay"), and it really is a breeze to make!
If you want to impress your family and friends guests with your quiche skills, make the pastry dough from scratch. It's easy, and you'll be richly rewarded with compliments!
It can be used immediately or frozen for later use.
The quiche reicpe (pastry dough) comes from our award-winning book –
How to Cook Bouillabaisse in 37 Easy Steps: Culinary Adventures in Paris and Provence
To get all 49 recipes, plus read the tales of our culinary adventures in France, simply order the 300-page book. It's only $19.95 and shipping is free (US, CA, GB, FR, DE).
Quiche Recipes, Pastry Dough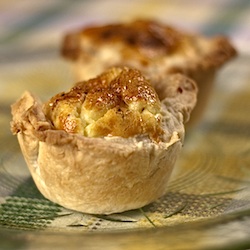 1 cup unbleached flour
¼ cup butter
½ tsp sea salt (if butter is unsalted)
3 T cold water, heavy cream or milk

Measure the flour and cut the butter into tiny cubes.
Put the flour in the bowl of a food processer and cut the butter into the flour. The dough should have the texture of coarse cornmeal. Add 1 tablespoon of the liquid at a time and pulse the food processor. As soon as the dough sticks to itself, stop adding liquid. Weather factors, such as humidity, will affect the amount of liquid needed.
Turn the dough out onto a well-floured board and lightly knead the dough, then form it into a ball. Wrap the ball of dough in plastic wrap and let it rest in the refrigerator for at least 1 hour before using.

Remove the dough from the refrigerator and let it warm up for about 10 minutes before rolling it out. On a well-floured board, flatten the dough with your hands into a circle shape. Then, using your rolling pin (a marble pin works best), gently roll it into a round of about 1/8-inch thick.
There's enough dough for one 9-inch quiche or 6 individual quiches. Be sure to use a fork to prick the dough when it's in the muffin tins or tart pan to prevent it from puffing up.
Quiche Recipes Essential Cooking Equipment: a large skillet, muffin tins, a small pot and a rolling pin.
Quiche Recipes Cooking time: 30 minutes prep time and 30 minutes active cooking.
Paris Planning Quick Links
Best Paris Wine Tours

The Best Hotels
in Paris
Food & Wine
Walking Tours

What To Wear In Paris
Want To Learn More?
Don't Miss a Single Paris Travel Tip.
Sign up for Le Petit Journal!
The Newsletter of Paris Insiders Guide
Don't Miss a Single Paris Travel Tip.
Sign up for Le Petit Journal!
The Newsletter Of Paris Insiders Guide