How to Cook Bouillabaisse
in 37 Easy Steps
Culinary Adventures in Paris and Provence
Winner of the Gourmand World Cookbook Award
About Our Book — How to Cook Bouillabaisse in 37 Easy Steps: Culinary Adventures in Paris and Provence.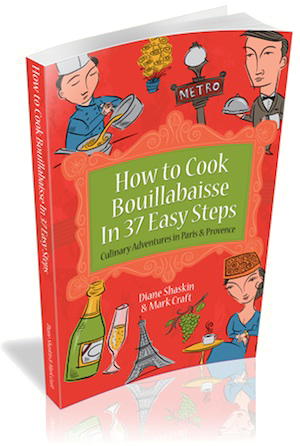 "Food, Wine, France, Travel." For fifteen years (and counting) those four words have fuelled our passion for the country and its cuisine.
"A great resource if you're planning to visit Paris."
–Calgary Herald
Now, in our award-winning book, you can join us as we learn how to make macarons at a cooking school in Paris, cook duck magret at Le Cordon Bleu, hunt for truffles in Provence with a truffle dog as our guide, and taste our way through the 56 AOC French cheeses in wine & cheese tastings.
How to Cook Bouillabaisse in 37 Easy Steps is about our adventures living and traveling in France — the friends we've made, the wineries we've discovered, the kitchens we've cooked in.
Join us as we discover the culinary secrets of France —
Find out how caviar is harvested
Learn where to find the best Parisian baguette
Visit the luxury food emporiums of Paris
Discover where to shop for the best cheese, and, of course
Learn how to cook authentic bouillabaisse from an master chef in Avignon (recipe included)
And much more
In addition to bouillabaisse, there are 48 other easy, classic French recipes, such as brasied garlic chicken, provençal goat cheese dip, and profiteroles with chocolate sauce.
Buy Online Now And Shipping Is Free
We were thrilled to receive the Paris Gourmand World Cookbook Award for French Cuisine, at a ceremony held at the historic Foilies Bergere Theatre in Paris. How to Cook Bouillabaisse in 37 Easy Steps was named the top book in North America!
We were soooo thrilled about receiving this prestigious award that we've decided to give you free shipping, when you order from this page!
Order online, right here, and make your payment with PayPal, the safest and most secure online payment service. Pay with a credit card or a debit card with peace of mind.
298 pages, paperback
Bonus: 49 easy French recipes
$19.95
Free shipping (US, CA, GB, FR, DE)

Order now and get free shipping
Don't forget to order now to get free shipping on our award-winning book, How to Cook Bouillabaisse in 37 Easy Steps Culinary Adventures in Paris and Provence.
Act now — before we come to our senses!

P.S. You can read excerpts from the book in our online Guide to Famous French Food »

Reviews of How to Cook Bouillabaisse in 37 Easy Steps
"If you're crazy about all things French, you'll enjoy this book, which not only focuses on food, but is also peppered with anecdotes and making friends in France."
–Calgary Herald

"Read 37 Easy Steps and you'll see France in a new and different way. And you'll want to go, not as a 'tourist', but deeper, where culture and cuisine are in the soul and soil. C'est la vie!"
–review at Amazon

"Diane Shaskin and Mark Craft… share their love of France in this chronicle of their culinary adventures."
–The Tomato (Edmonton)

"If you're a foodie and love all things France, you are going to dig right into this book… a lovely read with chuckles throughout. Don't miss this one!"
–review at Amazon.ca

How to Cook Bouillabaisse in 37 Easy Steps is also available from Amazon.com in the USA and from
Amazon.ca in Canada.

Libraries and Bookstores: Please contact us for ordering information.
(US bookstores can order through Amazon's CreateSpace service.)
More Paris Planning Quick Links
Best Hotels in Paris

Guide to Paris
City Passes

Fave Paris Museums Tours

Food & Wine
Activities
Want To Learn More?
Don't Miss a Single Paris Travel Tip –
Sign up for Le Petit Journal !
the newsletter of Paris Insiders Guide