Fauchon Paris –
A Gourmet's delight
Step through the doors and
your heart will beat a little faster!
You want to buy everything at Fauchon Paris — éclairs, baked goods, jams, jellies and bon bons. But, there are 30,000 products on display, so it would take a very grande shopping basket.
Fauchon Paris has two gourmet spaces that dominate an entire corner of Place de la Madeleine.
One location hosts the baked goods, the other has the boxes and tins of fabulous food, the wine cellar, and the café.
What Proust did for the madeleine (in his famous work, Remembrance of Things Past, Fauchon has done for the éclair.
A refrigerated display case the length of a Cadillac is filled with a dizzying selection of éclairs — there are even mini éclairs for all those French women who don't get fat. How about a foie gras éclair? This savory delicacy is filled with foie gras and glazed with hazelnut cream.
The History of Fauchon Paris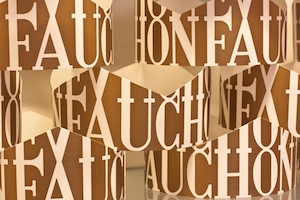 The story of Fauchon Paris begins with a man from the French provinces and a wheelbarrow.
Following the French Revolution at the end of the 18th Century the bourgeois, that is to say the middle class, began to develop in Paris. By the later 19th Century the bourgeois had created a demand for high quality products.
In 1886, three years before the Eiffel Tower was built, a young man named Auguste Fauchon arrived from Calvados with a wheelbarrow filled with fresh apples from his native Normandy. Soon he had a small store selling the great foods from the French provinces. It was Auguste's wife who first had the idea of putting their name on every product they sold.
Little did they know that the wheelbarrow would eventually turn into a magnificent food store and that the Fauchon food empire would still be flourishing today.
Royal Apricot Jam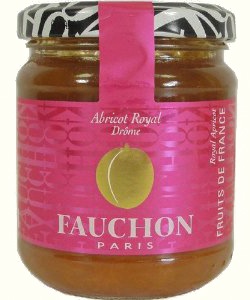 The apricot jams from the Drôme region of northern Provence are our absolute favorites, and Fauchon stocks a great example!
This one is made from an exacting and traditional Fauchon recipe. The apricots are handpicked in Haut Provence and the jam is cooked in copper pots, in small quantities.

Fauchon's Royal Apricot Jam contains only natural ingredients — in addition to the Drôme apricots, cane sugar, natural bergamot orange aroma, fruit pectin and lemon juice.
The Patisseries of Paris
A Paris Insiders Guide book recommendaiton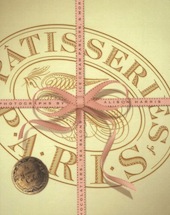 Parisians know that a perfect éclair or apple tart is one of life's great pleasures. But which patisserie has the best macarons, the most to-die-for chocolates, or a pain au chocolat that melts in your mouth?
The Patisseries of Paris answers those questions for you!
The Patisseries of Paris — Chocolatiers, Tea Salons, Ice Cream Parlors, and more
Fauchon Paris Facts
24-26 Place de la Madeleine, 75008
Faucon Paris is open from Monday to Saturday
The Deli & Pastry Shop is open from 9:00 am to 8:30 pm
The Bakery & Café are open from 8:00 am to 8:30 pm
The main store, the Gourmet Shop, is open from 9:00 am to 8:00 pm
Paris Travel Planning Quick Links
Want To Learn More?
Don't Miss a Single Paris Travel Tip –
Sign up for Le Petit Journal !
the newsletter of Paris Insiders Guide