Balsamic Vinaigrette Dressing –
Easy French Recipes
We open our secret recipe book
This basic balsamic vinaigrette dressing is one that's used in many Paris cafés and restaurants. But we add our own secret – a drop of maple syrup to neutralize the acidity of the balsamic vinegar.
It's important to use real Dijon mustard and high quality olive oil in this balsamic vinaigrette dressing.
You can add toasted, crushed nuts or a handful of dried cranberries to your salad if you like, but don't go overboard with the extras. What you'll discover is that simple, fresh ingredients and this vinaigrette make for a stunning entrée or main meal salad.
This salad dressing has been a standard in our kitchen for close to twenty years. The trick is to not use too much maple syrup: just a dash mellows the flavour of the balsamic vinegar.
This balsamic vinaigrette dressing comes from our award-winning book – How to Cook Bouillabaisse in 37 Easy Steps: Culinary Adventures in Paris and Provence. To get all 49 recipes, plus read the tales of our culinary adventures in France, simply order the 300-page book. It's only $19.95 and shipping is free (US, CA, GB, FR, DE).
Balsamic Vinaigrette Dressing Tip
Always taste the vinaigrette before tossing with the greens. It may need a bit more salt or a drop more maple syrup..
Balsamic Vinaigrette Dressing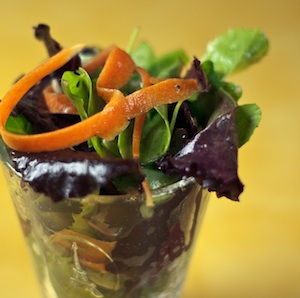 1 tsp Dijon mustard
1 clove garlic, minced
¼ cup olive oil
1 T balsamic vinegar
1 tsp maple syrup
pinch sea salt
1 grind black pepper
In a small bowl, blend together the minced garlic, Dijon mustard, salt and pepper. Slowly drizzle in the olive oil and whisk in until it is well blended. It's important to keep blending until the ingredients are completely integrated.
Add in balsamic vinegar and maple syrup. Adjust the seasoning to taste. The maple syrup should nicely balance the flavour, it shouldn't be overly sweet. Now onto the salad.

The salad
5 oz Herb Salad Mix or lettuce of your choice
1 carrot
¼ cup Maple Balsamic Vinaigrette Dressing
Serves 2 to 4
When salad is made fresh, it will become a highlight of any meal. The most important rules on how to make great salads are wash, spin and rehydrate.
Remove the greens from the package and place directly into the colander part of a salad spinner. If you're using lettuce leaves, separate each leaf and wash. Rinse well under the tap, using your hands to ensure that all the greens are washed. Spin well several times to make sure the majority of water is removed.
Now for the important step, place the greens into the refrigerator for at least 10 minutes. This guarantees that they will become crisp and fresh. While the greens rehydrate, make the vinaigrette. The balsamic vinaigrette dressing can be made well ahead of time, but I usually make mine fresh.
Just before serving, in a large salad bowl, add the refreshed greens and, using a vegetable peeler, add long strips of carrot. Now it's time to toss. Drizzle the balsamic vinaigrette dressing and, with salad tongs, toss until the greens are completely covered and all the vinaigrette is integrated. There should never be a puddle of vinaigrette at the bottom of the bowl, check to make sure!
A great salad should be crisp, fresh and perfectly dressed. Unless it's they are main course , serve salads in interesting dishes, like pretty Eiffel tower glasses, or small soup bowls.
Essential Cooking Equipment: Salad spinner, a small whisk and salad tongs.
Cooking Time: 10 to 15 minutes prep time.
Paris Planning Quick Links
Best Paris Wine Tours

The Best Hotels
in Paris
Food & Wine
Walking Tours

What To Wear In Paris
Want To Learn More?
Don't Miss a Single Paris Travel Tip.
Sign up for Le Petit Journal!
The Newsletter of Paris Insiders Guide
Don't Miss a Single Paris Travel Tip.
Sign up for Le Petit Journal!
The Newsletter Of Paris Insiders Guide