Francisca Mattéoli's
One Day in Paris
A Paris Travel Writer Shares
Her Insiders Secrets
Photo by Julio Piatti
My Paris Itineraries. I came to live in Paris following political events in Chile. It was a major change for me since I didn't speak a word of French and knew nothing about Europe. It took me some time to adapt. Most Parisians I met had never traveled very far, and certainly not to South America.
Finally I decided to write about what I knew the best – travel. My father is Chilean, my mother is Scottish, so I was used to different cultures and different mentalities, and this has been a real force in my writing.
That was when I really began to look at Paris and France. I started writing, fell in love with a Frenchman and discovered Paris as an adopted Parisian. I am very fond of the nearby countryside and love the gardens and parks here. I also love that you can change your quartier and feel like you're in a different country. Then there's the changing Parisian skies and the special light that's sometimes transparent. At times Paris is like being in a Monet painting.
Here are my Paris Itineraries. If I had to plan One Day in Paris, it would include…
Francisca Mattéoli's Paris Itineraries
Where I Would Stay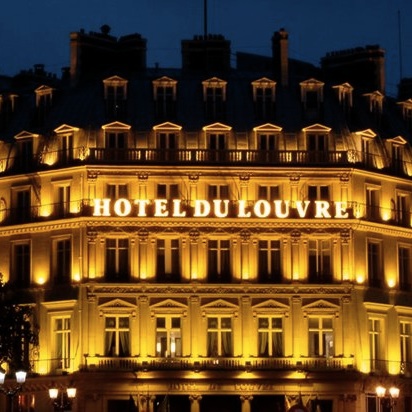 Hotel du Louvre
I like spending time around Rue de Rivoli, in the 1st Arrondissement of Paris. When we first arrived in Paris, I lived with my family at Hotel du Louvre. It was really an experience! Nobody lived in a hotel and all the Parisians I met where stunned.
I have incredible memories connected with this part of Paris. I like the mix of tourists and real Parisians, certainly because that is how I see myself.
I'd also love to have a view on the Tuileries. The Hotel Le Meurice gives that chance. And also Angelina, the historical salon de thé. I love places with a real atmosphere.
Sights I Wouldn't Want To Miss
Paris Itineraries – Museums
Le Musée de la Chasse et de la Nature. I am a true and eco-friendly warrior, a chica from the South American countryside. This museum in the Marais gives you the impression of being in a place filled with adventures and stories.
Paris Itineraries – Jardins et Parcs
The Jardin des Plantes. The flower and plant displays are magnificent, and the little zoo is beautiful and makes me laugh like a kid each time I go. Especially the koalas and kangoroos in their private gardens.
My Paris Itineraries – Food in Paris
My favorite spot. Café Le Fumoir, just steps from the Louvre art museum is cultural, clubby, chic and refined. The food is as good as the place looks, and there is a wonderful library where you can have a cup of tea and stay all afternoon reading a good book. Or go late – for a typical Suze, or a martini!
Other favorite food experience. Having a glass of wine from the Domaine de Sarus with stinky French cheese, at home with my friends. Domaine de Sarus is my favorite french wine because it's simply delicious, and it grows in Pezenas, a superb part of France.
My favorite Shopping
The famous Meert vanilla gaufrettes from Maison Meert. 16 rue Elzevir 75003 in the Marais. The shop is a marvel.
Books (like mine!), French or from all over the world, at historical Galignani bookshop. 224 Rue de Rivoli.
Fashion brands, home interior and luxury – Le Printemps Paris. For me, it's the most elegant department store in Paris. 64 Boulevard Haussmann, 75009.
My Favorite Paris Movie
Quai des Orfèvres. The Paris shown in the movie is not touristic or arranged like a postcard.
It's a fabulous movie, by one of the most famous french directors (Henri George Clouzot) and you see the real Paris.
The story is fascinating. A must, really.
My Paris Itineraries – So much more!
Off-the-beaten-path. The tropical rainforest greenhouses of the Jardin des Plantes. Quite amazing and an Art Deco gem.
Favorite bus ride. The 72 bus which drives down the Quais. My mother also loves to see Paris by bus and we go together to the Indian district of Paris to buy ingredients for curries. In fact, we are all "bus aficionados" in our family.
Favorite walk. Around Place des Vosges. I never have enough of the little corners, streets and passages here. It's like being in a novel.
Paris itineraries – My bridge. The Pont Saint-Louis in summer. Real parisian charm and what a view on Paris! A dream.
Most overrated in Paris and most underrated?
Overrated – Champs-Elysées. Too crowded and too commercial. It has lost its magic. Also some historical restaurants. Very often they are terribly boring and a tourist trap.
Underrated – The movie theatre La Pagode with its Chinese garden. It's so inspiring and unexpected. And the inside of the theatre is a beauty. 57 Bis, Rue de Babylone, 75007
One more thing…
I love the flea markets in Paris. Each time you discover a new part of the town and its habits. There is a great one along Rue de Bretagne, a traditional market street, in the Marais area. I even wrote a bilingual book about the subject! – Flea Markets Around the World.
About Francisca Mattéoli
Travel writer Francisca Mattéoli writes for National Geographic France and Condé Nast Traveller and has written six books in English and French.
Her newest book is Escape Hotel Stories
, a travel book that celebrates environment and preservation. It takes readers to the most stunning natural sanctuaries in the world and offers fantastic hotel recommendations.
Francisca lives in Paris with her husband. You can find out more about Francisca on her travel blog.
Don't Miss a Single Paris Travel Tip.
Sign up for Le Petit Journal!
The Newsletter of Paris Insiders Guide
Don't Miss a Single Paris Travel Tip.
Sign up for Le Petit Journal!
The Newsletter Of Paris Insiders Guide