Guide to the Top Photography Walking Tours in Paris
See the best of the City of Light in the best light. On Paris photography walking tours you'll see a lot of the city — the famous and the hidden — while learning how to make it look its best. Imagine coming home with your best vacation photos ever after walking around the city with a professional photo instructor and guide.
All recommended photography walking tours are neighborhood specific, exploring the best of artistic and bohemian Montmartre, or spending time in one of Paris' oldest quartiers, the Latin Quarter. But, our favourite photo experiences are the four private tours created by our ever-busy Paris Concierge, which allow you to choose from one of four iconic neighborhoods — The Latin Quarter, The Marais, Montmartre, and the Palais Royal/Louvre quartier.
Photographer's Walking Tour in Paris
The Latin Quarter or Montmartre
Learn how to take great shots while exploring the historic Latin Quarter or the hill of Montmartre with your guide, a professional photographer, writer, artist, poet and teacher.
These 3-hour, small-group tours are limited to 6 people to ensure quality instruction. Many tours end at a local bistro where you'll review your photography. An unforgettable tour of a classic Paris quartier!
Paris Thru The Lens – Latin Curios
Private Photography Tour in the Latin Quarter
Our Paris Concierge has created some authentic city adventures — rare opportunities to experience the city from an Insiders point of view.
Rewarding and invigorating, these walking training sessions are conducted by an experienced photographer, instructor and Paris Insider. You learn how to take control of your equipment, all about camera settings, the top rules for great composition, and how to develop a great photographic eye.
These are private tours, for just you and your party, with a minimum of two people. You can choose from 2-hour tours and 3-hour tours (our favourite) and also opt for lunch at a local bistro where your guide will review your work.
Paris Thru The Lens – Mysterious Montmartre
Private Photography Tour in Montmartre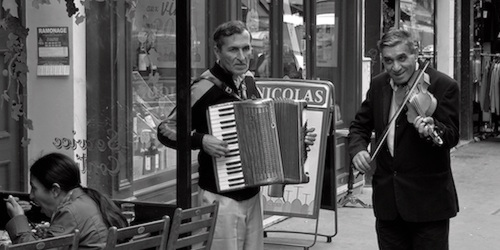 On the highest point in Paris, along steep winding streets that were the haunt of painters, poets and bohemians, you and your private instructor/guide will shoot some of the most iconic sites.
You'll take photos of building, streets and people under, learn how to identify shots in advance and how to switch settings easily and quickly. Your guide will also review your photos and offer instant advice.
This is one of four Paris photography tours created by our Paris Concierge (including the Latin Quarter tour, above). To find out more, use the inquiry form.
Photography Museums in Paris
If you're interested in photography you won't want to miss the exhibitions at the superb museums dedicated to photography. Check out our reviews for more information.