Guide to Paris
Airport Transfers – Part 2
Cheap Seats into the city –
buses & Trains
In Airport Transfers Part 1 we showed you the private and semi-private choices in Paris airport transfers.
But if you're going as cheaply as possible, you'll need to look at other alternatives.
There are a couple of buses that take you to various places within Paris. One is operated by the Paris transportation authority, and the other is offered by Air France.
Another choice is the trains. The RER runs deep underground in Paris, below the Metro tunnels, and is the high-speed means of subway travel in the city. Not to be confused with the TGV, a super-fast modernistic train system that covers all of France, and beyond.
Les Cars Air France
The buses of Air France
Air France operates buses on two routes between the and Charles de Gaulle Airport. Anyone can ride the Air France buses, you don't need to have flown on Air France.
First of all, let's look how you get from Paris to the airport.
Getting From Paris To The Airport (CDG)
There are two routes, called Route 2 and Route 4. Buses leave Paris about every half hour from 6:00 am until 11:00 pm, depending on the route.
Route 2 leaves Paris from the Étoile (the Arc de Triomphe) at 2 Avenue Carnot. On the way to the airport it makes another pick-up at Porte Maillot (at Blvd Gouvion St-Cyr).
Route 4 leaves Paris from two train stations. It starts at Gare Montparnasse and makes a stop for pick-up at Gare de Lyon.
Getting from CDG to Paris using Les Cars Air France:
Click to view a larger map
At Charles de Gaulle Airport both bus routes make pick-up stops at five stations at the airport.
If you want to see a bigger map of all the stop at CDG, click on the small map on the left.
Here are the Les Cars bus stations at CDG —
• Terminal 1: Arrivals level, Gate 32
• Terminal 2A & 2C: Exit C2
• Terminal 2B & 2D: Exit B1
• Terminal 2E & 2F: Gallery Level, Exit 3
• Terminal 2G: take the free airport shuttle to 2C
Paris Insiders Tip
Air France runs nice, clean buses and they are a cheap and easy way to get to and from the airport. BUT, to go from Paris to CDG, you'll have to get to the Paris pick-up points on your own, and this might mean hauling your luggage through the Metro. That's why we recommend a shuttle van service or a private car.
Roissybus Paris Airport Transfers
The Roissybus is a bus shuttle that runs between CDG and the Palais Garnier at Place de la Opera, where there is easy access to both the Metro (station Opera) and the RER Line A (station Auber). Roissybus is operated by RATP, the Paris region transportation authority.
The cost is about 10€. You can buy a ticket for the Roissybus from the vending machines at all Metro and RER stations. Just like with all Metro, bus and train tickets, remember to validate your ticket when you board the bus.
Ride the Paris Urban Train – the RER
The only way to avoid traffic when getting from CDG to Paris is to take a train. The Paris urban trains, the RER, run from the airport to central Paris. The cost is only about 10€ and it takes about 35 minutes.
The RER line that services CDG is the Blue Line B. You can catch the RER at the airport train station located between Terminals 2C and 2E. Signs throughout Terminal 2 clearly show the way.
RER B, the Blue Line, stops at a number of stations in Paris (where you can make free transfer connections to the Metro), from Gare du Nord to Denfert Rochereau, including at Chatelet Les Halles, right in the center of Paris.
High Speed Trains (TGV) from CDG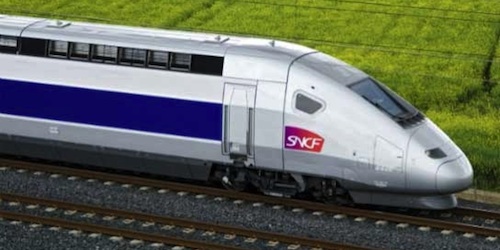 If you're going elsewhere in France, other than Paris, you can catch the TGV right at Charles de Gaulle Airport.
The station is located between terminals 2C and 2E. You can catch the official Aéroports de Paris N1 bus from your terminal for a free shuttle to the TGV station.
Here's where you find the bus at various terminals:
Terminal 2A: Entrance A5
Terminal 2B: Entrance B6
Terminal 2C: Entrance C6
Terminal 2D: Entrance D6
Terminal 2E: Entrance 4
Terminal 2F: Entrance 8
Terminal 2 train station: Level 5
Travel Planning Quick Links
All About Moulin Rouge Paris

Best of Paris
Design Hotels

Best Day Trips From Paris

Food & Wine
Activities
Want To Learn More?
Don't Miss a Single Paris Travel Tip –
Sign up for Le Petit Journal !
the newsletter of Paris Insiders Guide