Do You Have
How to Make Crepes Recipes?
Answers to Your Paris Questions

How to Make Crepes Recipes? I just returned from Paris and I really enjoyed learning about French food. In fact, I have fallen in love with crepes! Do you have an easy crepes recipe to share?
Merci! –Jenny, Canada


How to Make Crepes Recipes. Good news — we also love crepes! In Paris, crepes are everywhere. They are sold by street vendors near the Eiffel Tower, on Champs Elysées, in parks and open-air markets and in crêperies throughout Paris.
You can even buy pre-made crepes in several sizes in Paris grocery stores, easy to reheat in your apartment kitchen.
When we're at home, we make crepes all the time.
Crepes can be prepared and kept in the refrigerator for up to a week.
Then, whenever you have a hankering for a bit of France in your tummy, just warm the crepes for about a minute in a hot skillet and keep warm them in the oven at a very low heat until you're ready to serve.
How to Make Crepes Recipe – Ingredients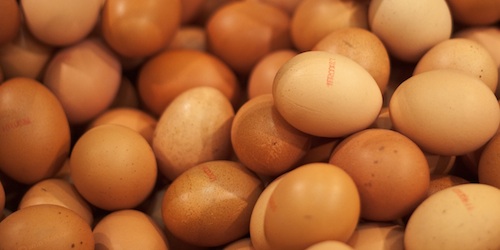 Crepe Recipe Ingredients 1½ cups milk
3 eggs
1 cup flour
1 ½ tbsp sugar
2 Tbsp melted butter
In a blender, add all the ingredients and blend for about two minutes.
The secret step to make better crepes is to allow the batter to sit for at least 20 minutes and up to 1 hour before cooking. This lets the flour particles absorb the liquid. The crepe batter should be silky smooth with the consistency of heavy cream.
How to Make Crepes – Technique
Heat a small non-stick skillet (we like to use our 8-inch omelet pan), at medium high heat. You can make larger crepes using a 10-inch skillet. Use the first crepe as a test to get the temperature just right.
Add a few drops of oil to season the pan. You won't have to add any more oil to the pan.
Add a small ladleful of batter (about ¼ cup) to the skillet. The batter should sizzle when it hits the pan. Swirl gently to make into a circle.
Let the crepe cook until it's golden brown on the underside.
Flip over and continue to cook until golden brown. You can use a spatula but we find it easy just to use our fingers to quickly pinch the crepe and turn it over. Remove and set on a plate. Continue to cook each crepe and set aside.
How to Make Crepes – To Fold or Roll?
There is some debate on how to serve crepes.
Some prefer to roll them like cigars, some prefer to fold them into a triangle. In France, savory crepes are generally laid flat with the ingredients on top, with the four sides folded in to showcase the ingredients. Sweet crepes are generally folded into a triangle.
Popular Sweet Toppings
nutella and sliced banana
lemon juice and sugar
your favorite jam
chocolate sauce
ice cream and caramel sauce
fruit in the middle, such as sliced ripe pears with drizzled chocolate sauce on top
Popular Savory Toppings
eggs and bacon
apple sauce and sausages
grated emmenthal cheese and a fried egg
smoked salmon and créme fraiche
chopped ham and sautéed mushrooms
seafood and béchamel sauce
For more great French recipes go to our food section: Easy French Recipes »
Paris Planning Quick Links
Don't Miss a Single Paris Travel Tip.
Sign up for Le Petit Journal!
The Newsletter of Paris Insiders Guide
Don't Miss a Single Paris Travel Tip.
Sign up for Le Petit Journal!
The Newsletter Of Paris Insiders Guide