Hotel Muguet Paris
A top place to stay
near the eiffel tower
When Rick Steves speaks, people listen. Hotel Muguet Paris has been annointed by the popular travel writer as a top place to stay in the Eiffel Tower neighborhood.
We, too, have a soft spot for the charming neighborhood in the 7th Arrondissement, close to the Tower as well as Champs de Mars, the wonderful market street Rue Cler, and the lively shopping street of Rue Saint Dominque.
And we're not the only ones who think so. Hotel Muguet Paris is often booked well in advance. So take note – if you're interested in staying here, you'll need to book well in advance.
Paris Insiders Tip
Muguet means Lily-of-the-Valley, a symbol of happiness and the return of joy.
What to Expect at Hotel Muguet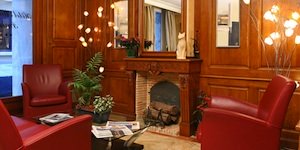 Behind the pink-painted brick exterior of this recently renovated hotel are forty-five calm and comfortable rooms with TV sets hung high on the wall. The rooms are well-decorated in soft shades and French furnishings, and are equipped with large wardrobes (rare for Paris hotels). The owners of Hotel Muguet actually live at the hotel, which helps explain the high standards.
The bathrooms are a good size, comfortable and very clean. Breakfast is served on the veranda, with fresh coffee, croissants, scrambled eggs, ham, yogurts, cereals and toast.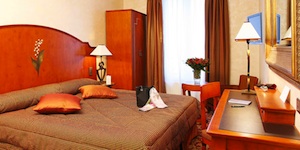 Some travelers comment on the small size of the rooms. However, they also say that the service is outstanding. It's important to note that Paris hotel rooms are small everywhere in the city, with the exception of some of the five-star hotels.
Hotel Muguet is situated close to many major attractions and museums. You will be within walking distance of the Eiffel Tower, Invalides, Musée Rodin and the many boutiques, shops and restaurants on Rue Cler.
Hotel Muguet





11 Rue Chevert
7th Arrondissement

Paris Planning Quick Links
Want To Learn More?
Don't Miss a Single Paris Travel Tip.
Sign up for Le Petit Journal!
The Newsletter of Paris Insiders Guide
Don't Miss a Single Paris Travel Tip.
Sign up for Le Petit Journal!
The Newsletter Of Paris Insiders Guide