Guide to
Cooking Classes in Paris
Connect with the
culture of france
It's not surprising that cooking classes in Paris have become very popular. They're a perfect way to connect with the food culture of a city famous for good eating.
An afternoon spent at a cooking class in Paris will be a memorable experience that will enhance your visit to the City of Food – and will inspire you to make classic bistro dishes when you're back at home.
We've enrolled in lots of cooking classes in France and we always come away with a better feeling for the culture of the country, as well as a lot of great cooking ideas and techniques.
These classes have been selected by our Cooking Concierge and include many options – from private classes in a Parisian home to group classes in a designer atelier. But don't be afraid to suggest other interests you may have. (Simply go to the Inquiry Form.)
Easy Classic French Cooking
Learn how to create a classic French meal, the easy (and delicious) way!
Working under the guidance of a Parisian chef, you'll create an entrée, a plat, and a dessert, then enjoy your creations at a sit-down dinner with your fellow students. Bon appetit !
Market Tour & Classic French Cooking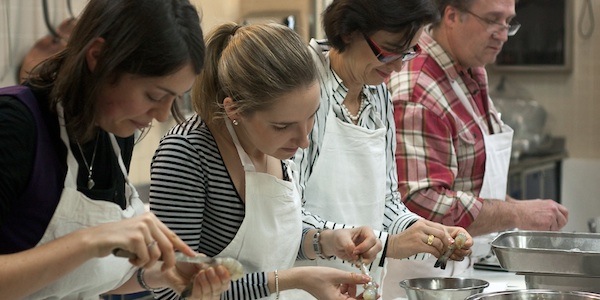 Visiting an open-air food market in Paris is the height of a French food experience.
With an expert chef as your guide you meet local merchants and learn all about the varieties of French fruits and vegetables.
Then, with loaded baskets in hand, it's back to the cooking studio where your chef shows you how to turn your purchases into a fabulous meal. Once you're done cooking, sit down with your classmates and enjoy your creations.
Classic French Desserts
France is renowned for its fabulously delicious desserts.
Think of cream-filled pastries, multi-layered creations, and chocolate chocolate chocolate!
Once you've completed this 3-hour class (and eaten your creations), they'll no longer be a mystery to you. Amaze the folks back home!
Macarons – the most famous french dessert
A Paris Insiders Guide favourite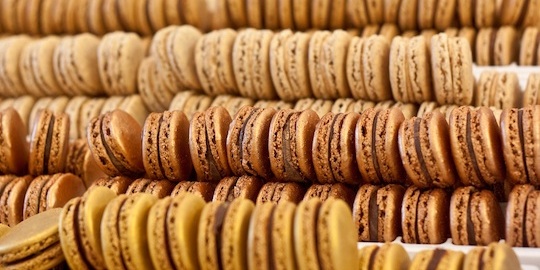 Macarons, lighter than air and madly delicious, are all the rage in Paris. First created by Ladurée in 1930, they've since become a Paris institution, just like the Eiffel Tower!
In this 3-hour class you'll learn the secrets to making your own macarons, in a variety of colors and fillings.
Classic French Baking & Bread Making
When you think of Paris, you may well think of baguettes, croissants and delicious pain au chocolat.
What are the secrets behind the consistently wonderful, lightly flakey French baking?
Get started in French bread with this 3-hour hands-on baking class that teaches you the basics you need to start making your own bread back home.
More Paris Cooking Classes!
More About Food in Paris
Want To Learn More?
Don't Miss a Single Paris Travel Tip –
Sign up for Le Petit Journal !
the newsletter of Paris Insiders Guide