Restaurants On The Eiffel Tower – Le Jules Verne & 58 Tour Eiffel
Imagine dining on the Eiffel Tower, the most famous monument in the world! High above Paris there are two dining options. Le Jules Verne, 400 feet above the city, is a Michelin-starred restaurant overseen by legendary chef Frédéric Anton. A second restaurant, 58 Tour Eiffel, at 200-foot level, is a more casual brasserie under the whisk of Michelin chef Thierry Marx. (It's currently undergoing a renovation.)
The good news is that restaurant Jules Verne is now taking reservations! Our recommendation is to book your flight, then book your table at the magnificent Le Jules Verne. Let's find out more.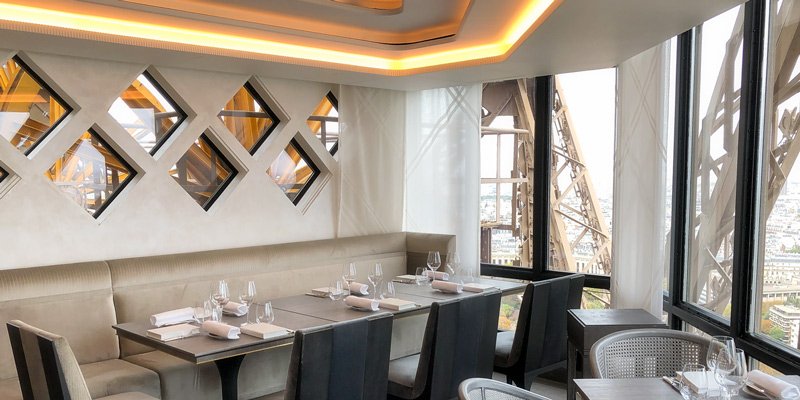 Frédéric Anton's Le Jules Verne reopened in 2019 to acclaim following a lengthy renovation. Perched at 125 metres above ground, Le Jules Verne opens onto three dining rooms offering breathtaking views over the Champ-de-Mars, Quai Branly, Trocadéro, and the rest of Paris.
What Chef Anton and his team have created is both impressive and unexpected — transforming a restaurant celebrated mostly for its views and location into a true culinary destination. This is multi-starworthy cooking in a space that's both dramatic and comforting. (In fact, when it re-opened under Anton we named it The Best New Restaurant In Paris of the year.)
Chef Anton keeps his focus in Paris at Le Jules Verne and at his restaurant in the Bois de Boulogne, Le Pré Catelan, where he has held three Michelin stars since 2007.
Reservations are a must for Le Jules Verne, where a private elevator takes you directly up to the restaurant. We believe it's worth the trip to Paris just for the chance to dine here.
58 Tour Eiffel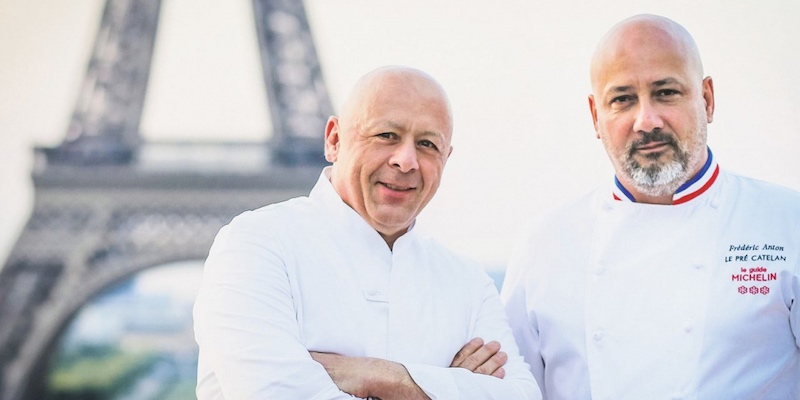 Chefs Thierry Marx & Frederic Anton, with 6 Michelin stars between them
On Level One of the Eiffel Tower is Brasserie 58 Tour Eiffel, overseen by Thierry Marx and currently under renovation. Even while Chef Marx has been working hard on creating a new look and menu for the casual brasserie and getting ready for the re-opening, he still had time to send a couple of his dishes into space with Elon Musk. Marx has held two Michelin stars since 2012 at restaurant Sur Mesure at the Mandarin Oriental Hotel in Paris. Stay tuned for updates.
The Champagne Bar
At the tippy top of the Eiffel Tower, on Level Three, is the Champagne Bar. Here, at 275 metres above Paris, you can sip champagne, nibble on French caviar, and view the dazzling city beneath you. It's super casual, and can be a bit windy, but we can't think of a better place to clink glasses and drink bubbles. Reservations aren't required. The Champagne Bar is open daily during the summer but on weekends only during the winter. See you at the top!