Restaurants On The Eiffel Tower – Le Jules Verne & 58 Tour Eiffel
Paris likes to put its historic buildings and monuments to good use. More than simply being famous or old or both, many of the attractions are utilized for activities that keep them an important part of the city life. We've mentioned that some of the historic Gothic churches of Paris also are venues for classical music concerts. Or, in the summer, you might take in an outdoor opera performed at Les Invalides, home of the Tomb of Napoleon.
The Eiffel Tower follows suit with a Michelin-star restaurant located on this, the most famous monument in the world. There are also more casual buffets on the first and second levels. It's lovely to imagine dining on a classic French meal while gazing at the lights of Paris spread out beneath you. Our top pick, of course, is booking a table at the magnificent Le Jules Verne. Let's find out more.
2021 Eiffel Tower Restaurant Updates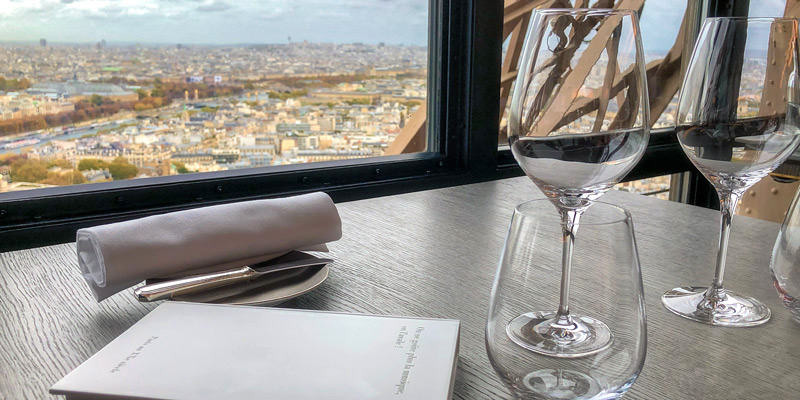 Dining on the Tower at two location — at 200 feet and 400 feet above the ground, respectively — have seen important changes in the past couple of years. Chef Alain Ducasse, who had been overseeing restaurants 58 Tour Eiffel and Le Jules Verne (one Michelin star), lost his lease on the spaces after ten years. The new chefs on the Tower were to be Frédéric Anton at Le Jules Verne and Thierry Marx in the 58 Tour Eiffel space.
Frédéric Anton's Le Jules Verne reopened in 2019 to acclaim following nearly a year of renovations. But a new 58 Tour Eiffel from Thierry Marx has not yet appeared, although we've learned that renovations are still underway, with the schedule knocked back by the Covid pandemic. In fact, even Le Jules Verne has not yet reopened post-lockdown due to some unexpected but necessary further renovations. Look for both restaurants to be accepting reservations again some time in 2021.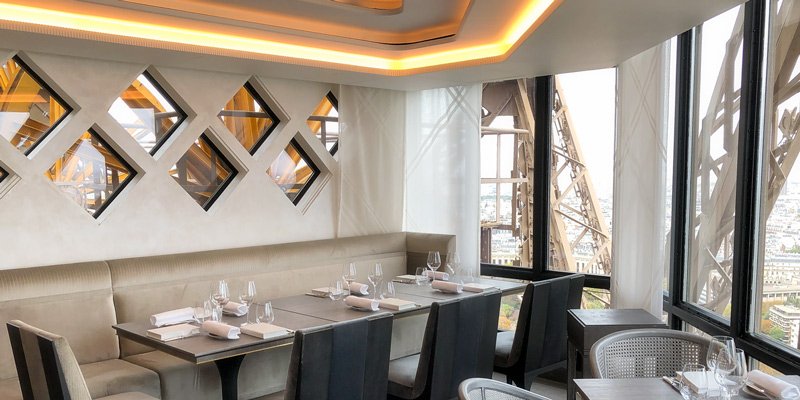 Sometimes change is good, even at an historic monument. The renovation and reopening of Le Jules Verne restaurant on the second level of the Eiffel Tower was one of our top highlights of the year.
It was out with the decade-long-rule of Alain Ducasse and in with Chef Frédéric Anton, the talented Michelin 3-star chef and Meilleur Ouvrier de France (the country's top culinary award). Unlike Ducasse, who oversees a global empire of restaurants, Anton keeps his focus in Paris at Le Pre Catelan in Bois de Boulogne (where he had held three Michelin stars since 2007) and now, the jewel of France, Le Jules Verne, 400 feet above Paris on the most famous monument in the world.
What Anton and his team have created is both impressive and unexpected — transforming a restaurant celebrated mostly for its views and location into a true culinary destination. This is multi-starworthy cooking in a space that's both dramatic and comforting. We think it's worth the trip to Paris just for the chance to dine here.
We had a chance to dine here and were very impressed. We named it The Best New Restaurant in Paris as well as one of The Best Restaurants in France 2020.