Eiffel Tower Restaurants – The Tower With A Michelin Star On Top
Paris likes to put its historic buildings and monuments to good use. More than simply being famous or old or both, many of the sights of the city have uses that make them more useful — and more fun. For instance, the historic Gothic churches of Paris also are venues for classical music concerts. Or, in the summer, you might take in an outdoor opera performed at Les Invalides, home of the Tomb of Napoleon.
The Eiffel Tower follows suit with not just one, but two restaurants located on this, the most famous monument in the world. It's lovely to imagine dining on a classic French meal while gazing at the lights of Paris spread out beneath you. Our top pick, though, is booking a table at the higher-end Le Jules Verne. Let's find out more.

The Michelin-Starred Le Jules Verne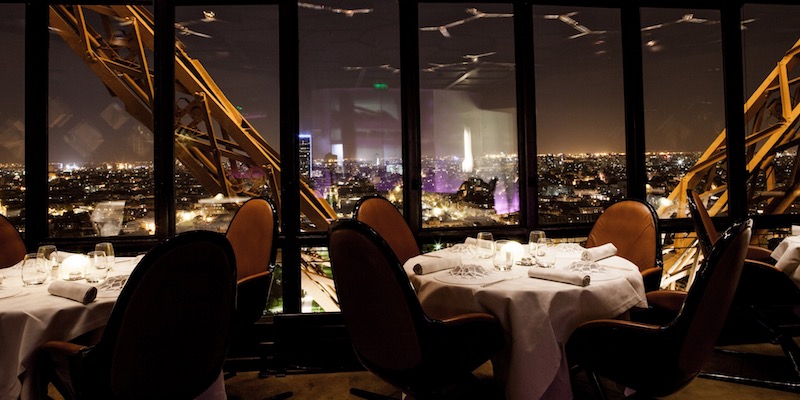 The Michelin Guide to restaurants in France is the one guidebook that French chefs pay attention to. We know, they told us so. Chef Frédéric Robert of La Grande Cascade, who also holds a Michelin star, told us that Michelin was the only guide that makes a difference. "The rest," he said, "don't matter."
Chef Alain Ducasse certainly pays attention to the Michelin Guide as well, since his various restaurants have been awarded eighteen stars. Ducasse had also brought his star-winning cuisine to the Eiffel Tower at restaurant Le Jules Verne.
But, after serving Michelin-starred meals atop the Tower for ten years, Alain Ducasse wasn't able to renew his lease in late 2017. The good news is that Le Jules Verne will now be under the toque of Chef Frederic Anton, who also holds three stars at Le Pre Catalan in the Bois de Boulogne. Jules Verne is closed for renovations until sometime in spring 2019, so stay tuned!

Dining at 200 Feet at 58 Tour Eiffel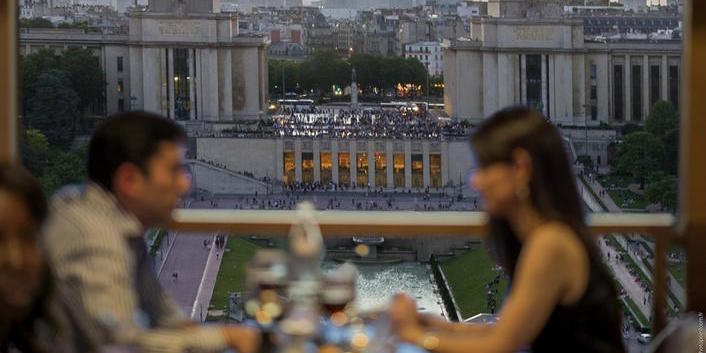 Level One is where you find the other Eiffel Tower dining choice, 58 Tour Eiffel. The restaurant doesn't hold a Michelin star, but the food is really good and the view is magnificent. You skip past the line-ups at the Tower to head directly up the elevator, where a table has been reserved for you.
Chefs work in an open kitchen, giving you the chance to see the action as your meal is being prepared. The four-course seasonal menu they create for you will be part of a memorable, romantic evening (or lunch) for you and that Special Someone, especially with the Paris city lights all aglow. Be sure to book as early as possible, for this is also sure to sell out.