Restaurants On The Eiffel Tower – Le Jules Verne & Madame Brasserie
Two Restaurants On The Eiffel Tower
Image being led to your table to gaze down at the lights of Paris below you. That's what dining on the Eiffel Tower is like. High above Paris, on the most famous monument in the world, there are two delicious dining options, each of them run by a chef holding multiple Michelin stars. Le Jules Verne, 400 feet above the city, is a Michelin-starred restaurant overseen by legendary chef Frédéric Anton. Madame Brasserie, at 200-foot level, is under the whisk of another Michelin chef, Thierry Marx.

Our Top-Rated Eiffel Tower Experiences
On Level One of the Eiffel Tower is Madame Brasserie, overseen by Michelin-starred chef, Thierry Marx. In this casual brasserie, Chef Marx focuses on creating menus using local and responsible produce, with dishes that are meant for sharing. Marx has held two Michelin stars since 2012 at restaurant Sur Mesure at the Mandarin Oriental Hotel in Paris.
Opt for lunch at Madame Brasserie and you'll dine on a classic, three-course French meal while enjoying the daytime views of Paris below you. But dinner is when things get magical — when it's not just Paris beneath you, but the City of Light. At dinner, select the "Menu Grande Dame – Paris View" option for the best menu and the best views.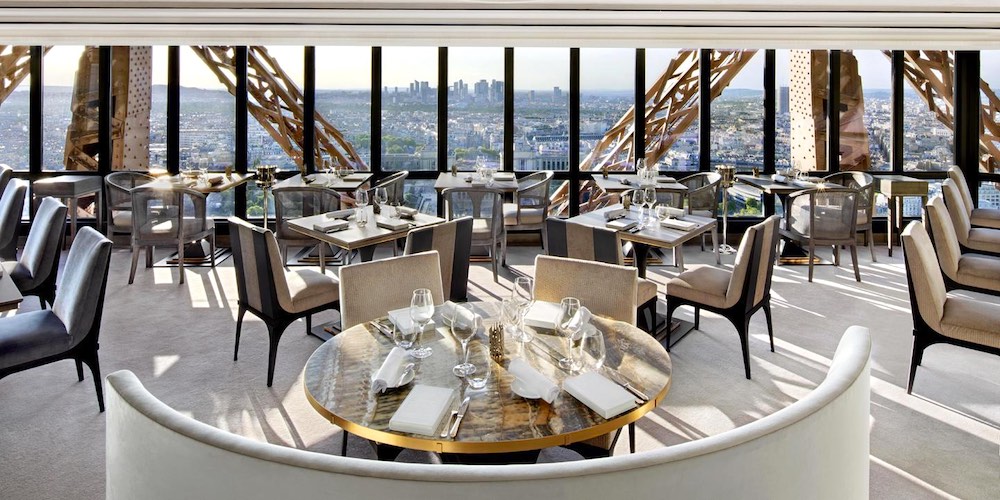 Following a refreshing renovation, Le Jules Verne reopened in 2019 under the practiced hand of chef Frédéric Anton. Perched at 125 metres above the Champ de Mars, Le Jules Verne opens onto three dining rooms offering breathtaking views over the Seine River, Quai Branly, Trocadéro, and the rest of Paris.
What Chef Anton and his team have created is both impressive and unexpected. They have transformed a restaurant celebrated mostly for its views and location into a true culinary destination. This is multi-starworthy cooking in a space that's both dramatic and comforting. (In fact, when it re-opened under Anton we named it The Best New Restaurant In Paris.) Chef Anton also keeps up his restaurant in the Bois de Boulogne, Le Pré Catelan, where he has held three Michelin stars since 2007.
Reservations are a must for Le Jules Verne, where a private elevator takes you directly up to the restaurant. We believe it's worth the trip to Paris just for the chance to dine here.

The Champagne Bar
At the tippy top of the tower, on Level Three, is the Champagne Bar. Here, at 275 metres above Paris, you can sip champagne, nibble on French caviar, and view the dazzling city beneath you. It's super casual, and can be a bit windy, but we can't think of a better place to clink glasses and drink bubbles. Reservations aren't required. The Champagne Bar is open daily during the summer but on weekends only during the winter. See you at the top!
Eiffel Tower, Level Three