Venus di Milo, Mona Lisa,
Nike of Samothrace…
The Louvre in France is absolutely filled with works of art – jam packed – and many of them, like the Venus di Milo, are downright masterpieces.
The Louvre is huge 650,000 square feet, with 35,000 pieces on display, and there is no way you can possible see all the masterpieces in one visit, let alone all the artwork!
But, to help you make the best of your brief time in this art colossus, here is a list of some of the most popular and most famous works of art, including the Venus di Milo.
But Venus di Milo is just a start! You can probably name half a dozen famous pieces off the top of your head – Leonardo de Vinci's Mona Lisa, the Nike of Samothrace (Winged Victory), and all those oversized French paintings by David and others!
Take a calming breath and use this handy guide to help prepare for your visit.
Venus di Milo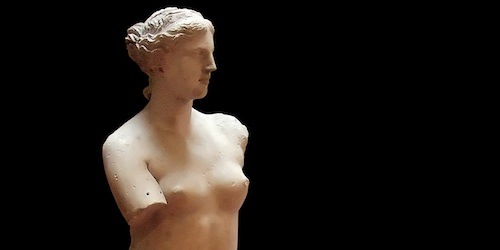 The armless Aphrodite of Milos (as it is otherwise called) has captured the imagination of art lovers since it was discovered on the Greek island of Milos in 1820 by a Greek peasant and a French naval officer.
It arrived at the Louvre the next year and was the subject of an intense marketing campaign selling it as the French version of the Medici Venus, which had been looted by Napoleon but returned to Italy in 1815. The statue dates from 100 BCE.
Location – Sully Wing, Ground Floor, Parthenon Room, Room 7
Leonardo de Vinci's Mona Lisa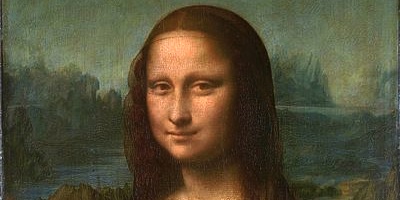 La Gioconda, as she is also known, is arguably the most famous painting in history.
Leonardo de Vinci began painting this portrait of Lisa del Giocondo in about 1504, while he was living in Florence. He was 52 years old at the time.
Leonardo de Vinci later moved to the Vatican and then to France, where he was invited by King Francis I, who later bought this famous painting and hung it in Château Fontainebleau. Louis XIV moved it to Versailles, but the French Revolutionaries transferred it to Louvre. Napoleon, by the way, moved it to his bedroom in the Palais des Tuileries!
Location – Denon Wing, 1st Floor,Mona Lisa Room, Room 6
Nike of Samothrace
The Winged Victory of Samothrace was created in about 200 BCE to honor Nike, the Greek Goddess of Victory, as thanks for victory in a naval battle.
It was discovered on the Greek island of Samothrace in 1863 and excavated by Charles Champoiseau, the French consul. The statue was found in pieces and what we see at the Louvre Art Museum today is a re-assembly of those pieces.
It was placed in the Louvre in 1884 and commands a dominating position at the top of the Daru staircase.
Location – Denon Wing, Ground Floor, Victory Of Samothrace Staircase, Escalier Daru
Other Louvre Masterpieces
Jan Vermeer,
The Lacemaker
Jacques-Louise David,
Coronation of Napoleon
Nicolas Poussin,
Rape of the Sabine Women
La Tour,
Cheat with Ace of Diamonds
Delatour,
Marquis de Pompadour
Eugene Delacroix,
Death of Sardanapalus
Veronese,
The Wedding Feast at Cana
Gregor Erhart,
St. Mary Magdalene
Sarcophagus With The
Story of Prometheus
Louvre Art Museum Tours
Here's the problem with being so popular — with 7 million visitors a year the Louvre is always crowded and lines are long.
By planning ahead, however, you can avoid most of the lines and go directly to the Mona Lisa on a Louvre art museum tour. You not only get into the museum quickly, but you're in the company of an expert guide who can make your visit more illuminating.
Check out our selection of recommended tours of the Louvre, the most popular art museum in the world.
Paris Travel Planning Guides
Don't Miss a Single Paris Travel Tip –
Sign up for Le Petit Journal !
the newsletter of Paris Insiders Guide