Are there guided tours
of the Louvre Art Museum?
Answers to Your Paris Questions

Tours Of The Louvre Art Museum. I am travelling to Paris in November with my mother and three sisters. We would like a small guided tour of the Louvre lasting about two hours. Is there any group offering this and what would the cost be?
-Thanks. Martina, Ireland


That's a good question, and I'm glad you've started planning in advance. The Louvre is visited by more that 7 million people a year, so there are always lineups, and the tours sell out long in advance. You've targeted in on a great way to avoid the ticket lines — by booking a guided tour.
In our own Paris trip planning we always budget in tours and other ways to skip ticket lines. We don't want to spend our time in Paris standing in lines!
The Louvre strictly regulates the number of tours, so there are only a few choices. Luckily, they're good choices.
(We'll also talk about the Paris city passes that not only get you free entry into the museums, but let you skip the long ticket lines.)
Louvre Art Museum Private Tour
A Paris Insiders Guide favourite
Being with your mom and three sisters, our recommendation for you is a Private Louvre Art Museum Tour.
In this tour it's all about you! Your private guide is there to take you and your family to the best the Louvre has to offer. (And there's a lot of "best" there.) The tour can last up to four hours if you want, but since it's a private tour, you can make it only as long as you want. The size of this tour: you, your mom, your three sisters.
Skip-the-line Small Group Tours
Louvre Art Museum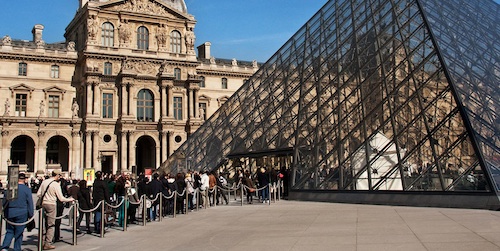 We have two other choices for you as well. On these you'll be part of a larger group.
Skip-The-Line Tour #1:
This tour comes in two sizes. There's the large group size, with 50 people. But, then there's the more intimate 15-person tour, and that's what we'd recommend for you if you choose this tour. It lasts about two hours.
Skip-The-Line Tour #2
This highly-rated tour is somewhere between large and intimate, with 20 people in the tour group. It's about half-an-hour longer than Tour #1 and is specially designed to highlight the most famous works in the Louvre. On Wednesdays and Fridays (during certain times of the year) there is an evening tour, which is very special.
Paris City Passes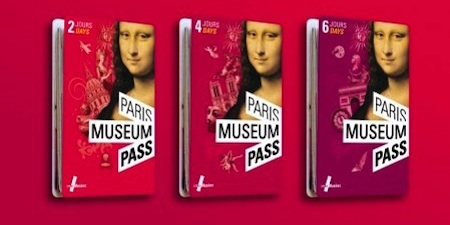 Finally, another way to skip the ticket lines at most museums in Paris is to have a Paris Museum Pass.
It gets you into sixty Paris museums and monuments for free. We recommend you get the Museum Pass as part of a Paris City Pass, which not only gets you into museums, but gives you unlimited rides on the Metro and buses, plus a lot of extra features.
Paris Planning Quick Links
Don't Miss a Single Paris Travel Tip.
Sign up for Le Petit Journal!
The Newsletter of Paris Insiders Guide
Don't Miss a Single Paris Travel Tip.
Sign up for Le Petit Journal!
The Newsletter Of Paris Insiders Guide