L'Arc de Triomphe – One of the Napoleonic Arches in Paris
Here's another Paris Insiders Tip — l'Arc has one of our fave views of the city. Commissioned by Napoleon in 1806, L'Arc de Triomphe is only 50 meters tall (64 feet) yet one of the most recognizable monuments in the world. This monument to Napleon's victory at Austerlitz is located at the western end of Champs-Elysées in the center of Place Charles de Gaulle, from which twelve streets form the shape of a star and give the site its more common Parisian name, l'Étoile.
From the top you get a real sense of the imaginary line (Axe Historique) that runs from the center of the Louvre (in the east), through the Jardin des Tuileries, down Champs-Elysées, underneath l'Arc de Triomphe and then all the way out to La Défense in the west, where the imaginary lines runs through the giant Grande Arche — the much younger but much bigger brother of the arch you're standing on top of.
Arc de Triomphe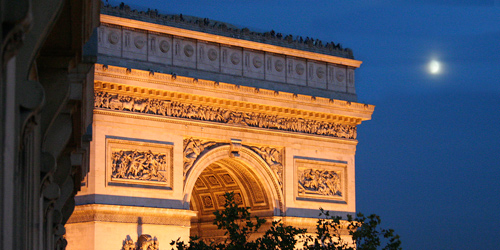 The first version of l'Arc was a wooden mock-up, created so Napoleon could march beneath it with his new wife, Marie-Louise. (This was after he had unceremoniously ditched the more famous Josephine.)
While it wasn't completed until years after his death (it was finished in 1836), Napoleon was only the first of many armies and historical figures who marched through or around the arch. There were the Germans when they took over a defeated Paris in 1871 and 1940; the French army after World War I, then the Allied armies in 1955; and, of course, the victorious leader of the Free French, General de Gaulle.
The Unknown Soldier from World War I is buried in a tomb underneath l'Arc de Triomphe and now honors the soldiers who died in both World Wars.
By the way, for you fashionistas, after your visit to the Arc head east on Champs Elysées towards the Louis Vuitton flagship store. You may find a line-up waiting to get in, but that's one queue the the Paris Museum Pass can't help you with!
Arc de Triomphe Facts
• French Name: l'Arc de Triomphe
• Place Charles de Gaulle, where the 8th, 16th and 17th Arrondissements meet.
• Closed: January 1, May 1, May 8 (morning), July 14 (morning), November 11 (morning) and December 25
• Metro: Charles de Gaulle-Etoile
• Its little brother in Paris is the Arc de Triomphe du Carrousel »
Free admission to the l'Arc de Triomphe Paris is included with the Paris Museum Pass »
Or 9.50€ at the door.