How To Speak French –
For Travelers
Knowing a few basic phrases
will make your trip more fun!
Bonjour! While planning your trip to Paris you might want to learn how to speak French, even if it's just greetings and a few useful phrases. (You'll need to find the bathroom, for instance!)
Although English is becoming more common in Paris restaurants and hotels, it's a good idea to try to speak some French. It's worth the effort.
Parisians will be pleased and impressed when you greet them in French, or order in French. In many cases, you'll find that the service will improve when you try to communicate in French. If you travel outside of Paris, don't expect English to be spoken universally.
There are several easy ways to learn how to speak French, especially the basic French useful for travelers. Gone are the days when the only option to learn how to speak French was to take courses at colleges or adult learning classes. Today, there are so many other ways to learn how to speak French from home. We present our favorite way to learn French online and also show you some of our favorite French/English dictionaries and phrasebooks.
Bonne chance! Good luck!
French Greetings
Imagine all the ways you can say hello in French! Learn how to say hello and goodbye, as well as other salutations and introductions for your trip to Paris. You'll discover that "bonjour" and "au revoir" are a good way to start (and end) nearly every occasion in France.
Learn Some Simple French Greetings »
Learn French Online
You don't need to wait for books or DVDs to arrive – you can learn French online. The course we recommend offers more than 70 lessons, on-going support throughout their forums, and lessons about French culture.
Common French Phrases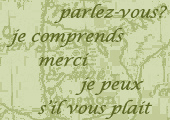 How To Speak French – For Travelers. Communicating in French is easier than you think. Once you learn these simple, yet magical, phrases, you'll feel more like a Paris Insider than a tourist.
Basic French Phrases
Express yourself! By learning some basic French phrases, you'll be able to say you're hungry, thirsty, cold or not feeling well. Learning basic phrases in French will give you the tools to let Paris know what you need – and how to get it.
Useful Phrases in French For Travelers
Learn a few more useful French phrases to help you at the pharmacie, in a restaurant, to find your way when you're lost, or at chez la coiffure (the hairdresser). These useful travel French phrases will give you a head start on feeling comfortable in Paris.
Useful Phrases in French For Travelers »
French Words And Phrases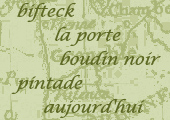 How To Speak French – For Travelers.
French menus can be confusing and often times the English translation (if there is one) is no help. By learning Fench words and phrases, you'll be able to maneouver the menus, know how to order croissants at the boulangerie, or let your taxi driver know where you're going.
Learn About French Words And Phrases »
English to French Dictionary & Phrasebooks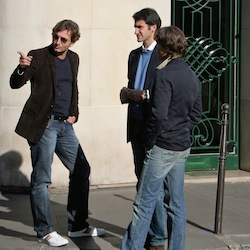 There's a lot of French being spoken in Paris! And you're going to want to know what's going on around you. We recommend you take a couple of books with you — a good French phrasebook and a small English to French dictionary.
Read our list of the best phrasebooks and dictionaries for travelers.
English to French Dictionary & Phrasebooks »
Paris Planning Quick Links
The Best of
Paris Nightlife
Best Walking
Tours of Paris

Eiffel Tower Paris France

Yummy Paris Chocolate Tours
Want To Learn More?
Don't Miss a Single Paris Travel Tip –
Sign up for Le Petit Journal !
the newsletter of Paris Insiders Guide