The Best English-To-French Dictionaries & Phrasebooks
Even in these digital daze (sic) a pocket-size English-to-French dictionary can come in handy in Paris, especially when trying to decipher a menu or other French writings. You might want to take a couple of things with you. First, a good French phrasebook to help you with what you really need to know how to say. Second, a small English to French dictionary to look up specific words.
For instance, what the heck does that sign mean that's a red-bordered circle with a red slash through it and the words "Sauf Riverains"? You may know that sauf means "except", but still… "Except Rivers"? "Except River Dwellers"? But you're prepared — you pull out your handy pocket dictionary and find that riverains means "residents". So the sign means, "No Entry Except Residents".
See what we mean?

Rough Guide French Phrasebook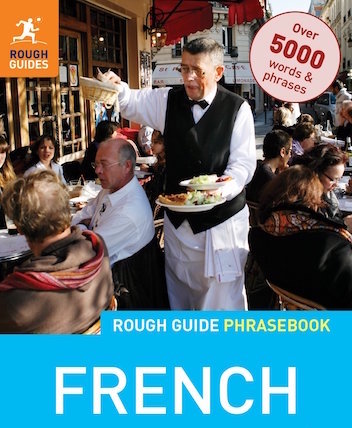 This is our favorite among French phrasebooks. It has all the standard (and necessary) things, like phrases to use in various situations, but it also starts out with a simple, easy-to-follow grammar lesson that comes in very useful when you're trying to modify some of the phrases.
Another plus are the MP3 downloads that allow you to listen to the correct pronunciations. You can use them for a little practice before you go, and then carry them with you on your smart phone.
Berlitz French Phrase Book & Dictionary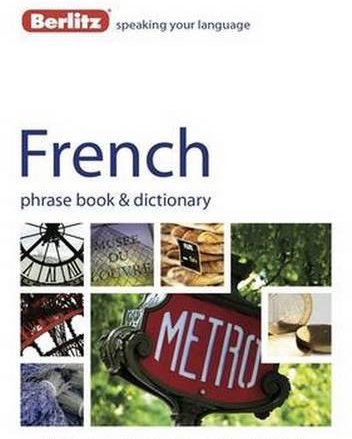 We know, we know. "Berlitz", how old-fashioned is that? We were surprised by the fresh new design and easy-to-follow layout. It uses a color coding to help distinguish sections and groups of words.
It's certainly true that Berlitz knows languages, so when we saw the whole new package, we were impressed. And how often does that happen? The dictionary section, though very much shorter than a dedicated dictionary, is still good enough to get you through most situations.
The Penguin French Phrasebook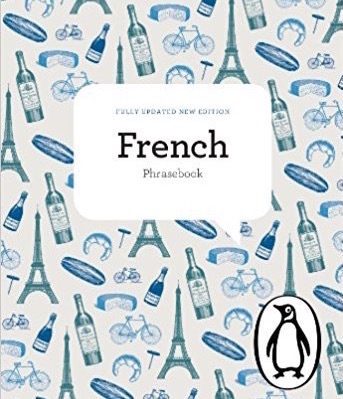 We've always liked Penguin's reference books, so we were a bit biased coming into this review. We needn't have worried, though. Our bias was well-founded. Their French phrasebook, now in its 4th edition, is another useful, easy-to-follow guide.
At 400 pages it is the thickest of the three phrasebooks and, consequently, the heaviest by a couple of ounces. So, for easy of carrying in your pocket or bag, we generally prefer the Rough Guide. But, we keep the Penguin at home!

Oxford French Mini Dictionary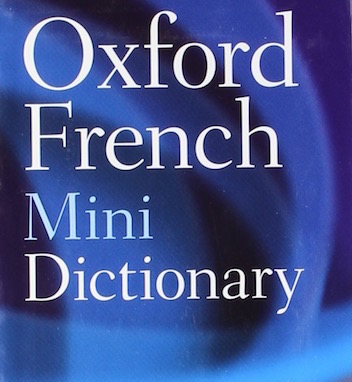 If you're going to buy just one book (either a phrasebook or an English/French dictionary) this might be the one. First of all, it's a perfect pocket size at just over 3¼ by 4½ inches. It uses easy-on-the-eyes type colors – black for English, blue for French.
There are over 300 pages of phrases (how to say English phrases in French) and then another 300 pages of French to English dictionary. There are also lists of verbs, numbers, and other useful features.
Berlitz French Compact Dictionary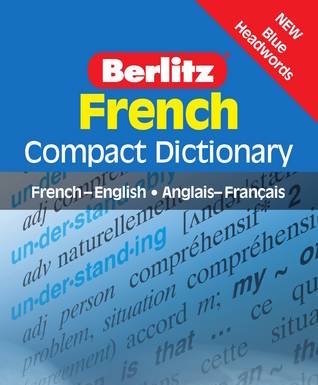 We often take this English to French dictionary along with us, though we don't usually carry it around. It's bigger and heavier than the Oxford Mini, but also more extensive. The Berlitz is very easy read, with clear type and color differentiation between French words and English words.
This pocket size English/French dictionary (and vice-versa) is just about the biggest you'd want to carry in your pocket, purse or bag – 3¾ by 6 inches.
Langenscheidt Pocket Dictionary French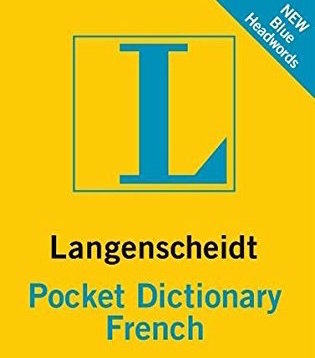 Although not as well known as other dictionaries, we really like the Langenscheidt. This one is geared specifically to beginning and intermediate users, so it's perfect for travelers.
We like the size (about 4 by 6 inches) and feel of the book. The text is very easy to read and the layout is great. The dictionary covers everyday language, which makes it particularly useful. There's an extensive collection of idioms (in both French and English) that we find useful in understanding how French speakers say certain things.