Paris Events In October 2021 – Festivals, Art, Music & Chocolate
Paris nights may be getting chilly, but the city's events are heating up with classics like Nuit Blanche, the free stay-up-til-dawn at the museums; and a number of art shows. One of the tastiest events of this Paris season is Salon du Chocolat, the biggest chocolate celebration in the world. See you there !
What To Do & See In Paris When You're Here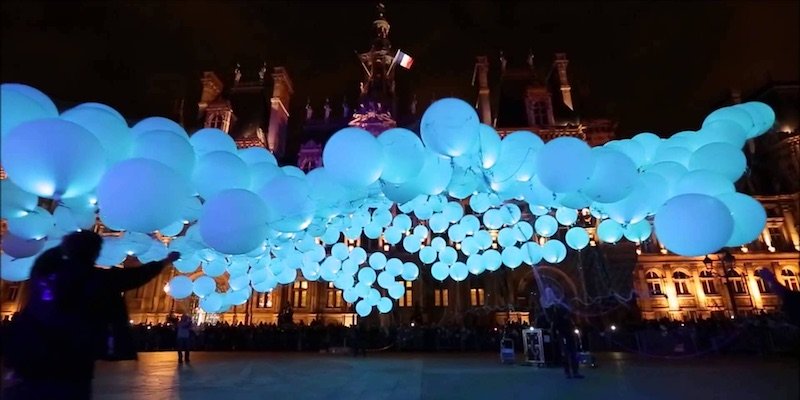 Nuit Blanche
Stay up till dawn on this White Night to explore the museums of Paris for free. Since 2002, the City of Paris has celebrated Nuit Blanche on the first Saturday of October. This popular event is centered on art installations in public spaces and historic Parisian museums. The free event attracts millions of art lovers.
The success of Nuit Blanche has inspired other cities in Europe and around the globe to organize their own White Night based on the Paris model. From Brussels to Kyoto, Melbourne to Taipei, thirty-five cities now offer a free museum night.
In a spirit of cooperation, the Paris transportation service is offering extended and free Metro services at select stations. Several lines are open until 2:00 AM including Metro Line 1 — Gare de Lyon, Saint-Paul, Hotel de Ville, Louvre Rivoli, Tuileries and Concorde; and Metro Line 12 — Porte de la Chapelle, Jules Joffrin, Pigalle, Saint-Lazare, Concorde (where it connects with Line 1) and Notre-Dame-des-Champs.

FIAC Art Contemporain
A world of wonderful contemporary art displayed at the Grand Palais — and it's free! Since 1973 this annual art fair welcomes a selection of the most important galleries from the international art scene. This year, the art fair is joined by five internationally recognized galleries renowned for their contemporary art expertise — Jousse Entreprise, Galerie Kreo, Downtown Gallery, Eric Philippe, and Galerie Patrick Seguin.
The Hors Les Murs program features works of art displayed in other classic Parisian venues like the Jardin des Tuileries, the Eugene Delacroix National Museum, and Place Vendôme. There will also be sculptural works and installations in the Petit Palais, in the galleries of the Grand Palais, as well as on Winston Churchill Avenue.
During the event, from October 18 to October 21, a Seine River Batobus will take you from the Grand Palais to other Hors Les Murs locations at a reduced rate. The Batobus service is available at a special rate of €6 when you present your FIAC ticket.

Foire d'Automne
Explore the good life in France through home decor, gastronomy, furniture & design at the Autumn Fair. What to expect? 300 exhibitors with practical workshops to teach you how to make your own decorative objects, DIY classes, artisans demonstrations, conferences and free meetings with architects and five Grand Prix Awards.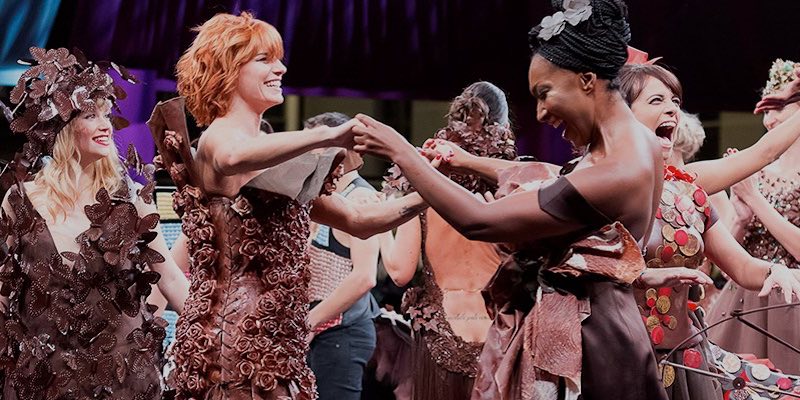 Salon du Chocolat
Where else would you find the biggest celebration of chocolate in the world? Chocolate makers from sixty countries, hundreds of chefs and pastry chefs make Salon du Chocolat a must-see (and must-eat) experience event for all chocolate lovers.
Come for the chocolate cooking and tasting demos, workshops, chocolate sculptures, a bookstore, performances, a dedicated chocolate area for children, conferences as well as the famous chocolate fashion show and the stellar opening night celebration. Tickets are available through the online ticketing service, and through FNAC, France Billet, and Ticketmaster. You can also purchase tickets at the entrance of the show.

Tous au Restaurant Paris
Everyone at the Restaurant is 15-day event centered around enjoying French cuisine found in all the wonderful restaurants in Paris and throughout France — at Michelin-starred tables, bistros, brasseries, and breweries. About 1,200 chefs and their restaurants participate, attracting 600,000 happy diners.
Here's the premise — 1 menu acheté = 1 menu gratuit, meaning you purchase one meal and the chef will supply the second diner with an identical free meal. Essentially, a couple can dine for the price of one. Notable chefs participating are Guy Savoy from Paris, Christian Têtedoie from Lyons, Lionel Levy from Marseille; Georges Blanc, Anne-Sophie Pic, Jean-Louis Nomicos, Hélène Darroze, and Les Frères Pourcel.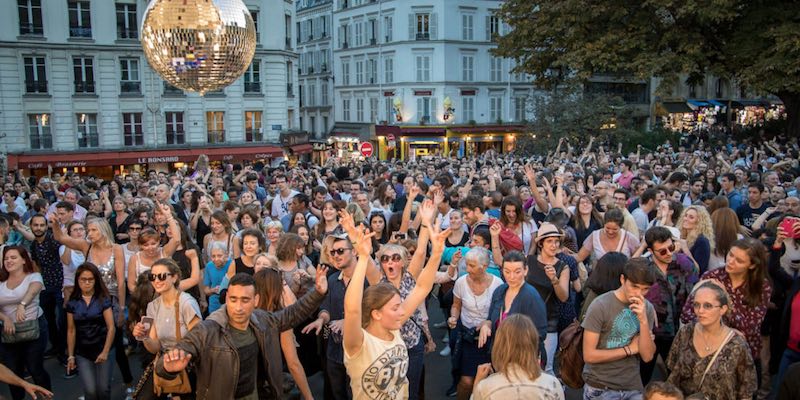 Fêtes des Vendanges à Montmartre
Since 1934, Montmartre has celebrated this wine festival, which last year attracted 500,000 participants — all thirsty to try wine produced in the only vineyard left in Paris.
Perhaps surprisingly, Montmartre was at one time a major wine growing region. After it was annexed by the City of Paris wine growing gradually declined and disappeared completely by 1928. However, in 1933, Francisque Poulbot of Montmartre asked the city of Paris to replant 2,000 vines. The next year the first grape harvest was celebrated.
Since then the Marie de Montmartre (the town hall) has helped to keep the annual event thriving with daily tastings, art expos, dancing, films, and fun.


Paris Odyssea
40,000 runners gather for a 10 km fun run in the Bois de Boulogne.

Festival des Arts Martiaux
Join 300 global martial arts experts from aikido, karate, judo, capoeira, and kobudo to the dance of the Dragon. The Festival of Martial Arts will transform the arena into a giant tatami mat, where you will discover the most beautiful and technical martial art moves with spectacular demonstrations.

Asia Now – Paris Asian Art Fair
France's first art fair dedicated to contemporary Asian art.
Events Continuing into October

Le Festival d'Automne à Paris
Founded in 1972, the Paris Autumn Festival celebrates contemporary arts and embraces all forms — visual arts, dance, theatre, music, and cinema. From September to December the festival features more than fifty events at venues throughout Paris.
Founded in 1972, the Paris Autumn Festival celebrates visual arts, dance, theatre, music and cinema at fifty venues.

Prêt-A-Porté Fashion Show
Join the beautiful people for the release of the new ready-to-wear collection. It's the fashion event of the season.