Paris Events In February 2020 – Festivals, Art, Music, Parades & More
February events in Paris kick off with the annual Chinese New Year parade and Lantern Festival. And they continue with a Valentine's Day Run in Parc des Buttes Chamont; Retromobile, a popular vintage car show; the Six Nations Rugby championship; Salon Agriculture, the biggest farm show in France; and Paris Grand Slam, an international judo championship. So, grab your umbrella and warm boots and let's explore the fun events in Paris February 2020.
What To Do & See In Paris When You're Here

Chinese New Year
The world's biggest Asian holiday has many names — the Lunar New Year, Chinese New Year, Spring Festival — and it's the biggest, most important holiday for Asian communities around the globe. In Paris, Chinese New Year is celebrated in a number of quartiers, but particularly in the 13th Arrondissement (where Asian culture flourishes) with more than 200,000 spectators expected.
The traditional dragon parade follows a route from Avenue d'Ivry to Avenue de Choisy to Boulevard Masséna to Avenue d'Ivry. There's also a Lantern Festival with tea tastings & ceremonies, lantern-making workshops, and calligraphy. The festivities continue with Chinese classical dancers, poetry readings, Shaoxing opera and traditional Asian music.
13th Arrondissement
February 9, 2020

Saint-Valentin – Valentine's Day in Paris

Course Saint-Valentin — Valentine's Day Run
The Valentine's Day Run is organized by the FrontRunners of Paris, an LBGT running group with the aim to raise awareness. The fun run takes place on the Saturday closest to Valentine's Day with a challenging route taking you on a hill climb through Parc des Buttes Chaumont in the 19th Arrondissement.
Parc des Buttes-Chaumont
February 16, 2020

Cirque d'Hiver
Inside the world's oldest existing circus building is the oldest circus in continuous operation. Today you can visit this historic venue and enjoy a magical circus performance. Since 1934 it's been home to the family-run Cirque d'Hiver-Bouglione.
The Cirque d'Hiver has been an important Paris venue since its debut in the 19th century. The theatre, designed by the architect Jacques Ignace Hittorff (he also designed the Gare de Nord), was named Cirque Napoléon in 1852 for Emperor Napoleon III. After the humiliating Prussian defeat the theatre was renamed to Cirque d'Hiver.
The striking circus structure has twenty sides, Corinthian columns, and steep seating much like the Colosseum. The Cirque d'Hiver featured in the famous 1955 photo, Dovima with the Elephants by Richard Avedon and in paintings by Toulouse-Lautrec.
Cirque d'Hiver
Ends March 17, 2020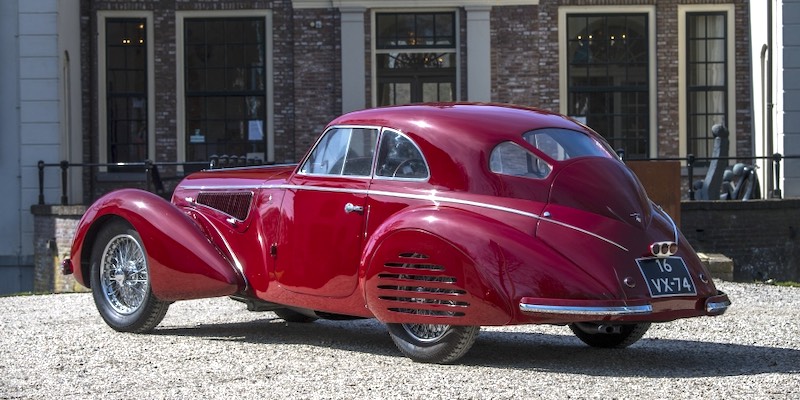 Retromobile Vintage Car Show
If you are traveling to Paris in February with a car buff, Retromobile, the all-things-auto show, is a must-attend event. For the past 40-plus years Retromobile has showcased the auto industry, featuring hundreds of vintage cars on loan from clubs, private collectors, foundations, museums and car manufacturers. Although Retromobile chronicles the history of the automobile it also celebrates everything from tanks to trucks. Thousands of car lovers attend with over 600 exhibitors presenting their rare treasures.
In 2020, the legendary French auto manufacturer Citroën will be the star of the show to honor its 100th birthday. Founder André Citroën was one of the first to use the Eiffel Tower as a poster board. For almost a decade, Citroën's logo covered three sides of the tower. There's also a spotlight on the 1931 Alfa Romeo 8C 2900B Touring Berlinetta. (Photo) This prestigious car was the winner of the Concours d'Élégance and raced in the 1932 Monaco Grand Prix.
Porte we Versailles
February 6 to 10, 2020

Paris Grand Slam Judo Championship
15,000 spectators will gather at the Accor Hotels Arena (known to locals as Bercy) for the annual Paris Grand Slam — a top international judo competition. Over 400 athletes from 70 countries will take to the tatami mat to vie for fourteen gold medals and $150,000 prize money.
Fun facts — the first judo school opened in Tokyo in 1882 and since then its become one of the most popular combative sports in the world. Judo, means "gentle way" and teaches techniques to harness physical force to throw and pin an opponent to the ground. Judo debuted as an Olympic sport in 1964 at Tokyo.
Accor Hotels Arena
February 9 & 10

Salon Agriculture
You have to love a farm show with a cow mascot! Last year Haute (photo), a six year old from the highlands of Aveyron, was the face of the show. This year's mascot (always a cow) will be featured on the posters and media materials and will have a special place at the biggest agricultural show in France.
There are plenty of diverse, farm activities to immerse yourself in, like the Milking Parlour, where hundreds of cows are milked daily to Plant Odyssey where all the stages of the plant cycle are shown, from sowing to harvesting. Visit the Goat House where you can sample a plethora of goat's cheese, meet the cheese-maker and learn how it is made.
The Société Française des Équidés de Travail (French Society of Draught Horses) will also be on hand with their collection of specialty breeds of draught horses, donkeys and mules. There's Donkey Village where you can say bonjour to French donkey breeds like the Pyrenean donkey and attend the National Donkey Awards. There's even the Ovine Olympics for Young Shepherds where hopefuls are graded based on their ability to sort ewes using a smartphone; assess a ewe's health and physique; trim its toenails (or are they hooves?); and select a suitable breeding ram. The best candidates, between 16 and 24, will go head-to-head to win the coveted title, Best Young French Shepherd.
Porte de Versailles
February 23 to March 3, 2020

Rugby Six Nations
It may be the world's greatest rugby tournament. Each year the fans of six nations — England, France, Ireland, Italy, Scotland and Wales — share their passion and excitement for rugby in a three-month-long tournament. This year the first game takes place in Paris on February 1.
This historic tournament first took place in 1883 with four Home Nations — England, Ireland, Scotland, and Wales. In 1910, France joined and 90 years later Italy made it six nations. The winners will be presented with a championship trophy made of sterling silver crafted by a team of silversmiths from London.
Stade de France
February 1 to March 16, 2020