Paris Events In December 2021 – Markets, Lights & Michael Jackson
December is the biggest holiday month of the year, and there's a lot to experience in Paris. As you would expect, the city is filled with seasonal warmth — including Christmas markets, gaily-decorated store windows, and streets decorated with Noël lights. Here we present a round-up of the top events, but for a more complete picture, take a look at our other December guides as well.
What To Do & See In Paris When You're Here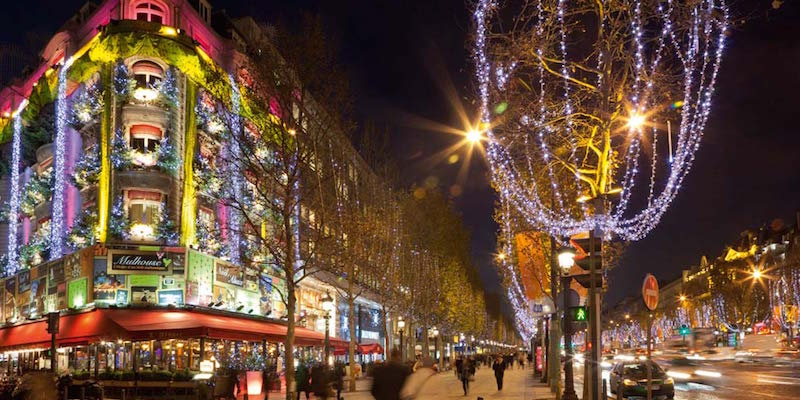 Christmas Lights on Champs-Elysées
Each Christmas season, 400 trees on the iconic avenue — from Place de la Concorde to the Arc de Triomphe — are decorated with a bevy of colorful, energy-efficient lights. Each year a celebrity flips the switch to turn on the lights in a special star-studded ceremony. In past years Catherine Deneuve, Vanessa Paradis, Marion Cotillard, Laetitia Casta, and Charlotte Gainsbourg have been the lucky ones to switch on the lights. Last year Vanessa's daughter, Lily-Rose Depp, was the guest of honor. This year's special guest will be announced in early November. Stay tuned.
Avenue des Champs-Elysée
Late November to mid-January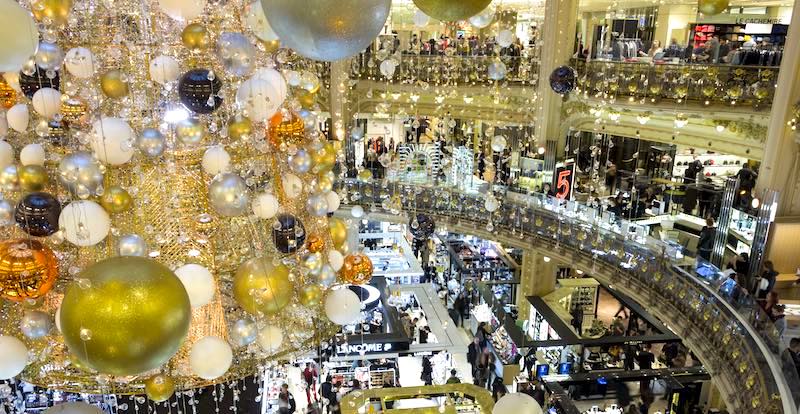 More of the Best Christmas Decorations in Paris
Christmas lights always set Paris twinkling. Extra-special care is put into decorating the lavish department stores and shopping districts that dot the Paris landscape. Here are few of our favorites streets and stores —
Galeries Lafayette, Boulevard Haussmann
Printemps, Boulevard Haussmann
Le Bon Marché, 7th Arondissment
BHV, in the Marais
Faubourg Sainte-Honoré, 8th Arondissment
Forum des Halles, 2nd Arondissment
Place Vendome, 1st Arondissment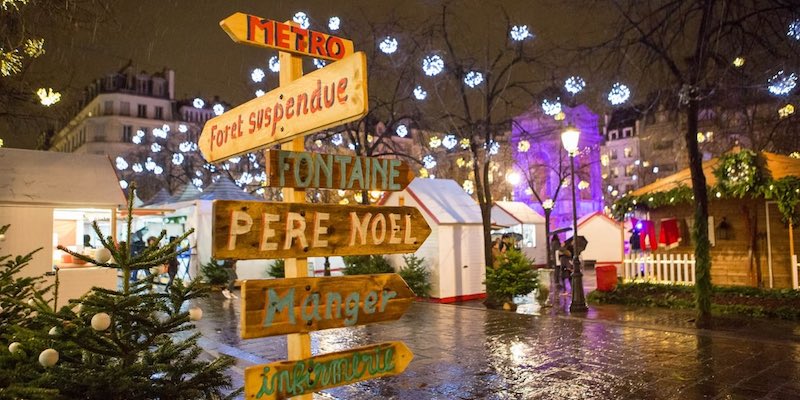 Top Christmas Markets in Paris
Celebrate the season by visiting some of the Christmas markets found throughout the city from late November to the end of December. There are over 100 Christmas markets in public squares, parks, avenues, and train stations in Paris. Here are few worth a detour —
NOTRE-DAME CHRISTMAS MARKET
More than fifty exhibitions dedicated to Christmas arts and crafts. Just steps away from the iconic Notre Dame cathedral, the market will be brimming with crafts, seasonal decorations and delights.
Square René Viviani, 2 rue du Fouarre, 5th Arrondissement
ALSATIAN CHRISTMAS MARKET – GARE DE L'EST
One of the oldest Christmas markets in Paris. Artisans from the Alsace region travel to Paris to sell their wares. Savor the flavours of Alsace with specialty cakes, seasonal gingerbread, sausages, and sauerkraut. Taste foie gras, Riesling, Gewurztraminer, Kugelhopf and Munster cheese. This market runs from December 1 to about the 16th.
Parvis of the Gare de l'Est, Place du 11 Novembre 1918, 10th Arrondissement
MAGIC OF CHRISTMAS – JARDIN DES TUILERIES
Last year the Champs-Elysées Christmas market closed following a dispute between the city and the market organizer. For 2021 there's a new location for the market, and it's an even bettre one — inside the gates of the Jardin des Tuileries just off Place de la Concorde. THe market runs from November 18. to January 9.
MARCHÉ DE NOËL À MONTMARTRe
Head up the hill to the former artist's village that is Montmartre to shop at the eclectic collection of thirty wooden chalets near the Sacré-Coeur
Paroisse Saint-Pierre de Montmartre, 18th Arrondissements
NOËL DANS LES ETOILES – A STARRY CHRISTMAS
This Christmas village features seventy chalets selling holiday crafts, decorations, and seasonal foods. Head to Place Joachim-du-Bellay in the 1st Arrondissement near the Fontaine des Innocents at Les Halles. Late November to December 31, 2021

Noël en Bio – Organic Christmas Show
If you're looking for original Christmas gifts with values, authenticity and ethics, this show is the place for you. Meet the 120 exhibitors of the Noël en Bio, each featuring locally-made, ethically-produced gifts, foods, personal, care and home care products.
Porte de Versailles
December 14 to 16, 2021

Michael Jackson – On the Wall
Although December is mostly about Christmas and Hanukkah, there are plenty of other Paris events happening featuring horses, boats, wine and… well, Michael Jackson.
To mark the 10th anniversary of Michael Jackson's death, the Grand Palais is mounting a major exhibition that examines the contribution of the King of Pop to modern culture. The exhibition traces Michael Jackson from his early roots as the child star in the family group to his status as a legend. It features many works on loan from artists like Jeff Koons, Paul McCarthy, Dexter Dalwood, and David Hammons.
Grand Palais
November 21 to February 21, 2021

Salon Nautique de Paris
France's largest boat show features all things water sports — from sailing boats, fishing, and motorboats to board sports and shows off all the latest gadgets and new technologies. If you are a lover of leisure activities on the water, this is the event of the year. Don't miss the the huge Nautic Spot, a massive waterslide and beach in the center of the exhibition.
Porte de Versailles
December 8 to 16, 2021

Noël – Christmas Day
December 25 is a French National Holiday. Museums will be shut tight as well as department stores and most shops. If you're not planning to cook in your Paris apartment, you'll want to be sure to make your Christmas dinner reservations well in advance.