Paris Events In July 2021 – A Party, Fireworks, Fountains & A Beach
July in Paris means fun, fairs, celebrations, and festivals. The lineup is staggering, with Bastille Day, Paris Plages and the Tour de France for starters. Other events include the Paris Japan Festival and a few edgy music festivals including Lollapalooza Paris.
What To Do & See In Paris When You're Here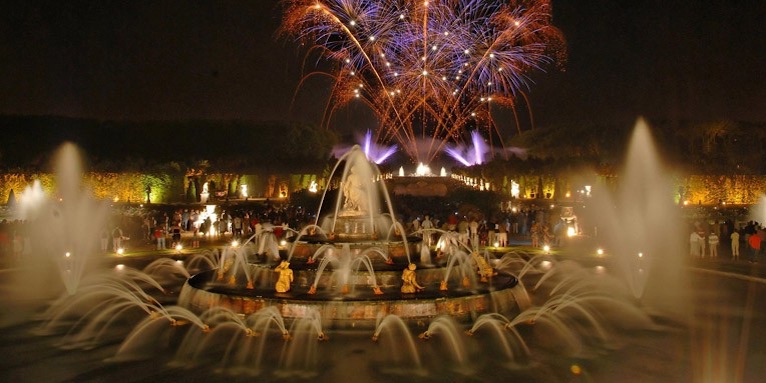 In July one of the best summer events continues at Versailles, just outside of Paris — the spectacular summer-only fountain show & fireworks display in the famous gardens. Available on Saturdays in July. Here's a link to the tour that takes you there from Paris.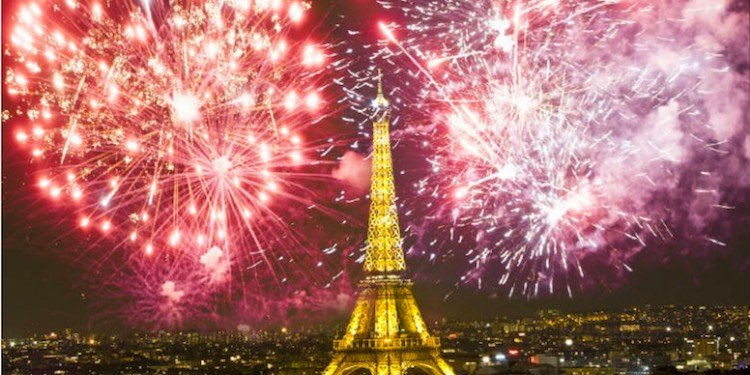 Vive la liberté ! Without doubt this is the most important event in the Paris calendar. Europe's oldest and biggest military parade commences promptly at 10 AM on the Champs-Elysées. The crowds will be huge, but it's a chance to see the President of France, a flight of planes, horses, and soldiers promenade from the Arc de Triomphe towards Place de la Concorde.
In the evening, witness the only fireworks show in Paris at the Eiffel Tower. The best place to be is at the Trocadero (across the river from the mighty tower). But arrive early to find a spot. The fireworks starts at around 11 PM and lasts for about 35 minutes. Find out more about Bastille Day here.

Paris Plages
Paris Plages is a tradition started in 2002 by then-Mayor Bertrand Delanoe who wanted to create a vacation environment for the unlucky Parisians who couldn't get away for the all-important summer vacances. It just seems to get better and better with each passing year. 5,000 tonnes of sand are hauled in, along with 100 palm trees, and easily as many beach umbrellas.
There are numerous food & beverage stands, free concerts, dancing, misting stations, and tons of fun activities like sandcastle building competitions. It's one of the best reasons to visit Paris in the summer.
Along the banks of the Seine
Mid July to late August, 2021


Tour de France
Paris in the summer has one highlight after another. Just when you think you can't take another event, it's the Tour de France. The famous French cycling race started in 1903 as a way to boost readership in a car magazine. The course changes yearly but the format is the same — with time trials, a hilly race through the mountains, and, comme toujours, the race ends in dramatic fashion in Paris as the cyclists circle the Champs-Elysées ten times.
In 2021, the 105th edition covers 3329 km, over cobblestones, dirt roads and three demanding mountain finishes in the Alps and the Pyrenees. If you happen to be in Paris on Sunday, July 29, head to Place de la Concorde to get up close to see the cyclists. It's a thrilling sporting moment.
France
First three weeks in July, but check website.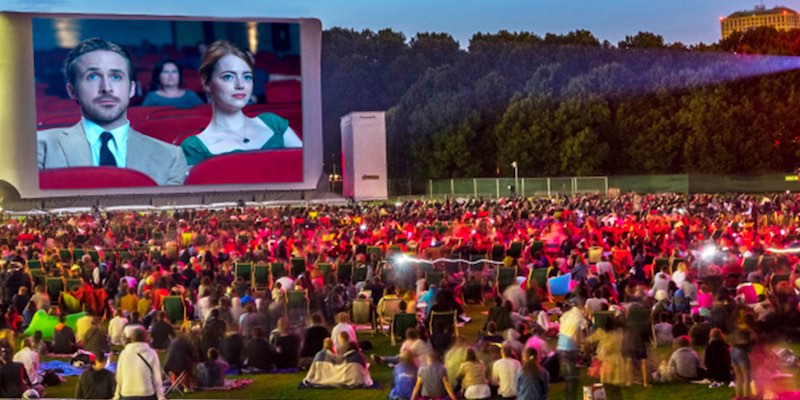 Cinéma En Plein Air 2021
Since 1990 Parc de la Villette has been the biggest open-air cinema in Paris. The film festival runs over two months from mid-July to August. Here are a few film highlights in July —
Parc de la Villette
July to August

Paris Japan Expo
Are you a fan of Japan and its culture? If so, you must attend the Japan Expo this July in Paris. From manga to martial arts; and video games to J-music, the Paris Japan Expo offers up endless discoveries. There'll be signings, speakers, workshops, and masterclasses where famous artists — mangaka, animators, illustrators, video game creators, film producers, musicians, and composers — will reveal their secrets and top tips.
Music from rock, RnB, J-pop, punk, electro, shamisen, koto, sanshin, right up to traditional genres will be also represented. There are hands-on workshops to teach you the basics of drawing, modeling, ikebana, origami and calligraphy.
You can't have a festival of Japanese culture without having video games. Many video games will be available for free where you can try the latest releases and participate in tournaments. The creators of video games will also be on hand to tell you about their jobs and insider tips.
There's also an area dedicated to martial arts where you can learn the basics of Ninjutsu, kendo, judo, aikido and karate. The event is held at one of the largest exhibition centers in France, found just one RER stop away from Charles de Gaulle airport. It can be accessed from Saint Michel RER B station in Paris. (Note: the RER's name has been changed to simply "train".)
Paris Nord Villepinte Exhibition Centre
First week in July, check website


The Peacock Society Festival
It's a celebration of electronic music and arts. The event takes place in Parc Floral, in Bois de Vincennes, the largest park in Paris. The action happens in the Grande Halle of Parc Floral, a huge historic industrial warehouse large enough to hold two large dance floors, lit by magnificent glass canopies.
There are also outdoor spaces, including a chill-out area where you'll find bars and street food trucks. New this year is the Cine-Club with a laboratory pavilion, documentary screenings and talks. With all this dancing, drinking and merriment, it's good to know that the festival has a webpage dedicated to etiquette and safety.

La Chasse aux Tresors de Paris
This on-again-off-again event seems like it may be off-now, but we'll keep you posted right here. Meanwhile, read what we've said about it.
We love that the City of Paris is always finding ways to make their city more interesting — like with a treasure hunt, for instance. La Chasse aux Tresors is a fun, mystery chase with clues that take you on a treasure hunt across the city.
Here's the mystery. A gourmet dinner is planned at the Hotel de Ville. The best chefs from around the world have been invited. But disaster strikes, the most important chef is missing and it won't be a piece of cake to find him. He was last seen in the Rungis Market where he ran into a jealous rival. The jealous rival, grilled by the police, spills the beans — he used his mastery of herbs to drug the chef. Help them solve the mystery of the missing chef.
To register, show up at the Treasure Hunt desk in front of the Mairie du 3e Arrondissement (the town hall of the 3rd Arrondissement) on Rue Eugène Spuller in the Marais, from 10 AM to 1 PM. You will be given a printed booklet and then be set to go.
Follow the steps by solving the riddles. The hunt will take you around the neighborhood where you'll find clues to lead you to the secret spot where chef has been hiding. The treasure hunt runs from 10 AM to 4:30 PM. Return by 4:30 pm to enter the prize draw.

Festival Paris l'Été
This annual arts festival features dance, music and theatre events in neighborhood venues across Paris. Since 1990 the Paris Summer Festival has been organizing artistic and cultural events throughout the city.
The arts represented are theatre, dance, circus, music, and art installations in many of the capital's famous and unusual places. Most are found outdoors and outside traditional entertainment venues in paces like national monuments, schools, parks and gardens, museums, and even swimming pools. Last year 45,000 spectators found their way to almost thirty locations during the three week festival.

Lollapalooza Paris
The well-known live music festival comes to Paris in a two-day event at the Hippodrome de Longchamp, the historic racecourse in the 16th Arrondissement, Bois de Boulogne. France being France, you'll be able to visit Lolla Chef, a large area dedicated to gastronomy and the culinary arts. There's also an area and a stage dedicated to families, where parents and children can have fun.
Hippodrome de Longchamp
Mid July

Free Concerts at Hotel de Ville
In July the FNAC festival is staged at the Hotel de Ville, featuring thirty free concerts at the Hotel de Ville. The big stage usually has its share of headliners. (Sting, Stephan Eicher.) The concerts attract about 100,000 music lovers.
Hotel de Ville
Three days in early July

La Fête du Cinema
Four days of film, each costing just €4. The exact line-up and venues will be announced soon. Check back to find out which films will be screened and where.

June Events Continuing into July

Paris Jazz Festival
One of the best jazz festivals in France.

Chopin Festival
Head to the beautiful, magical Parc de Bagatelle for a summer filled with dazzling music by Chopin.
Parc de Bagatelle, 16th Arrondissement

Fête des Tuileries
This Fun Fair is the place to go with small children — rides, cotton candy and fun events all summer long.
Jardins des Tuileries, along Rue de Rivoli

La Nuit aux Invalides
A dazzling light and sound show.
Cour d'Honneur, Hotel des Invalides, 7th Arrondissement
June to September, Wednesdays to Saturdays