"One Pass to Rule Them All" – The Guide to Paris City Passes
We've spent a lot of time reviewing and analyzing the various Paris city passes available to visitors. This article will help you understand them and choose the one that's best for you. We've analyzed them, picked them apart, and created charts where we compare all the city passes, including the Museum Pass and the Paris Visite Metro Pass.
We take a look at two combination city pass options. There's the robust and inclusive Paris Pass, which combines museums, Metro and attractions. There's the Paris ComboPass Premium, another inclusive pass giving you free access to museums and the Metro, but fewer attractions. In case you don't want to read through all the data, here's the bottom line — we recommend the Paris Pass.

Paris City Passes Comparison Chart
Paris Museum Pass
Free entrance to over 60 museums in Paris.
2, 4 and 6 day passes available.
Paris Attractions Pass
Provides free entrance to 7 attractions, including:
• Palais Garnier
• Wine Tasting
• Seine River Cruise

Paris Visite Metro Pass
Unlimited rides on the Metro & the Paris buses. 1, 2, 3, and 5-day passes available.
The Paris Pass — RECOMMENDED…
A combined pass that includes the Paris Museum Pass, the Paris Attractions Pass, the Paris Metro Pass, and other features. 2, 3, 4, and 6-day passes available.
How Do You Choose?
For the most robust, all-inclusive pass choose the Paris Pass
Paris Insiders Recommendation
This also nets you the the greatest savings. It gets you into all the museums, numerous additional attractions, on the Metro for free, and includes bonuses like a wine tasting class, a river cruise and a hop-on bus tour. We think it's the best, and it's even better with our exclusive 5% discount code.
If you're travelling with children, get the Paris Pass for them, too.
The Paris Pass is available in children and teen versions and it gets you into some great family attractions like the Grevin Wax Museum, the Paris Story, and the Palais Garnier Opera House, as well as all the museums.

If you're going to be in Paris for only 3 days
You're still going to want to visit a few museums, ride the Metro, and take a river cruise, so get the 3-day Paris Pass.
If you're going to be in Paris for only 1 or 2 days
We'd probably recommend you skip the passes and just have fun roaming the city, buying tickets where you need to.

How Do You Buy a City Pass?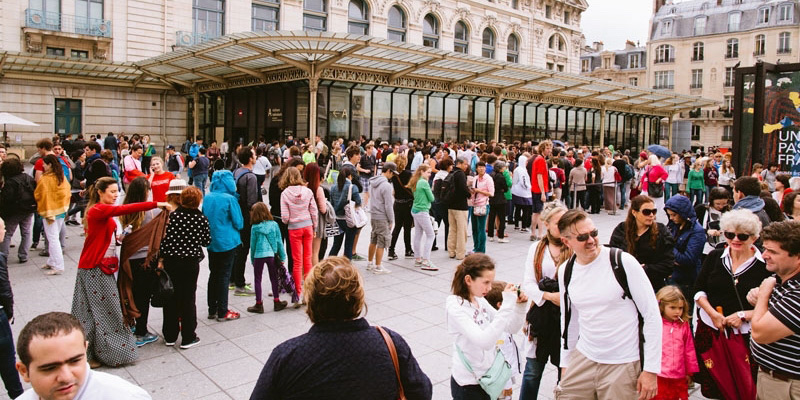 We always tell readers to buy their pass online, when they first start planning their trip and to have it delivered to their home. It's great to arrive in Paris prepared — ready to get out and enjoy the city.
See those folks in the photo above? They're waiting in a long ticket line at Musée d'Orsay because didn't think to get a pass before they left home. If they had a pass they'd go down to the other door and walk right in. For us, it's an important reminder that the best thing about the Paris Pass is that you get to skip the long lineups.
In short, buy your Paris Pass now, before you leave home. It's good for up to a year after purchase. And don't forget to use the exclusive Paris Insiders Guide discount code so you can save an additional 5% on your order – INGUIDE10
There's a Bonus!
An unexpected benefit to Paris city passes is that you end up visiting some fascinating small museums you otherwise wouldn't have heard of. The Museum of Air & Space or the Paris Fashion Museum or the Postal Museum, for example. All fun, interesting, and free with a Paris Museum Pass.
More Information About Paris City Passes
Don't forget to use the discount code to save an additional 5% on the Paris Pass – INGUIDE10