Ladurée – The Paris Patisserie That Invented The Macaron
15,000 macarons! That's how many Ladurée sells daily at Paris' most famous patisserie and inventor of the macaron. The history of Ladurée and, in fact, of Parisian tea salons in general, began in 1862, when Louis-Ernest Ladurée, a miller from southwest France opened a boulangerie at 16 Rue Royale.
During that year, the first stone of the Palais Garnier opera house was laid, and the area around the Madeleine was quickly developing into an elegant business district. In the dark months of the Paris Commune of 1871, an intentional fire destroyed Louis-Ernest's bakery, but he decided to rebuild on the same location — only this time he had the dream of a patisserie.

The First Tea Salon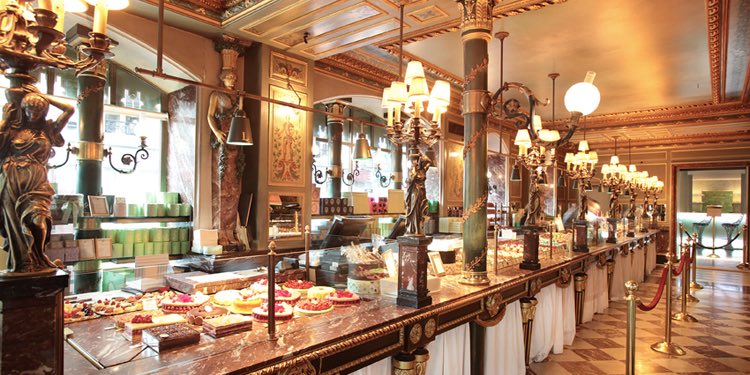 Ladurée turned to Jules Cheret, a famous 19th-century painter, to design the new premises. Drawing inspiration from the ceiling of the Sistine Chapel and the Palais Garnier itself, Cheret created a romantic room with cherubs dressed as pastry chefs and with celadon green as the cornerstone of the color palette.
It was Louis-Ernest's wife, Jeanne, who had the idea of combining a Parisian café with a patisserie, giving birth to one of the first tea salons. The salon de thé was an instant hit, especially with women who up until then were prohibited from gathering in Paris cafés!
The First Ladurée Macarons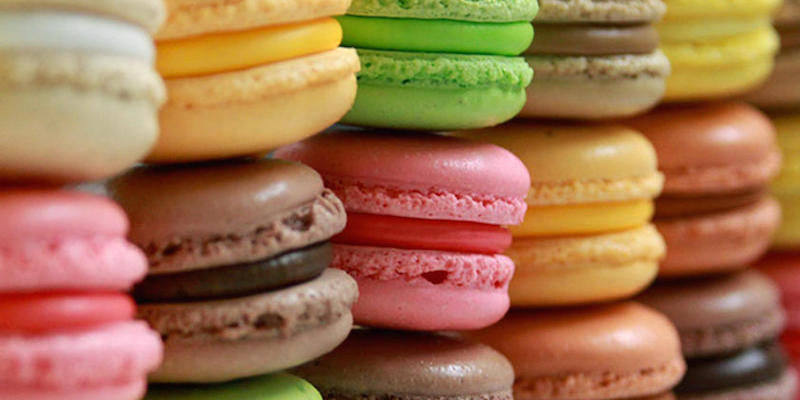 It wasn't until 1930, about 50 years later, that Ladurée's grandson, Pierre Desfontaines, made the first Ladurée macaron — a double-decker cookie filled with creamy ganache. Today, Ladurée is a tea salon, patisserie, restaurant, chocolatier and home to the most famous macarons in Paris. And that tiny, sweet creation by Louis-Ernest's grandson has swept the world.

Ladurée Paris Resources
Locations
Madeleine
16 Rue Royale Paris, 75008
Metro: Madeleine, Concorde
Saint-Germain des Prés
21 rue Bonaparte, 75006
Metro: Mabillon
In Le Printemps Paris
64 Boulevard Haussmann, 75009
Metro: Hauvre-Caumartin
Hours
Monday to Friday, 7:30 am to 11:00 pm Saturday, 7:30 am to midnight
Sunday, 7:30 am to 10:00 pm

Ladurée Fun Facts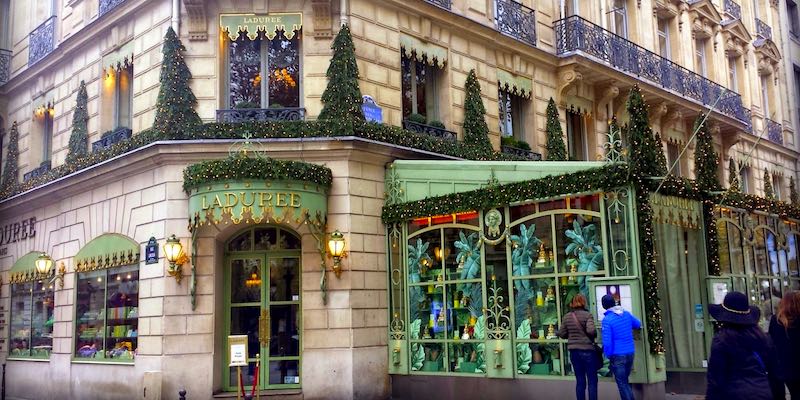 In the 16th century, when Catherine di Medici moved to France she brought along a pastry similar to a the macaron to .
Ladurée made all the pastries for the 2006 movie Marie Antoinette, by Sofia Coppola.
Louis-Ernest Ladurée was a prolific writer and was the author of plays, poetry, and 20,000 letters!
Ladurée has also released a makeup collection inspired by the colors of their macarons.
Ladurée is now owned by the Holder family who also owns the Paris boulangerie chain Paul.