Private City Tours –
See Paris on Wheels
Private City Tours – See Paris on Wheels
Give your feet a break – enjoy the sights while cruising the city. Tired of walking, or just want a different perspective? Then take a few hours to see Paris on wheels.
Don't get us wrong, we love to see the sights and sites on foot. It's the best way. But, once in a while, it's fun to do something a little bit different.
We love seeing the iconic Citroën 2CV, the classic French automobile, zipping around the city. Or (we know, this is out there) how about being driven around in a vinage Rolls after having dinner on the Eiffel Tower?
What about one of those crazy 2-wheel Segways tooling around Paris? How cool is that?
On a different level, maybe you'd prefer a guided bicycle tour? We especially like the night bike tours, and so do Paris Insiders readers. Or tour on your own on a bicycle rented from the city's nearly-free Velib system.
Did we mention the horse and carriage rides? For the first time in over 40 years you can see horses on the streets of Paris, pulling carriages past the classic monuments.
Paris Two-Wheel Tours
Paris is such a flat city (Montmartre excepted) that it's easy to peddle around.
And that's a great way to see everything, and feel like you're a part of the city, while getting around faster than walking.
We've collected our fave two-wheel tours, including a night bike tour of Paris that includes a Seine River Cruise. Read all about it —
Cruise the City with a Private Driver
Sometimes it's nice to just sit back and let someone else show you around.
We like private car tours when we want to give ourselves a treat. They're also perfect for first-time visitors and for those who don't have much time, but want to see a lot.
Read our reviews and recommendations: from shorter 2-hours tours, to classic full-day tours with a Louvre tour, to drinking champagne while cruising the City of Bubbly in a vintage Rolls Royce!
Explore Paris & Dine in Style
They call it The City of Lights for a reason.
We think it's the best time to explore Paris. And, of course, the best time to dine at a fabulous restaurant.
We've found some tours that combine both, to created a magical, memorable evening. It starts when your private driver/guide picks you up at your Paris address and might end in a restaurant on the Eiffel Tower or Montmartre, or maybe at a jazz club near Notre Dame. Find out more about these wonderful nights that our Paris Concierge has created.
Do Lunch Comme Les Parisiens
You don't have to wait until evening for the special treatment of a private tour followed by dining.
Not at all! Arrange for your private driver to pick you up in the morning, spend a few hours seeing the best of the city, then be driven to an iconic Parisian restaurant where a table has been reserved for you.
Horse & Carriage Ride Through Paris
This is a unique Paris activity — a ride in a horse-drawn carriage from the Eiffel Tower and Arc de Triomphe to Champs Elysées and Trocadero.
The carriage travels at a slow trot while you sit back and relax. If you choose the longer ride, champagne is included. Who back home is going to believe you actually did this?
Tours of Paris by Minivan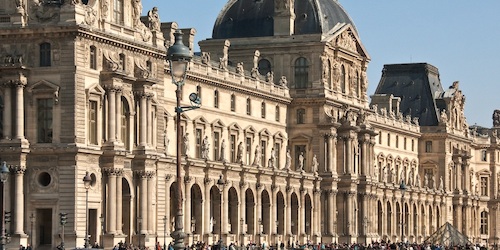 Sometimes you just want to sit back and let someone else get you there! When you're in that kind of mood only a minivan tour of Paris will do.
These Paris tours usually include some nice features. Perhaps a visit to the Louvre, a cruise past famous landmarks and monuments, and lunch while crusing down the Seine on a riverboat, or at the Eiffel Tower.
More Tours on More Wheels
Other Travel Planning Guides
Want To Learn More?
Don't Miss a Single Paris Travel Tip.
Sign up for Le Petit Journal!
The Newsletter of Paris Insiders Guide
Don't Miss a Single Paris Travel Tip.
Sign up for Le Petit Journal!
The Newsletter Of Paris Insiders Guide