Insiders Guide to
paris Tours on Wheels
save your feet –
enjoy the sights while cruising Paris
Paris Tours On Wheels. Tired of walking, or just want a different perspective? Here are the top ways to see Paris on wheels. All kinds of wheels…
There are Paris tours in the iconic Citroën 2CV, the classic French automobile. Or choose a tour in a comfortable, air-conditioned mini-van.
Maybe you'd prefer a guided bicycle tour? We especially like the night bikes tours. Or tour on your own on a bicycle rented from the city's
Velib
system. And don't forget about the city tours on the very popular 2-wheel
Segways
.
Did we mention the horse and carriage? For the first time in over 40 years you can see horses on the streets of Paris, pulling carriages past the classic monuments.
Paris City Segway Tour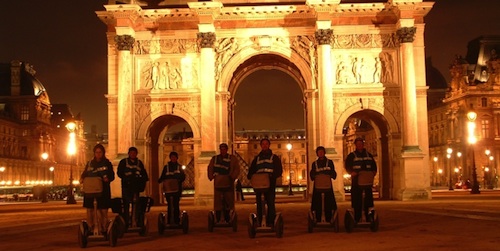 Cruise through the streets, monuments and parks of Paris!
Feel like a rockstar as you glide effortlessly past the Eiffel Tower, the Louvre and the Place de la Concorde. In fact, pretty much verything on your what to see in Paris list!
These extremely popular tours are 4 hours long and are limited to 8 participants.
Tour Paris in a Citroën 2CV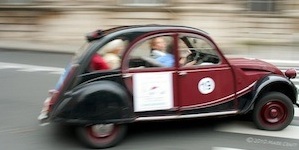 The Citroën 2CV is the most iconic car ever produced in France and is still recognized for its classic minimalist design and solid engineering.
Imagine seeing Paris from your own private Citroën 2CV, with a knowledgeable chauffeur taking you to all the must-see landmarks: the Eiffel Tower, Arc de Triomphe, Notre Dame, Sacre Coeur and many others! We can't imagine having more fun in a car!
Night Bike Tour & River Cruise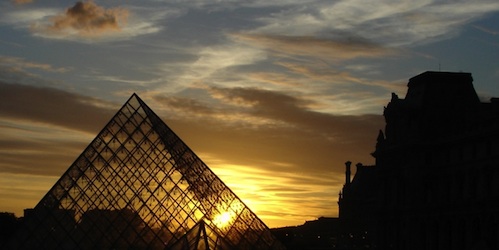 This energizing, fun cycling tour take you to Notre Dame, the Eiffel Tower, the Hotel de Ville.
Cruise through town as the city lights up around you, and see Paris from both bike and boat (free wine is included on the boat cruise). And for even more fun, you stop at Berthillon, the most famous ice cream shop in Paris, located on Ile St. Louis.
Paris Classic Bike Tour
What can you see in Paris in four hours and six miles? Pretty much everything, if you're on the Paris Classic Bike Tour.
Most of Paris is pretty flat, which makes a bike tour the perfect way to travel from landmark to landmark at a leisurely pace. And with knowledeable and friendly guides you get to see the best that Paris has to offer.
You stop at all the sights on the bike route, allowing time for the guides to talk about the monuments, and time for you to take all the photos you want. Truly one of the classic Paris Tours on Wheels.
Rail & Bike Tour of Monet's Gardens
Along with your guides, you hop on a train (from central Paris) and ride through the beautiful Normandy countryside.
You stop at village farmer's market and pick up ingredients for an idyllic picnic lunch on the banks of the Seine.
It's then a leisurely bike ride to Giverny where you visit the world famous gardens of Impressionist master Claude Monet. You have plenty of time to admire the water lily pond, the big pink house and the Japanese bridge.
Horse and Carriage Ride Through Paris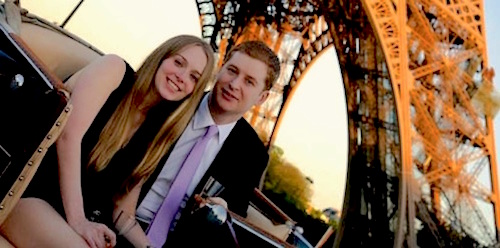 This is a unique Paris activity — a ride in a horse-drawn carriage from the Eiffel Tower and Arc de Triomphe to Champs Elysées and Trocadero.
The carriage travels at a slow trot while you sit back and relax. If you choose the longer ride, free champagne is included! Nobody at home will believe you did this!
Tours of Paris by Minivan
Sometimes you just want to sit back and let someone else get you there! When you're in that kind of mood only a minivan tour of Paris will do.
These Paris tours usually include some nice features. Perhaps a visit to the Louvre, a cruise past famous landmarks and monuments, and lunch while crusing down the Seine on a riverboat, or at the Eiffel Tower.
Les Velibs: the Paris public bicycle system
Paris Velib, a contraction of the French for "free bicycles", is the public bicycle sharing system of the City of Paris. It's still less than five years old, but already an important part of Paris life.
There are Velib bike racks all over Paris, where you can rent bicycles from the automated terminals, using a credit card with a chip. To use the system you need to subscribe, and you can choose to subscribe for a day (which costs only a couple of dollars), a week, or a year. Once subscribed, bicycles are free for the first half-hour every time you use one, and you can make as many free trips as you want.
It's perfect for getting around Paris, which is fairly flat. Grab a bike from a rack near your apartment, pedal to your favorite museum (in 15 or 20 minutes) and return the bike to a rack there. When you're done at the museum, grab another bike and pedal to the Eiffel Tower, or Arc de Triomphe, or a cute bistro for lunch and return the bike to a rack at that site. You get the idea.
Other Tour on Wheels Options
Paris Planning Quick Links
Want To Learn More?
Don't Miss a Single Paris Travel Tip –
Sign up for Le Petit Journal !
the newsletter of Paris Insiders Guide