You Asked – How Can I Fit In With Paris Street Fashion?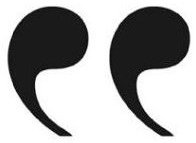 I'd like to fit in when I'm in Paris and not stick out like a sore thumb. What can I expect to see on Paris streets in terms of fashion? Any advice for a first-timer to Paris?
"Needing your help,"
– MaryLynn, USA

We Answer – We Love French Fashion Questions
Dear ML,
What you will find is a wide variety of Paris street fashion. That's to be expected in a city that not only is a fashion capital, but where the citoyens tend to dress well. There is not one universal look copied by all, rather there are a range of styles that make Paris, if not a fashion capital, at least a well-dressed city.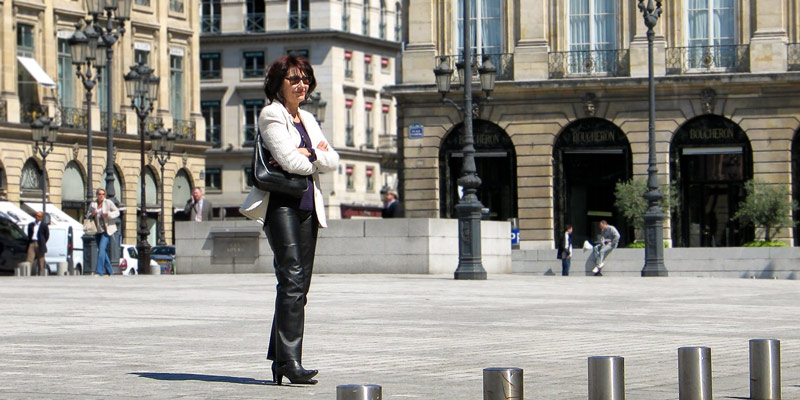 In short, the overall effect of the Parisian fashion sense is that people care about how they look. They think about their wardrobe and what they put on before they walk out the door. They know what works on their bodies and how to accentuate the positive. From years spent in Paris, here are a few of our observations, with some general advice for visitors, pus a few candid street photos we shot over time.
Paris Street Fashion – Femmes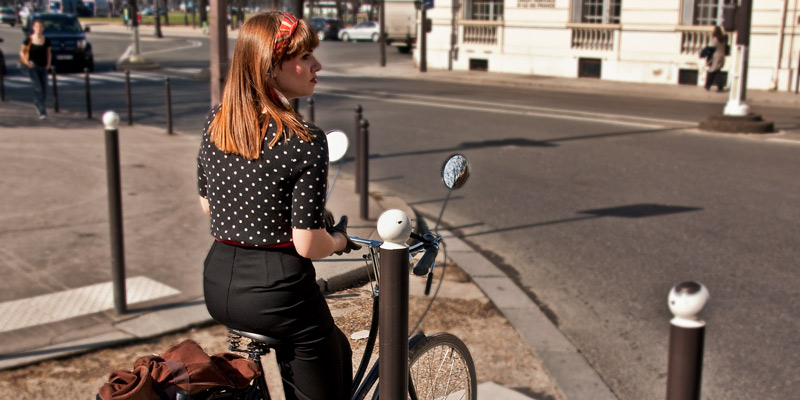 When you're in Paris, girls, you need to step it up a notch while at the same time turning down the volume.
Stepping it up a notch means dressing like a woman and not a teenage boy. No hoodies, khaki man-pants, white running shoes, shirts with logos, fleece, sportswear, yoga pants, outerwear meant for hiking, sweat shirts, sweat pants, patterned old-lady acrylic sweaters, matching leisure pants and jackets, poor quality footwear… You get the drift.
Turning down the volume means dressing simply yet beautifully. Women in Parisiennes know what looks good on them and how to work their best assets. It's not fancy clothes with glitter and glam — Paris fashion at its best is always understated.

Paris Street Fashion – Ideas for Women
A skinny jean, a flat boot, a fabulous swing coat, a big brooch and red lips. That's one signature look to emulate.
A vintage form-fitting tomato red jacket, a pencil skirt and a pair of mustard yellow platforms and a neutral lip.
A wide-leg pair of white linen pants, navy blue espadrilles, a mandarin-orange fitted jean jacket. With a multi-colored silk scarf to finish the look.
A graceful A-line wool crepe burgundy dress, charcoal grey tights, tall black boots, hair in a side pony tail.
Paris Street Fashion Essentials —

Skinny dark-wash or colored denim.
A bold jacket.
A few scarves.
A tall black boot.
A pair of colorful flats.
Bold jewelery, but choose only one piece per outfit
Paris Street Fashion – Hommes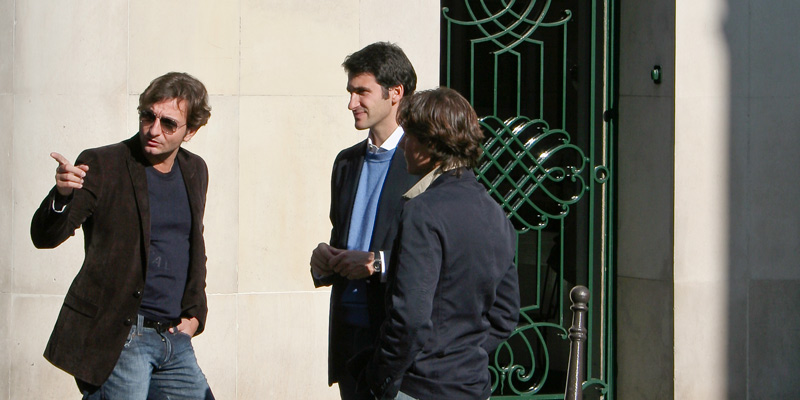 The women of Paris don't necessarily steal all the fashion limelight. You will see that men tend to dress better as well. First rule for men visiting Paris — French men wear scarves.
And, please — no sweat shirts or T-shirts with logos, baggy jeans, marshmallowy running shoes, gimme hats turned backwards, grunge wear, tattoos, sweat pants, or untucked sloppy shirts.
What Parisiens wear, they wear well. A dark, slim-fitting suit seems to be the signature look for Parisan men of all ages, especially under the age of 40. Paired with these simple yet exquisite suits is a pair of simple, sleek leather shoes. The pop of color might come from a periwinkle blue shirt underneath or navy blue scarf. (This look goes especially well if you're riding a Vespa !)
But it's not just the hip young guys, older men also dress well in Paris. Even their casual wear is considered. Jeans are common, but often a trouser jean in a dark wash with a dress shirt tucked with a belt and a cashmere sweater tied around the shoulders.