Restaurant Le Charlemagne – Un Petit Morceau Of Asia In Burgundy
The champagne is a deep, brilliant gold color with a fine yeasty nose that has hints of white fruit and citrus. It's Brut Champagne Lenoble, Cuvée Intense, a blend of Chardonnay, Pinot Noir, and Pinot Meunier from the hillsides of the Epernay. Columns of fine bubbles ascend quickly in the glass.
But, we're not in champagne country. We're sitting among the vineyards of Pernand-Vergelesses, a wine village in Burgundy famous for both its red and white wines. This village boasts three Grands Crus, grown in the vineyards of the hills that surround us right now — Corton, Corton-Charlemagne and Charlemagne. It's this last wine that lends its name to the restaurant we're eating in tonight — Chef Laurent Peugeot's Le Charlemagne.

The Restaurant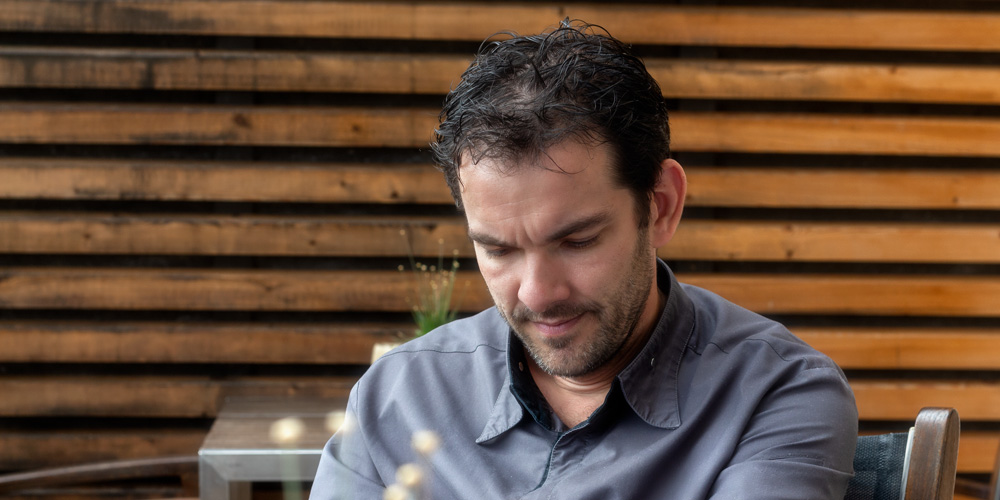 Le Charlemagne's chef/owner Laurent Peugeot in 2014, photo by Mark Craft
The restaurant oozes Japanese charm — from the bamboo garden and waterfall outside to the video-projected koi pond you walk across to enter the dining room. Chef Peugeot himself greets us at the door and leads us to the dining room. He is young, handsome, tall, dark, with a trendy and permanent 2-day stubble, stylish black chef's coat and black pants.
Definitely the most interesting dining room we've seen in Burgundy. Soft lights, hidden in the ceiling and at wainscoting level, change from red to green to blue, very subtly, very pleasing. There are eleven tables in the room seating a maximum of forty. At 8 PM tonight there are twenty diners, including us and a table of four from Chicago.
The table setting is lovely and clearly Japanese-inspired. Chunks of slate hold the cutlery. Everything is coordinated, matching. It's all glassware and white ceramics, including white ceramic water glasses. On the table is a tall glass cylinder with tea light candle suspended at the top. The dining room lighting is superbly done; each table is individually lit and controlled with a dimmer. A table's light is turned off, or on very low, until guests arrive, when the light is adjusted to their desire.
The place makes you feel really good. It's what California wine country restaurants aspire to. There's a wonderful sense of mystery, relaxation, and spa-like comfort.
Let the Music Begin
Three little globes with glossy exteriors, all different colors — pale yellow, dark mahogany and pale green — perch on a a small brick in the middle of our table. The server instructs us to eat each one in a single bite since they are filled with liquid: mushroom, asparagus, and the third, zucchini and cumin. The flavor is like a Chinese sticky bun. How does Peugeot keep the soupy substance inside the globule? They are clever, unique, unusual, but before we can solve that mystery the server appears with a new puzzle.
A Lesson in How to Eat Bread
The server next places a white plate with the monogram LP (for Laurent Peugeot) in the middle. On the plate she places a one-inch square of seaweed sponge with girolles and an onion crumble on top, held together with a miniature fork. Over that she pours a dribble of tomato sauce. Then she tells us to use the seaweed square to mop up the flavored monogram and eat it in one bite.
The lessons aren't over yet, for next she tells us how to eat the bread. On the table is a tall, narrow-necked bottle with olive oil and, she tells us, a nori infusion. She lifts up the bottle to reveal a hollowed out bottom in which sits a petri dish of matcha green tea salt, a sandy brown colour. We pour the olive oil into a bowl next to our plate, sprinkle on some of the salt, then dip our bread in it. This dip is superb.

Les Entrées
Watermelon, Smoked Tuna, Cuttlefish
Three cubes of watermelon rest on a slate black tray. Beneath each cube is a smear of feta sauce, on top is a square of smoked tuna, tomato jelly and a sliver of cuttle fish. "Try to eat some of each component with each bite," our server gives us a pep talk before we start.
Who would have thought that this combination could be so very good? First, the watermelon bursts in your mouth, then you taste the salt of the smoked tuna and the bite (al dente) of the cuttlefish. There's also a small, thin disc of tomato jelly incorporated in the stack, and the whole thing sits in a bit of wonderful sauce with a smear of feta cheese. An explosion of flavours: salty, sweet, crunchy, and smoky. A triumph.
A Scallop, a Simple Scallop.
A white bowl with one scallop, quickly grilled, quartered and served in a swirl of pumpkin purée. Nice high salt level in the pumpkin. The scallop is really grilled and comes across as smoky, sweet and creamy. Just enough bites to give contentment. A scatter of micro greens and a few violet coloured flowers add to the presentation.
Tomatoes, All Tomatoes
Green, yellow, and red tomatoes. Tomato ice cream. A white powder dusting the dish turns out to be tomato powder. The tomatoes have a nice tannic quality about them and are served at room temperature. There is even a smokey tomato. There are two little pieces of calamari, otherwise it's all tomato. It's an impressive dish and a nice, light course. Served with a fabulous white Bourgogne.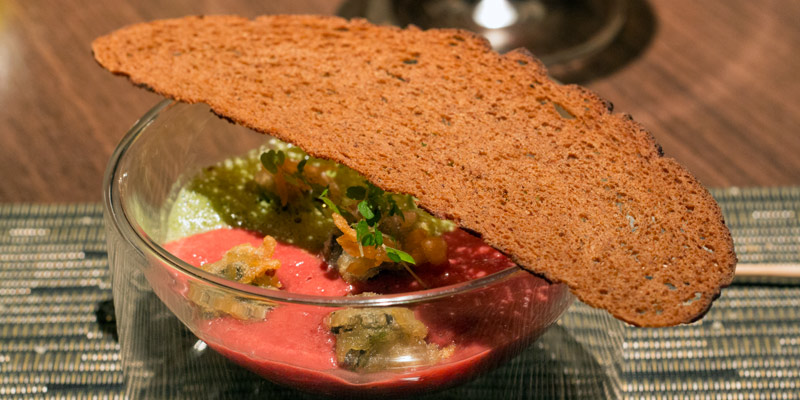 Mi-cuit Oeuf Meurette
Oeufs en Meurette is a traditional Burgundian way of cooking eggs in wine. The dish is typically made with poached eggs accompanied by a meurette sauce of Burgundy red wine, bacon, onions, and shallots browned in butter and served with toasted garlic bread. Here at Le Charlemagne it's got the Asian fusion thing working with with snail tempura and with a thin slice of toasted bread. "Damned good," we write. "How does he slice the bread so thinly and keep it intact?"
Lobster
Foam, flowers, artichokes, and enoki mushrooms — small, thin, tall, with a tiny cap on top. The herb mixture used is unexpected. It sits lightly in a white serving dish that looks like a shell.

Le Plat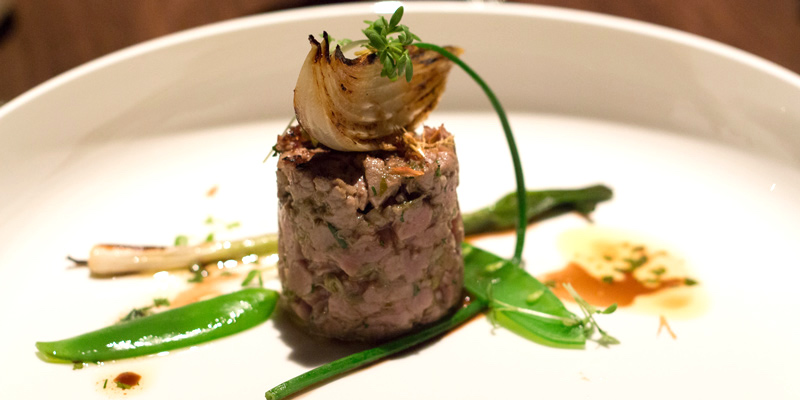 Veal, Tartar Style, with Lemon Grass & Coriander
There is a lot of white space on this dish that helps to emphasis the tower of lightly-cooked veal, chopped tartar style, with beautiful flecks of crispy lemon grass and coriander. There is a lengthwise slice of a single scallion that has been tossed on the grill. Two thin pea pods. A thin half wedge of grilled onion is mounted on top of the tower. This is another example of great salt level with flavorful, fatty meat. Paring it with white wine brings out the salty elements even more. Red wine brings out the meaty, fatty flavours. The light reds of Burgundy are perfect with the veal. "Chef can never do something you can find everywhere," our server advises.
Les Desserts
Fraise, Framboise, Wasabi Ice Cream
There's a nice contrast between the strawberries and raspberries and the zing of the wasabi. Radish sauce, very green. The dish is quite light and not overly sweet.
L'Ananas en Explosion
It's as much of a surprise as it is good theater. The server puts on white cotton gloves, picks up a softball-size orb, and smashes it into the bowl where it breaks apart. It's a big, yellow, pineapple sugary ball with foam inside. Kind of a dusky flavor. It's a great show.
La Finale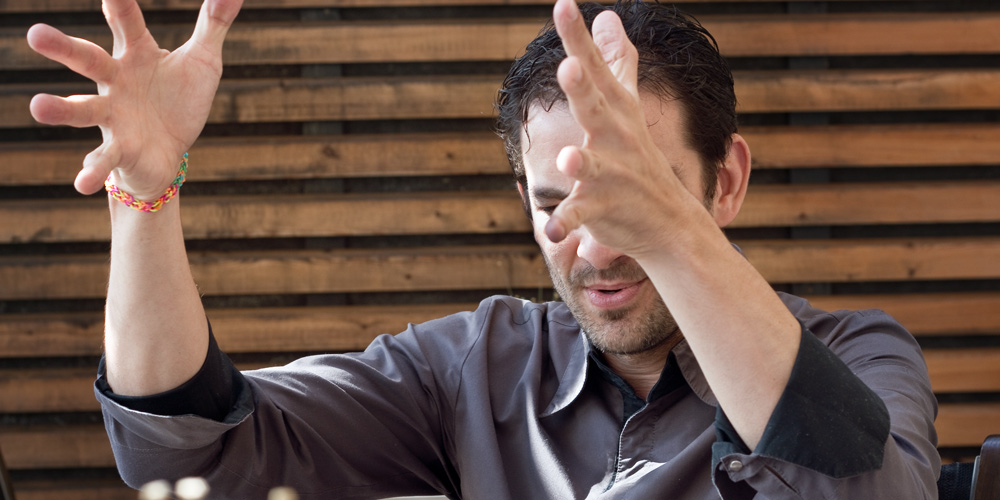 Laurent Peugeot in 2014, photo by Mark Craft
You don't find this kind of theatre in other French restaurants. Here, at Le Charlemagne in Burgundy, it works. The instructions on how to eat certain dishes are part of the experience. Every detail is carefully planned to contribute to the overall effect. And those escargot tempura! By the way, there were, in fact, five entrées.
When you've had your fill of traditional, hearty Burgundian cuisine, come to Le Charlemagne for a bit of an Asian-fusion palate cleanser. Your taste buds will say "merci". Or perhaps "Arigato!" A final detail — the bathroom sink is a sculpted slab of granite with the faucet spout hanging from the ceiling. So many details… so many expensive details.
1 Route des Vergelesses
Pernand-Vergelesses (just before you reach the village)
03 80 21 51 45
One Michelin Star