EdEm Restaurant In Chassagne-Montrachet – A Retrospective Review
Chassagne-Montrachet is a small wine village in Burgundy, very famous for its Grand Cru white wine called, appropriately, Montrachet. The wine isn't named after the village, it's the other way around. In the late 19th century villages of the Côte d'Or began appending the name of their famous wines to the village name, so that Chassagne-le-Haut became Chassagne-Montrachet and neighboring Puligny called itself Puligny-Montrachet. Even though there are only four hectares of Montrachet vineyards in each commune, the wine is so famous that the villages wanted to align themselves with it. There are fifty Premier Cru climats in this minuscule 9-acre section of land.
We found restaurant EdEm in Chassagne-Montrachet, down Impasse des Chenevottes (dead-end street), on a hidden place above a domaine tasting room. The entry was along the side of the building, down an alley, through a solarium, up some narrow stairs, and then through a modern sliding glass door that clashes with the ancient building. It's a small place, seating maybe twenty-five people max. On that day in 2014 there were eight other diners for lunch. Eleven in all to try out this restaurant with a newly minted Michelin-star. This is what we wrote afterwards.

The Chefs: Ed + Em
Chef de Cuisine Edouard Mignot and pastry chef Emilie Rey met when they both worked at Lameloise, a 3-star restaurant in nearby Chagny. He's from Paris and she was born south of Lyon. They are a shy couple and it's a bit surprising that they'd go out on their own to open a restaurant. But, a year after opening, restaurant EdEm was awarded a Michelin star. "We worked for that," they told us," but we didn't think it would happen so fast."
Emilie is petite, dark haired, and young. She doesn't look like she eats pastries or even makes them. "I don't like sugar," she says. She prefers to let the other products, like the fruits and the chocolate, stand out and balance the sweetness of the pastry with acidity. In one set of awards she was voted the fifth best pastry chef in France.
Let the Music Begin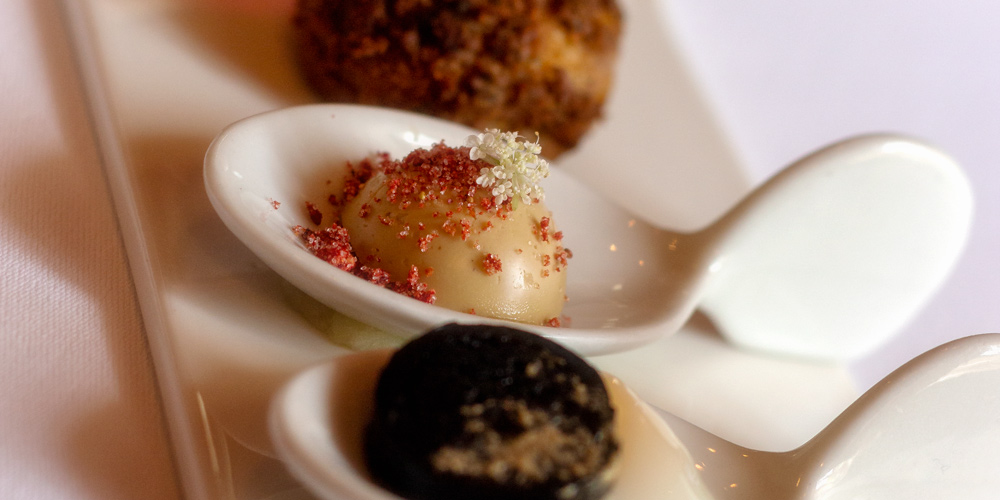 Champagne is poured and the first food arrives at our table — two fat amuses bouches, served in child-like spoons shaped like fish. Squid ink pasta formed into a cookie rests on top of a poached quail egg; goodness in one bite. The other spoon holds foie gras formed into a demi-ball the size of half a marble sprinkled with strawberry dust. We find out later that strawberries are dehydrated and made into a powder.
Next to these there's a single escargot baked in pastry, the size of a giant marble. On the side rests a single radish with a micro slab of butter, a nod to a famous, classic French appetizer.
A second amuse arrives in a giant white bowl with a crater in the centre holding three exquisite mango-coloured melon balls, their juices, a pillow of soft goat cheese, and a tender slice of Camargue bull rib that has been dried and smoked. A sprig of fresh dill is the focal point.

Les Entrées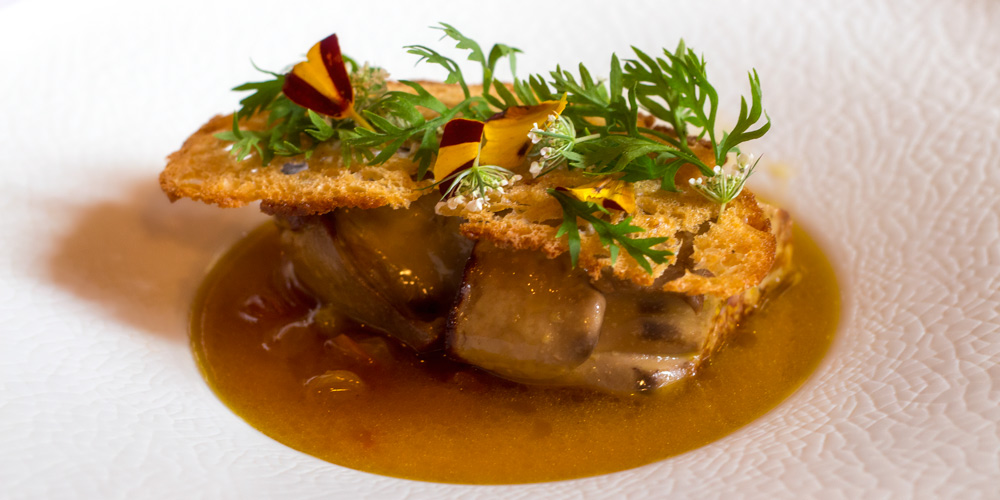 Foie Gras
Foie Gras Chaud des Landes poche au jus de pomme, pain grille, chutney de Créance.
A tender lobe of foie gras, poached in warm apple juice tempered with white balsamic vinegar. There are carrots and raisins in the apple/balsamic sauce. A thin slice of toasted bread on top is garnished with flowers and leaves. It's certainly an interesting twist on foie gras, slightly undercooked, tender and juicy.
Homard et Octopus
Homard et Octopus Breton, avocat au sel Viking et concombre Arménien.
It's a fresh, light, pleasing composition; a curved line of fork-tender octopus and lobster pieces with an array of artfully-arranged fresh vegetables including two types of tiny, tiny cucumbers: a long slender Armenian variety and a marble-sized variety from Mexico. Artichoke stems, steamed, cooled and cut lengthwise, sit next to pickled red onions and generous cuts of ripe avocado.
Armenian cucumbers are the new darling of the vegetable world due to their lack of bitterness and their very thin skin that does not require peeling. Some refer to it as a yard-long cucumber or snake cucumber because of its shape. Though called a cucumber, it's technically part of the muskmelon family.
The whole affair is garnished with Viking smoked salt. Seawater taken from the North Sea off Denmark's shores is cooked in a kettle over a fire made from oak, beech, cherry, elm, and juniper, giving the salt a unique copper color and an intense, smoky flavor.

Les Plats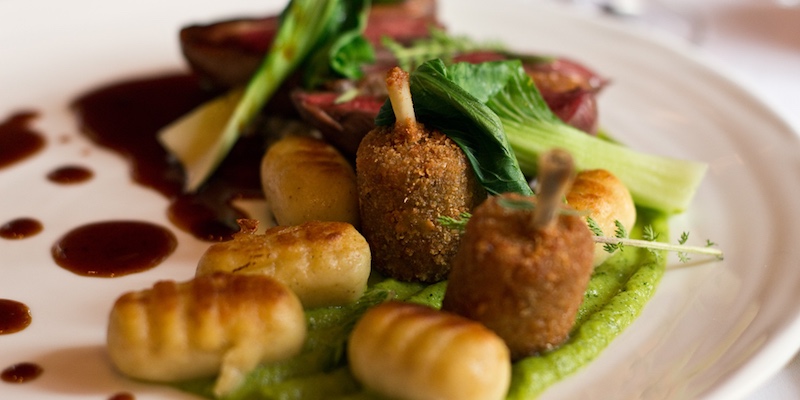 Pigeonneau et Gnocchi
Pigeonneau au Louhannais, pak choi, gnocchi de sarrasin et caviar de courgette au mascarpone.
Two lollipops stand on the plate in a pool of two sauces. The lollipops, made from slow-simmered pigeon meat are formed into rounds, coated in spices, skewered and then take a quick dunk in the deep-fryer.
Pigeons are small birds and make frequent appearances on French menus due to their flavourful meat. In this case, the two small pigeon breasts are barely cooked and lay beside a child's handful of gnocchi made from buckwheat. The lollipops, pigeon breasts, and gnocchi are punctuated with two sauces — a pesto sauce made from zucchini and mascarpone cheese; and a meat reduction sauce. Steamed baby bok choy add a vibrant green touch.
Lotte Croustillante
Lotte de petite peche croustillante, choux pointus, oseilles et sauce vin jaune, This is the prettiest of the plates so far — four rounds of firm white fish enrobed in flaky, crispy phyllo resting in a pale, vanilla foam with a tender shred of cabbage, violets, yellow flowers and micro greens. Like fish and chips in heaven.
Even the cabbage has a pedigree.. It's called Pointus chou and is only available in spring and summer months. Famous for it's uncabbage qualities it's easy to digest and doesn't have the harshness of regular garden-variety cabbage.
Both the lotte and pigeon are definitely Michelin-star-worthy. There is a nice (high) salt level in the sauces of both of the dishes. No chef in our country would dare salt it that much. There is a lot of protein on each plate; lots of lotte, lots of pigeon. Definitely larger than a Paris 1-star portion. Other chefs have told us that the country people expect good sized portions. These are some of the best plats we've eaten in France on this visit.

An Explosion of Desserts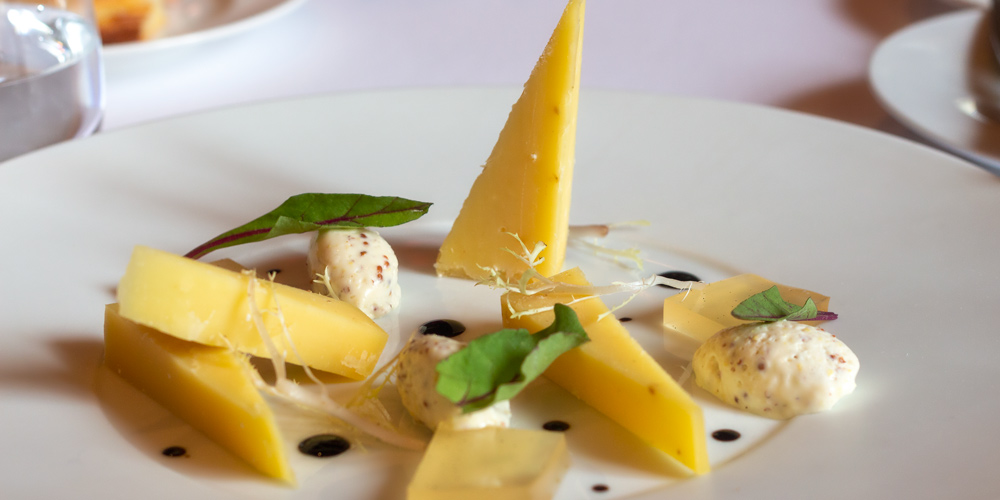 The maitre-d' convinces us to try the cheese course. Four oversize pieces of Comte cheese are served shipwreck style along with an almond-mustard mousse and wine jelly. Somehow, we get through it before the explosion of pre-dessert, dessert, post-dessert and post-post dessert begin. After all, the Em in EdEm is Emilie, the star pastry chef, and she wants to show off her stuff.
A pre-dessert, in case you're wondering, is a transition course to bridge the gap between savory and sweet. In a small black bowl, with wavy edges, sits a small bite full of transition — a lemon-cream biscuit with basil ice cream. It's not sweet, it's not savory, it's a bridge, and it's light and refreshing.
Now that the bridge has been built, the pre-dessert amuse is served. On a square mirror are the prettiest, jewel-like mouthfuls ever to hit a dining table — raspberry jelly squares balancing on the narrow edge, puff pastries filled with hazel-nut cream, petite cookies filled with black currant filling and decorated with stars. It's so decadent, so perfect, so right, so delicious, so intricate.
Only now are we ready for dessert number one.

Pour les Amateurs de Chocolate
Cremeux Guanaja, sablé diamant et glace au grué de cacoa.
You'd never guess someone as shy and reserved as Emily could create a chocolate dessert that could appear in the pages of 50 Shades of Cocoa. If Emilie wrote music the way she makes desserts she'd be Mozart. On a white plate are chocolate swirls and dots. The swirls and dots connect the chocolate sculptures of biscuit, cake, and mousse. Flanking the sides is more chocolatey goodness — ice cream mounted over chocolate wafers. The whole plate is a study in chocolate sensuality; it covers the gamut from milk to dark chocolate.
The dessert, for all its flamboyant qualities is not overly sweet. Emily lets the chocolate do the talking. With her careful manipulation of textures, shapes and arrangement the world of chocolate opens into a galaxy of flavours.
Tarte Citron…
Tarte renversée, cremeux citron et confiture de framboise pépin, creme et thé glace a la verveine.
That's right, it's a lemon tart in reverse, and it's a wonder. This round "cookie" with the raspberry bits on top is a triumph.
Post-dessert.
There are three each of three tiny finales. The cream puff is also a triumph. There's an awe-inspiring puff pastry with hazelnut cream, and a cookie with blackcurrant cream.

La Finale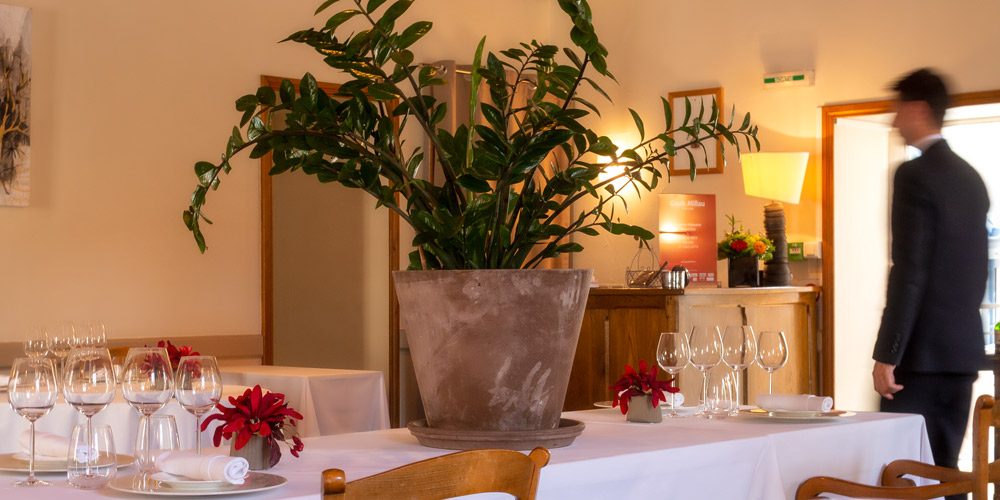 As much as Burgundy is about great wine, it's also about a rich culinary legacy. An afternoon dining at EdEm connects the dots between the wine and the table. This young couple represents the best of France food now as well as its culinary future.
4 Impasse des Chenevottes
Chassagne-Montrachet
Tel: 03 80 21 94 94