You Asked – Can I Find Gluten-Free Foods in Paris?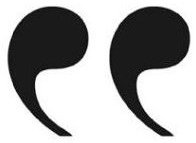 Bonjour! I will be visiting Paris this summer. I love food and I am greatly looking forward to try all the typical French dishes, but I also have a fairly strict diet — low sugar, mostly gluten-free diet. I would love to eat crepes (both savoury and sweet ones), but as I am sugar sensitive I am a bit worried. Is it possible to find a creperie where I can order a sweet crepe without sugar and instead have, for example, fresh berries. (I am sensitive to fruit, too!), toasted nuts, and perhaps natural yogurt? I would also love one with a nut butter like peanut butter.
"Also, if you know any place that sells goat or sheep yogurt with a modern twist,please let me know. Can you help me? Thanks in advance."
– Johanna, Sweden

We Answer – Gluten-Free in Paris
Dear Johanna,
You have quite culinary dilemma and posed quite a challenge for us. France prides itself on its food and although gluten-free, sugar-free and vegan are slowly making their way into the culture,they are definitely not the norm. Unless you speak French it may be difficult to communicate your specific food sensitivities in Paris. We'll give you a few phrases to practice.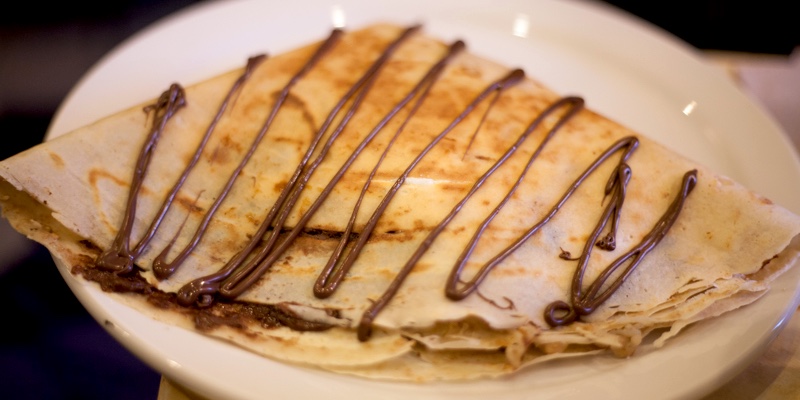 Crepes are made with eggs, milk, flour, and a small amount of sugar. You can order a savoury crepe, called a galette, made from buckwheat flour (gluten-free) and served with a variety of toppings like eggs, cheese, ham or bacon, called lardons. Or you could order a crepe nature, meaning plain. They may have berries you can ask for. Peanut butter is not very common in France. Typical sweet crepe toppings are banana, lemon and sugar, jam, and of course, Nutella (chocolate hazelnut spread).
It's important to remember that the French do not use a lot of sugar in their crepes or their desserts. You'll find that most Parisians are slim despite their diet, which is based around meals, not snacking, and usually include dessert.
Some key phrases for you to learn are —
"Je suis allergique à sucre." I am allergic to sugar.
"Je suis sensible au sucre." I am sensitive to sugar.
"Pouvez-vous faire ma crêpe sans sucre?" Can you make my crepe without sugar?
"Je peux avoir ma crêpe avec du yogourt nature?" Can I have my crepe with plain yogurt?

Crepe Restaurants in Paris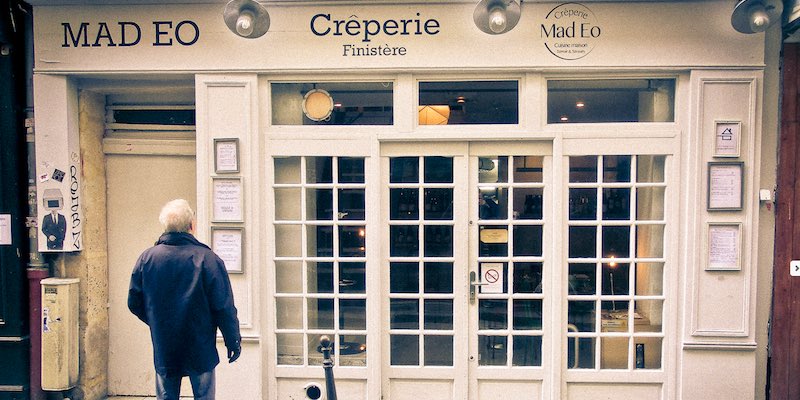 Here are some top-rated healthy crepe restaurants in Paris with a hip edge, offering alternative toppings including low-sugar and gluten-free options —
Mad'Eo
Artisanal, organic, gluten-free options.
14 Rue de Cadix, 75015
Pancake Sisters
Toppings include yoghurt, fruit and muesli.
3 rue Lucien Sampaix, 75010

Healthy, Vegan, Gluten-Free Restaurants, and Juice Bars
Hank Vegan Burger
Just like the name says, vegan burgers with plenty of salads, frites, and American-style desserts: le cookie, le carrot cake.
55 rue des Archives, 3rd Arrondissement
Bob's Kitchen
Muesli, veggie stews, gluten-free options, fresh pressed juices.
74 rue des Gravilliers, 3rd Arrondissement
Soya Cantine Bio
Hummus, seaweed salsa, couscous and quinoa stews, gluten-free lasagne, soft tofu vegan cream for dessert.
20 rue de la Pierre Levée, 11th Arrondissement
Season
Gluten-free options, muesli, Greek yogurt concoctions and kale salads.
1 rue Charles François Dupuis, 3rd Arrondissement
L'Arpège
Sure, it's a Michelin 3-Star restaurant but super-chef Alain Passard has dedicated his menu to seasonal, organic vegetables.
84 rue de Varenne, 7th Arrondissement