Things to Do in Paris –
A Month-by-Month Guide
Things to Do in Paris – A Month-by-Month Guide
Festivals, food events, concerts, museum exhibits, day trips, wine tastings, river cruises… There are always plenty of things to do in Paris. Each and every month is packed with cultural, artistic and entertaining activities. If food is your thing there are cooking classes, wine tastings and gourmet food walks of all kinds. (We particularly like those!)
Don't forget about the concerts at historic churches, operas at Bastille, ballet at Palais Garnier, fresh exhibits at dozens of museums, tennis and soccer, marathons and fun walks, and lots of fab festivals.
We've culled information from dozens of official websites, blogs and our own archives to share with you our handy all-in-one guide to what's going on in Paris, so you don't miss a thing.
Some of the best annual activities are never discovered by tourists. Learn where Parisians head to for New Year's Eve, Bastille Day, in the heat of summer, and events throughout the year.
Our Guides to Monthly Activities in Paris

| | | |
| --- | --- | --- |
| | | |
Monthly Activities in Paris

| | | |
| --- | --- | --- |
| | | |
Our best advice is to plan in advance — book a couple of good activities, a historic walking tour, a day trip, a concert or maybe a ballet before you leave home. It's all easy to do online. On this page we'll give you activity suggestions based on our readers' favorites — it's sort of a collection of the greatest hits of Paris.
These extra activities will add immensely to the depth of experience you have in Paris. There's always something happening in the City of Fun! Don't forget to read the monthly guides.
Seine River Nighttime Dinner Cruise
A Paris Insiders Guide Favourite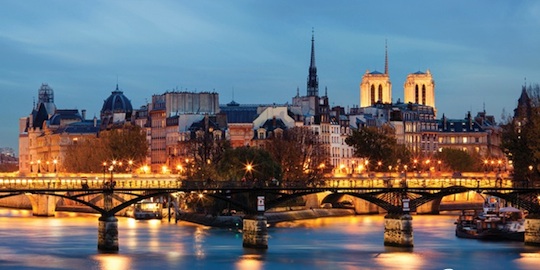 Paris Insiders readers love this romantic evening activity.
It's a four-course, dress-up dinner, cruising down the famous Seine River, with a view of the City of Lights in its nighttime glory. All of the famous bridges and monuments are floodlit and you have the best seat in the house!
The evening includes red and white wine, coffee and liqueur — a wonderful evening out in Paris.
This is just one of the possibilities for view the city river-side. How about a champagne-fueled cruise? For more ideas see our complete guide to Seine River cruises.
Moulin Rouge Dinner & Show
A Paris Insiders Guide Favourite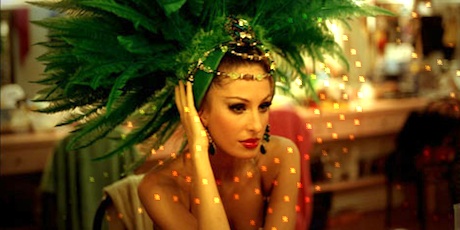 Dinner and a show at the most famous nightclub in the world is high on our reader's to-do list.
This is a favourite package because it includes pick-up at your Paris address, and return when the night is over. All you have to do is settle back and enjoy a 3-course dinner followed by the amazing cabaret show. You don't have to worry about arranging any details.
Other ways to enjoy a night the Moulin Rouge are combining it with a river cruise, a city illuminations tour, or even dinner at the Eiffel Tower. There's more information in our complete guide to the Moulin Rouge.
This sells out weeks in advance, so be sure to book early! Did we mention the champagne?
Best of Versailles Day Trip from Paris
A Paris Insiders Guide Favourite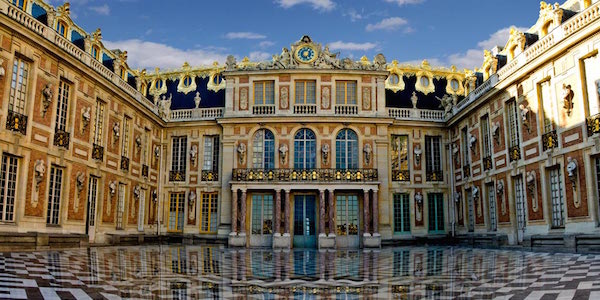 Readers tell us you don't want to miss this amazing palace of kings and queens, only a short ways from Paris.
This day trip package is sort of like going the royal route yourself. A private luxury van picks you up at your Paris hotel and drops you off at the end of the day.
In between you get privileged, skip-the-line access to Versaille's gardens and chateaux. (Believe us, just getting to skip the looong lines is worth the price of this all-inclusive tour.) You tour the gardens and palace, eat lunch near the Grand Canal and, after lunch, you visit Marie Antoinette's private rustic farm. It makes for a great day out of Paris.
There are other ways to visit Versailles, including one of our faves, a VIP Guided Tour that gets you behind the scenes where most tourists never go. You can read more about the options in our complete guide.
Skip the Lines at the Eiffel Tower
A Paris Insiders Guide Favourite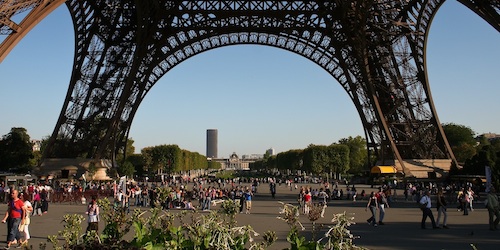 Unless you're a person who likes to stand in line for two or three hours there's really only one way to visit the Eiffel Tower — book a tour that lets you skip the line.
Believe us when we say that your time in Paris is precious and you don't want to waste it standing in lines. That's why, for instance we recommend a Paris City Pass that lets you avoid the lineups at museums, and the Louvre Museum Guided Tour.
It's also why we strongly recommend a skip-the-line Eiffel Tower tour. Use the link below to find out more about the skip-the-line tour or go to our Eiffel Tower Guide to learn about all the tours available.

Our Guides to Monthly Activities in Paris

| | | |
| --- | --- | --- |
| | | |
Monthly Activities in Paris

| | | |
| --- | --- | --- |
| | | |
Christmas in Paris
"Nöel à Paris" sounds as magical as it is! It's one of our favorite times of the year to visit the Ville des Fêtes – the City of Festivals.
Go to our guide to learn more about spending the holiday season in what we think is the most magical of cities.
• Insiders Guide to – Christmas in Paris »
Easter in Paris
Spring is in full bloom, bells are chiming, eggs are being hunted by giggling children — what could be more fun than Easter in Paris?
The weather is great (usually!) so it's a great time to get outdoors and engage in spring-like activities like Seine River cruises, day trips to Vaux-le-Vicomte or Versailles, and Easter egg hunts.
Want To Learn More?
Don't Miss a Single Paris Travel Tip.
Sign up for Le Petit Journal!
The Newsletter of Paris Insiders Guide
Don't Miss a Single Paris Travel Tip.
Sign up for Le Petit Journal!
The Newsletter Of Paris Insiders Guide