Lido Paris – Nightlife
on the champs-Elysées
The cabaret that strives to
out-Spectacle them all
Sixty-five years after its grand opening, Lido Paris is still one of the city's most popular destinations for cabaret and nightlife. Ever since 1946, the Champs Elysées location has been the place to go for some of the best singing and dancing revues in Paris.
The famous Bluebell Girls of Lido Paris have been dancing each night since 1958 (not the same girls!).
What can you expect from a Bluebell Girls show? Great costumes, stunning sets, a spectacular light show and amazing music.
The Lido is very popular, and often sells out weeks in advance. Choose from a show with champagne or a show with a three-course meal, prepared under the supervision of Chef Phillippe Lacroix.
Lido de Paris Dinner and Show
Spend a night on the glamorous Champs-Elysées with a show at the city's most spectacular cabaret and immerse yourself in the grands entertainments from another era.
You can choose from the early show or late show, complete with champagne.
Better yet, have dinner at the Lido before the show. Choose one of the three-course Parisian Gourmet Menus — the Soirée Plaisir, the Soirée Bonheur, or the Service Premier. Bon apetit !
Eiffel Tower, Seine Cruise & Cabaret Show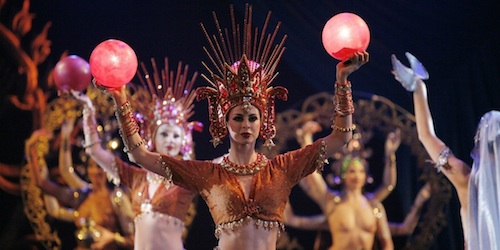 Make a complete night of it! This package gives you a fun-filled, jam-packed evening on the town.
It all starts with a 3-course meal on the Eiffel Tower as you gaze down at the Champs de Mars and the River Seine. And, speaking of the Seine, your next stop is a one-hour romantic cruise down this river of legend and dreams.
But wait, there's more! You finish off the evening with the cabaret show at Lido de Paris. (Or you can choose Moulin Rouge, if you prefer.) One more thing – you can also choose to include hotel pick-up and drop-off to make your evening go as smoothly as possible.
Happy New Year at Lido de Paris!
Spend an unforgettable Christmas Eve or New Year's Eve out on the town at the glamorous Le Lido cabaret.
Elaborate costumes, extraordinary sets, magical lighting, sequins, champagne and feathers.
Start the evening at 7:30 with a 6-course gourmet menu on New Year's Eve, complete with champagne and wines. After dinner there's dancing before the lights dim and the curtain rises for the 9:30 show of the Bluebell Girls in a whirlwind of feathers & sequins.
These special shows sell out every year, so be sure to book early.
Paris Planning Quick Links
The Best Hotels
in Paris
Paris Culture
Classical Music
Food & Wine
Activities

Guide to the Paris Museum Pass
Don't Miss a Single Paris Travel Tip –
Sign up for Le Petit Journal !
the newsletter of Paris Insiders Guide